Discover the legendary heart of Outback culture with this half-day highlights tour of Alice Springs. Visit the historic Overland Telegraph Station and learn how residents have adapted to ultra-remote living at the Royal Flying Doctor Service base and the School of the Air. Encounter fearsome desert creatures at the Alice Springs Reptile Park, and take in sweeping views of the West MacDonnell Ranges from the top of Anzac Hill.
Highlights
Discover the history of Alice Springs

Visit the Royal Flying Doctors

Spend time at the School of the Air and join in a lesson

Get up close to the snakes and lizards at the Reptile Park

See panoramic views over the township and West MacDonnell Ranges

Recent Photos of This Tour
Alice Springs Highlights Half-Day Tour
What You Can Expect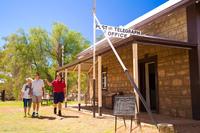 Known as the gateway to Australia's rugged Red Centre, Alice Springs is a unique and vibrant community shaped by aboriginal culture, colonial influences and the challenges of isolated desert living. After pickup at your hotel in the afternoon, begin with a stop at the historic Overland Telegraph Station. Built in 1872, the communications outpost was a key link in connecting early frontier settlements across Australia.
Located in the geographical center of Australia nearly 800 miles (1,288 km) from another major city, Alice Springs residents have learned to adapt to an isolated lifestyle. Learn how students in remote surrounding areas receive an education through the radio at the School of the Air, and visit the Royal Flying Doctor Service base, which provides on-call medical aid to isolated communities.
Next, get an up-close encounter with famous Outback's wildlife at Alice Springs Reptile Park. See some of the world's most venomous snakes including taipans and death adders, scaly desert dwellers like goannas and thorny devils and even a resident saltwater crocodile.Cap off your half-day tour with a drive up to Anzac Hill, where you can admire fantastic views of the copper-colored West MacDonnell Ranges and the township of Alice Springs nestled among the rugged landscape.
Itinerary
Hotel Pickup List:
13:45 - A Good Rest B&B
13:25 - Alice in the Territory
13:35 - Alice Lodge Backpackers
13:05 - Alice Motor Inn
13:15 - Alice on Todd
13:45 - Alice Springs Railways
13:40 - Aurora Alice Springs
13:35 - Chifley Alice Springs Resort
13:25 - Desert Palms Resort
13:05 - Desert Rose Inn
13:45 - Diplomat Motel
13:25 - DoubleTree Hilton Alice Springs
13:05 - Elkira Motel
13:10 - G'Day Mate Caravan Park
13:05 - Haven Backpackers
13:10 - Heavitree Gap Outback Lodge
13:10 - Heritage Caravan Park
13:20 - Ibis Styles Oasis
13:25 - Lasseters Casino Hotel
13:10 - MacDonnell Ranges Caravan Park
13:05 - Pathdorf Bed & Breakfast
13:30 - Quest Apartments
13:05 - Stuart Caravan Park
13:15 - Swagmans Rest Motel
13:40 - Todd Tavern
13:15 - Toddy's Resort
13:45 - Wintersun Caravan Park
13:45 - Vatu Sanctuary
June 2016
Very informative and very enjoyable. The driver was knowledgeable about the area and very helpful. I would definitely recommend it. We saw much more than we would have going around on our own.
May 2016
Hits all the important historical places and more. We didn't expect a drive-through of the town, but we got that, too. Jim, our driver/guide, was wonderful.
May 2016
At first I was skeptical about this tour and regretful about booking it as it took place in the afternoon however, at the end of the day I couldn't have asked for a better and more interesting tour. It visited the most interesting sites of Alice Springs including the reptile center, the post office, the school of the air, and the Royal flying doctor service. The tour ended at the veterans memorial monument that provided a panoramic view of Alice Springs making an enjoyable afternoon and a great introduction to Alice Springs.
March 2016
Small tour of about 14 people. Our guide was extremely knowledgeable of the area. The School of the air was particularly excellent as was the flying doctor museum.
December 2015
This was a very interesting day ---- especially liked visiting the School of the Air and the Royal Flying Doctors.
November 2015
Very informative. Our guide was great! She gave us great insight into the culture and history of the aboriginal people. I loved this tour.
November 2015
Excellent tour, the driver Graham was particularly friendly and knowledgeable. There was sufficient time at each of the attractions that we visited. To have done that on our own would have been much more difficult as we didn't have to worry about where places were. Great value trip.
bing China
October 2015
very well organized trip! very informative. Our guides James and Eric are awesome!
October 2015
After finishing at Uluru, we decided to spend a day at Alice Springs before heading down to Perth. Glad we did. Alice Springs is a little bit of the Wild West. Our guide Peter took us on an enjoyable ride to the old Telegraph Station: the headquarters of the Royal Flying Doctors Service: and even to the Reptile Park the crocodile show was super. It was a fun afternoon.

October 2015
Our family enjoyed this tour. The bus was really comfortable and we managed to see quite a few things in just an afternoon. Our kids enjoyed learning about The School of the Air and the RFDS, and they really enjoyed the reptile center. It was nice to learn that although Australia has 20 of the 25 most poisonous snakes, it is really easy to avoid getting bit by a snake and surviving if you actually do. We also visited Telegraph Station and Anzac Hill so alot of ground was covered.
Advertisement
Advertisement