Discover the beauty of Australia's Red Centre on a 2-day camping tour of World Heritage-listed Uluru-Kata Tjuta National Park. Start from Alice Springs or Ayers Rock, then travel with your guide to Uluru and Kata Tjuta where you take walks, hear stories of Aboriginal culture, and watch the sunrise and sunset over Uluru. Camp overnight in the national park, sleeping under the stars. An ideal tour if you have limited time, this small-group tour offers an intimate experience at one of Australia's most iconic sites.
Highlights
Uluru and Kata Tjuta small-group overnight tour from Alice Springs or Ayers Rock

Travel through the Red Center and see Uluru and the majestic domes of Kata Tjuta
Visit the Cultural Centre and learn about Aboriginal law and beliefs
Watch the changing colors of Ayers Rock at sunset and sunrise
Discover the mysteries of Uluru on a guided base walk

Sleep out under the stars in an outback bush camp
Small-group tour ensures a more personalized experience
What You Can Expect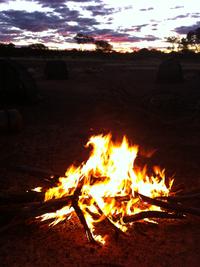 Your 2-day tour of World Heritage–listed Uluru-Kata Tjuta National Park starts with pickup in Alice Springs or at Ayers Rock Airport and travels to Uluru on the first day, and Kata Tjuta on the second day. Sleep overnight at a campsite located within the national park, and share a dinner cooked over the campfire. Camping accommodations are basic but comfortable, consisting of a permanent tent or a swag — the Outback term for a bedroll, which contains a mattress, sheet and pillow. Experience the sunset and sunrise at Uluru, and enjoy guided walks at both Uluru and Kata Tjuta, with informative commentary about Aboriginal culture and traditions, especially as related to this sacred place.
Itinerary
Day 1: Alice Springs — Uluru (L, D)
After pickup in Alice Springs or at Ayers Rock Airport, travel through the Red Centre (known as the heart of the country, where the landscape is vast and earth is deep red in color) to the base of Uluru for an interpretive walk at this iconic outback landmark. While walking around the base with your guide, hear how Uluru is a sacred site for the local Anangu people, and why climbing the rock is considered disrespectful to their ancient traditions. You have the option to climb Uluru, but this is discouraged by the Anangu people.

Hear more about the Aboriginal Dreamtime (folklore) stories connected to Uluru at the Cultural Centre, then settle back to watch the amazing sight of Uluru at sunset. The changing light casts an array of colors on the rock, heightening the monolith's crevices and undulations as the sun drops beneath the horizon. After dinner cooked and eaten around the campfire at your private campsite, sleep under the stars in a traditional swag or permanent tent.

(Lunch is included for passengers departing from Alice Springs only. The tour starts after lunch (own expense) for those joining at Ayers Rock Airport or Outback Pioneer Hotel).

Overnight: campsite in Uluru-Kata Tjuta National Park

Day 2: Uluru – Kata Tjuta (B)
You'll be woken early to catch the stunning sight of Uluru at sunrise. After breakfast at the campsite, travel to Kata Tjuta to take a guided walk around its many sandstone domes. With your guide, walk through the Valley of the Winds, follow dry creek beds and experience the Outback's poetic sense of isolated wilderness.

After your walk around Kata Tjuta, travel to the Outback Pioneer Hotel at Uluru, or the airport where your two-day outback tour ends.
August 2015
Great small group tour if you're short on time and want to camp! I highly recommend camping, it's perfect!
July 2015
Despite some poor quality tents the trip was really very very good. It all boikled down to one of the best guides/hosts we have experienced over the years Timi. He is very respectful towards the clents, the aboriginal culture and the flora and fauna. He takes the time to engage his group in starting to understand the values of respect for all and makes it with a smile and winning way. A great trip.
May 2015
I did not realize dark sky was as splendid as geology on the Earth. I should have book the evening tour for astronomy.
April 2015
This tour was amazing. Just about 12 People, great bus and a very good Guide!
March 2015
The tour was amazing. Everything we could have hoped for. The energy at both rocks is amazing, and our guide Simon, was able to answer all questions we had. Only helpful hint, would be to remember to read the fine print that says to bring a net hat and a flashlight torch, it will make your trip that much more enjoyable.
March 2015
Greate camping trip, with a very good guide in this awsome nature!

January 2014
I wish more older persons would sign up for this. Although the other travel lords were very nice. Leader Rath was knowledgeable and very responsible. A pity that so much of the walk around Uluru was closed off due to heat. I loved sleeping out in a swag. Janice
December 2014
great experience - group leader Katie was exceptional - knowledgable, competent and personable
group was a great mix of ages and nationalities and a good size at 15 plus leader
only disappointments were neither sunrise nor sunset were spectacular and night sleeping under the stars not possible because of winds and and overcast but you can't control nature!
would have been great if trip had included a session with an Aboriginal person who could have told us first-hand something of their culture - although Katie was very knowledgable
it was still a great trip in spectacular country.
March 2014
Very informative and enjoyable.
Only slight negative was the lack of lighting at the campsite although this we were led to understand will be soon rectified.
Very comfortable transport, plenty of comfort stops.
July 2015
Jules the tour leader is a very knowledgable guy who was able to explain all the history and folklore of the indigenous people of the Uluru area. The big problem during the travel was the PA System in the Convered Truck being used as a 'bus' not up to the job.
Uluru is magnificent and well worth the trip to get to see it at sundown and dawn. However the cheap plastic toothbrush holder cups for the bubbly when all around have champagne flutes signals the cheapness of this trip.
Getting up at 4.30am is not a problem when the camp, that you stay at, is so basic. Having no lights to even get to the tents, or to get changed by, is not good. This is such a basic amenity to provide? The swag is not as warm as Jules suggests in the middle of winter!
The 'guests' paying customers are expected to do all the cleaning up and even cooking their own lunches. So if you expect Glamping then this is not for you.
Advertisement
Advertisement