Location:

Alice Springs, Australia

Duration:

10 hours

(approx.)
Explore the Palm Valley area on a full-day tour from Alice Springs, and take an off-road excursion to see rock pools and rugged outback landscapes by 4WD. The tour includes a picnic lunch in Finke Gorge National Park and a visit to the Hermannsburg Aboriginal community, combining relaxation and history in one of Central Australia's most celebrated river oases.
Highlights
Tour the Northern Territory's Palm Valley by 4WD from Alice Springs
See spectacular rock formations, white sands and an oasis of rock pools and palm trees
Enjoy a picnic lunch in Finke Gorge National Park
View the extensive Aboriginal art collection in Hermannsburg, an Aboriginal Community
What You Can Expect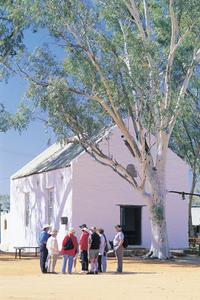 Traveling by 4WD, depart Alice Springs with your guide and follow the Finke River's ancient bed to Palm Valley, an oasis of white sand, palm trees and spectacular rock formations. Take a guided walk to discover the valley's rich plant life, including red cabbage palms which grow only in the Palm Valley, along with different species of cycads and palms.

You'll see the spectacular natural rock formation known as the Amphitheatre, and be shown the semi-permanent spring-fed pools that have created this fertile valley in the heart of the Central Australian desert.

After a picnic lunch in Finke Gorge National Park, your tour continues to the historic Aboriginal community of Hermannsburg, a place of refuge for almost a century for the Arrernte people, who fled here to escape conflict between pastoralists, the police and other Aboriginal tribes. Visit the town's mission, known for the mid-20th-century Aboriginal paintings of Albert Namatjira, who lived at the strongly Lutheran-influenced Hermannsburg Historic Precinct. You can explore the painter's home and see his signature pastel-hued landscape paintings in the mission's art gallery.

Relax on the trip back to Alice Springs and watch the desert landscape and mountains change color in the afternoon light.
Itinerary
Hotel Pickup List - June - Oct:
07:05 - A Good Rest B&B
07:25 - Alice in the Territory
07:35 - Alice Lodge Backpackers
07:05 - Alice Motor Inn
07:15 - Alice on Todd
07:20 - Annie's Place
07:40 - Aurora Alice Springs
07:35 - Chifley Alice Springs Resort
07:25 - Desert Palms Resort
07:05 - Desert Rose Inn
07:45 - Diplomat Motel
07:25 - DoubleTree Hilton Alice Springs
07:05 - Elkira Motel
07:10 - G'Day Mate Caravan Park
07:45 - Haven Backpackers
07:10 - Heavitree Gap Outback Lodge
07:10 - Heritage Caravan Park
07:20 - Ibis Styles Oasis
07:25 - Lasseters Casino Hotel
07:10 - MacDonnell Ranges Caravan Park
07:05 - Mount Nancy Motel
07:10 - Pathdorf Bed & Breakfast
07:30 - Quest Apartments
07:05 - Stuart Caravan Park
07:15 - Swagmans Rest Motel
07:40 - Todd Tavern
07:15 - Toddy's Resort
07:15 - White Gum Apartments
07:05 - Wintersun Caravan Park

Hotel Pickup List - Nov - May:
06:35 - A Good Rest B&B
06:55 - Alice in the Territory
07:05 - Alice Lodge Backpackers
06:35 - Alice Motor Inn
06:45 - Alice on Todd
06:50 - Annie's Place
07:10 - Aurora Alice Springs
07:05 - Chifley Alice Springs Resort
06:55 - Desert Palms Resort
06:35 - Desert Rose Inn
07:15 - Diplomat Motel
06:55 - DoubleTree Hilton Alice Springs
06:35 - Elkira Motel
06:40 - G'Day Mate Caravan Park
07:15 - Haven Backpackers
06:40 - Heavitree Gap Outback Lodge
06:40 - Heritage Caravan Park
06:50 - Ibis Styles Oasis
06:55 - Lasseters Casino Hotel
06:40 - MacDonnell Ranges Caravan Park
06:35 - Mount Nancy Motel
06:40 - Pathdorf Bed & Breakfast
07:00 - Quest Apartments
06:35 - Stuart Caravan Park
06:45 - Swagmans Rest Motel
07:10 - Todd Tavern
06:45 - Toddy's Resort
06:45 - White Gum Apartments
06:35 - Wintersun Caravan Park
Advertisement
Advertisement