32 Reviews
Location:

Alice Springs, Australia

Duration:

4 hours

(approx.)
Float above the Outback desert on this exciting hot air balloon adventure! Rise before dawn and watch your balloon inflate in the early rays of daybreak, before boarding your balloon and heading aloft. Drift over this barren landscape and spot wildlife from the air. Enjoy a light champagne breakfast on the landing site. This is a great way to see the Outback.
What You Can Expect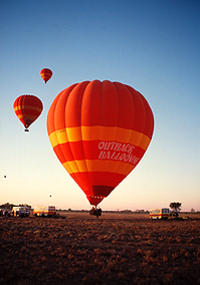 Start your ballooning adventure in the pre-dawn when the outback sky is alight with the brightest stars and the air is fresh and cool. Inflation of the balloon begins with the first faint glow of dawn in the east and we are aloft when the powerful rays of sunrise light up this ancient red land and its brooding sentinel, the MacDonnell Ranges.

Drift over this rugged landscape and appreciate its immensity and the flashes of green and ruby pink that announce wheeling budgerigars and galahs. After the flight enjoy a light champagne breakfast, which is served on the landing site. A superb way to see the Australian outback.
Itinerary
December 2014
When booking this trip I was concerned about how much I had spent, however it was one of the most memorable things me and my 9yr old son did in Australia! We had a fantastic time, from watching the balloon be inflated...and deflated and packed away. I didn't realise there would be soo many of us in one basket (16 in total) but in the end this was an advantage as other. People asked questions that I had not thought to ask and I found interesting (they could also take pics for you). The guide was very friendly and knowledgable. He helped us with everything we needed and the champagne breakfast in the middle of the desert was equally as fabulous. The guides couldn't top your glass up enough and the picnic style breakfast muffins and fruit were perfect! We had a fantastic time.
May 2014
Worth getting out of bed for. It was a fabulous experience with great views; laughter and a champagne breakfast....life can't get any better.
May 2014
such fun and some surprises with plans gone slightly wrong but all enjoyable
December 2013
Another wonderful adventure. So worth getting up at 3.30am to see the sunrise. Everything was perfect. We all had a fun time. The champagne breakfast was just what we needed after the balloon ride. Lots of fun.
December 2013
The view was just amazing. Really smooth landing. Couldn't find wild kangaroos from the air, still really enjoyed it.
September 2013
Everyone should do this the sky was wonderful! Everyone was great
June 2013
Unbelievable. My first hot air balloon ride. The best part was the crash landing. What a blast. It was totally dark in the desert and the stars looked fabulous. I am from NYC and you don't get to see that many stars except at the planetarium. The sunrise couldn't have been more spectacular. We saw kangaroos and cattle from the air. When the flame was not on it was soooooo quiet. Totally fascinating. I'm still talking about it. I would definitely do it again.
September 2012
Freezing cold morning but the crew very helpful. View spectacular. Breakfast and champagne yummy.
May 2012
Perfect views. Wind speed was good therefore, generally pleasant. Maybe will be a little chilly for some. Also, trying to get into the basket was fairly easy. However, some might have problems as the basket was pretty high. I am sure the pilot will aid you if needed. Full of humour those guys. I will definitely recommend this activity. :)
April 2012
A wonderful experience, particularly as we were upgraded to an hour long trip. Staff were very attentive and the champagne breakfast was great fun and generous. We had the added bonus of a young German man proposing to his sweetheart when we landed! She said "yes"!
Advertisement
Advertisement