Explore the underwater wonders of Belize's most popular snorkeling sites with this 3-hour trip to Hol Chan Marine Reserve and Shark Ray Alley. Departing from Ambergris Caye, you'll swim with an amazing variety of fish, sea turtles, stingrays, and nurse sharks among the coral formations of the largest barrier reef in the Western Hemisphere.
Highlights
3-hour snorkel tour from Ambergris Caye
Cruise the clear Caribbean waters and snorkel amid coral formations
See colorful reef fish and other aquatic life in Hol Chan Marine Reserve
Spot stingrays, sea turtles and brown nurse sharks in Shark Ray Alley
What You Can Expect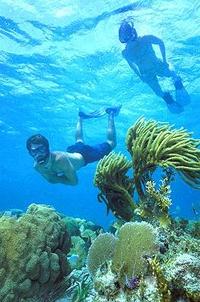 Belize is famous for its remarkable snorkeling sites and diverse sea life. With a name that means "Little Channel" in Maya, Hol Chan Marine Reserve was the first such designated reserve in Central America and is located among the second-largest barrier reef in the world. Just a 15-minute ride by motor boat from Ambergris Caye, Hol Chan will be the first stop on your snorkeling adventure.
After donning a snorkeling mask and fins, you'll be ready to splash into the shallow, clear Caribbean waters to explore the amazing coral reef formations below. Thanks to dedicated conservation efforts, this area boasts a wonderfully healthy and diverse population of marine life, including 160 different species of fish. You're likely to spot large schools of snapper, grouper, and jack fish darting among the impressive coral formations, as well as larger creatures like sea turtles and stingrays.
Hop back aboard your boat for a quick ride over to Shark Ray Alley, a shallow channel in the reef where these two bottom feeders are found in abundance. Swim among gentle stingrays, with wingspans up to 4 feet (1.2 meters), as well as harmless brown nurse sharks that can reach lengths of more than 9 feet (2.75 meters). After getting your fill of these marvelous marine animals, you'll be transported back to Ambergris Caye and your San Pedro hotel.
May 2016
Rachel Sherman United States of ...
June 2015
The guides from Discovery were extremely knowledgeable and attentive to all snorkelers and divers.
May 2015
This was incredible. It was the perfect amount of time. We were the only ones on the trip. We took a short, 20 minute boat ride from our hotel to Hol Chan. We had a guide snorkel with us and point out stuff in the water. We then traveled maybe 10 minutes to Shark Ray Alley. Our guide was awesome and let us pet the sharks and swim around with them. It was a perfect 3 hour trip and we were back at the hotel in time for lunch. Highly recommended!
March 2015
Unexplainably beautiful and worth every cent. Traveled with our family of 5. My children aren't strong swimmers but the guides kept them close and we never once felt unsafe. The water and sea life were absolutely spectacular and abundant. This tour should not be missed.
December 2014
January 2015
This tour was fun, but not the greatest snorkeling I've done. Water was slightly murky, guide kept clapping to point out things which got a little obnoxious, lots of boats and folks snorkeling, but still feel it is something to be done if you're not going to be able to snorkel in other areas.
June 2015
I would never book this tour again for the following reasons. This company charged me 66.99 for this tour. The night before I went we walked by the dock and the tour was 40.00. I was booked for a 2pm tour and when I called to confirm they told me there was no afternoon tour and they could get me in the next morning. I was leaving the next morning so that was no good. They decided to put me on that mornings tour the only problem I had like 10 min to get up and rush down to the dock. The 3 hour trip only lasted 2 1/2 hours and that included them picking me up at my hotel then going to their dock for equipment. Do yourself a favor their are plenty of tour company's at a better price wait till you get down there to shop around.
Advertisement
Advertisement