Explore the amazing marine life of the Caribbean with a SNUBA tour of Belize's famed Hol Chan Marine Reserve or Mexico Rocks patch reef. Departing from Ambergris Caye, this 2.5-hour tour will take you to the SNUBA destination of your choice, where you will get an up-close look at Belize's amazing coral reefs and sea creatures. With no scuba certification required, SNUBA allows you to explore underwater at depths up to 20 feet (6 meters) using a regulator-powered breathing hose. Round-trip hotel transport from San Pedro is included.
Highlights
2.5-hour SNUBA adventure tour from Ambergris Caye
Visit Mexico Rocks or Hol Chan Marine Reserve – designated SNUBA sites
Explore the vibrant coral reefs of Belize and see colorful fish as you breathe easily underwater
Orientation, equipment and round-trip hotel transport included

What You Can Expect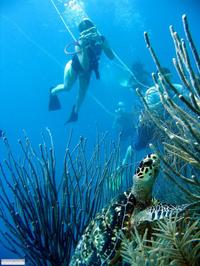 Enjoy the ease of snorkeling combined with the greater depths and flexibility of scuba diving on a Belize SNUBA adventure! You will be picked up at your Ambergris Caye hotel for a quick boat ride out to the destination of your choice — either Hol Chan Marine Reserve or Mexico Rocks.
At the site, your guide will present a quick, 15-minute safety training. There is no certification required for SNUBA, and you will breathe through a long hose attached to a regulator aboard the boat. Once you're geared up, splash into the refreshing, crystal-clear waters of the Caribbean and descend to a depth of up to 20 feet (6 meters) to explore the vibrant underwater surroundings.
Hol Chan Marine Reserve is a protected channel in the second-largest barrier reef in the world. If you opt for Mexico Rocks, sandwiched between the island of Ambergris Caye and the outlying barrier reef, you'll swim among shallow patch reefs dotted with coral and sea grass. Both locations are home to a rich variety of marine life, including colorful fish, sea turtles, stingrays, eels, and harmless nurse sharks.
After returning to the surface, you will be taken by boat back to solid ground on Ambergris Caye and dropped off at your hotel. (Additional transport fees may apply for hotels located outside of San Pedro.)

February 2016
This is must go tour when you stay in Ambergris Caye.
June 2015
This was a highlight of our vacation. Mexico rocks is such a beautiful area. If you enjoy snorkeling you will love snuba.
November 2014
Very fun. I tend to get sea sick and slightly claustrophobic, but had no problems with SNUBA. Took a few minutes to get used to breathing with a regulator but other than that it was easy. Saw sharks and sting rays and beautiful fish. The guides were awesome. Very knowledgable and put me at ease!
August 2014
OMG! This place is incredible, the dive master Mike was awesome as was our boat captain, I would suggest taking lessons prior to your trip as it can be a little intimidating at first, we visited Mexico Rocks and all that has been said about it is true and more!
April 2014
Wow! Snorkeling with sharks, rays, turtles! Snuba was really great, too!! Saw amazing things!
March 2014
It was my first time to snuba. Great experience, excellent equipment and guide.
It is a great intro to scuba, now I want to take certification classes!
June 2013
We love this. Learned a lot from the trip. Our tour guides were great, helped us feel confident. My husband fell in love with it. He wanted to snorkel and I wanted to Scuba so we compromised on snuba. He is now ready for the next step. I have to say I had a little difficulty with breathing out into the air thing and thought i was gonna chicken out (enclosed places can bother me) but I put it aside in my mind and am so glad I did. I kept telling my husband it was like being on the Finding Nemo ride at Disneyland with all the fish and I even touched a see turtle, it was awesome!
January 2013
Snuba is fabulous. Minor problem with schedule but Christine at Belize Discovery Adventures figured it out and we had a great time. Roy and Iver were great.
February 2016
We had a great time on our Snuba adventure. The guide was great in showing us the underwater creatures and how to use our snuba gear. We saw a sea turtle and a sting ray along with a bunch of beautiful fish. After snuba, we went to another location to do some snorkeling but the water was pretty rough and there weren't any fish to really be seen. We figured out that the guide had his own agenda and really wasn't leading us anywhere or showing us anything. We got exhausted fighting the waves and really just wanted to go back but he was out there for awhile. If the trip had ended after snuba we would have been thrilled, but the snorkeling took it down a notch since it really wasn't part of the trip.
December 2015
This was the perfect compromise for us. My daughter loves to scuba but I'm not a confident diver so this was a great alternative. We saw some amazing wildlife - sea turtle, green moray eel, sharks and too many colorful fish to name! Our guide was sure to point out anything that he thought we didn't see on our own and made sure that we were comfortable throughout the experience. Definitely a must do activitiy!!
Advertisement
Advertisement