Experience the thrill of SNUBA, exploring Belize's Mexico Rocks or Hol Chan Marine Reserve on this 2.5-hour tour from Ambergris Caye! Take your undersea adventure to the next level by combining the simplicity of snorkeling with the depth of scuba diving – no certification required. You'll explore the crystal-clear Caribbean up to a depth of 20 feet (6 meters) as you breathe underwater with ease. Hotel transport is included.
Highlights
2.5-hour SNUBA adventure tour from Ambergris Caye
Visit Mexico Rocks or Hol Chan Marine Reserve – designated SNUBA sites
Explore the vibrant coral reefs of Belize and see colorful fish as you breathe easily underwater
Orientation, equipment and round-trip hotel transport included

What You Can Expect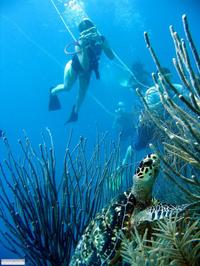 Your tour starts with a short ride to a designated SNUBA site – either Mexico Rocks or Hol Chan Marine Reserve (your choice).
Once you arrive, learn how to SNUBA with a 15-minute safety and orientation session from your expert guide. You don't need lengthy training or diving certification to enjoy this experience! Simply breathe through a regulator attached to a tank above the water by a long hose.
When you're ready, descend to a maximum depth of 20 feet (6 meters) while breathing easily underwater. You'll be amazed by the pristine surroundings as you discover an abundance of marine life in the clear turquoise waters of the Caribbean!
If you're at Mexico Rocks, located midway between Ambergris Caye and its barrier reef, you'll explore a shallow area of colorful patch reefs and sea grass beds. Or, at Hol Chan Marine Reserve, discover a small channel and protected coral reef with a plentiful variety of tropical reef fish such as snappers, jacks and groupers.
Your tour ends with boat transport back to your hotel (additional fuel surcharges may apply).

June 2015
This was a highlight of our vacation. Mexico rocks is such a beautiful area. If you enjoy snorkeling you will love snuba.
November 2014
Very fun. I tend to get sea sick and slightly claustrophobic, but had no problems with SNUBA. Took a few minutes to get used to breathing with a regulator but other than that it was easy. Saw sharks and sting rays and beautiful fish. The guides were awesome. Very knowledgable and put me at ease!
August 2014
OMG! This place is incredible, the dive master Mike was awesome as was our boat captain, I would suggest taking lessons prior to your trip as it can be a little intimidating at first, we visited Mexico Rocks and all that has been said about it is true and more!
April 2014
Wow! Snorkeling with sharks, rays, turtles! Snuba was really great, too!! Saw amazing things!
March 2014
It was my first time to snuba. Great experience, excellent equipment and guide.
It is a great intro to scuba, now I want to take certification classes!
June 2013
We love this. Learned a lot from the trip. Our tour guides were great, helped us feel confident. My husband fell in love with it. He wanted to snorkel and I wanted to Scuba so we compromised on snuba. He is now ready for the next step. I have to say I had a little difficulty with breathing out into the air thing and thought i was gonna chicken out (enclosed places can bother me) but I put it aside in my mind and am so glad I did. I kept telling my husband it was like being on the Finding Nemo ride at Disneyland with all the fish and I even touched a see turtle, it was awesome!
January 2013
Snuba is fabulous. Minor problem with schedule but Christine at Belize Discovery Adventures figured it out and we had a great time. Roy and Iver were great.
December 2013
They were very nice and accommodating. Were "late" to pick us up (on-time, per Belize time) which was no big deal. We walked to their place on the dock and they came back and got us and our gear, were very nice about it. I was nervous about snuba diving because I'd never used a breathing apparatus before or dove deeper than 10 ft, but our guide did a great job making me feel comfortable and safe, using as many weights as I felt comfortable wearing. Snuba diving is great if you want to see whats below 20 ft. Though, snorkeling is just as satisfying because most of the life is on the upper part of the coral reefs anyway. After snorkeling at Hol Chan, which was amazing. We went to Shark Ray Alley which was equally great -- got to swim with nurse sharks, manta rays and select fish.
Advertisement
Advertisement