Soar through the rainforest canopy on a zipline and explore Belize's ancient caves on this full-day excursion from Ambergris Caye. You'll take a quick flight to Belize City, then whiz through the jungle on a 7-course zipline at the Caves Branch Outpost. Next, float underground on the Caves Branch River while exploring magnificent cave formations and ancient Mayan ceremonial sites. A buffet lunch at the outpost café is included.
Highlights
8.5-hour zipline and cave-tubing adventure tour in Belize
Enjoy a short round-trip flight between Ambergris Caye and Belize City

Whiz through the treetops by zipline along a tropical forest canopy at Caves Branch Archeological Reserve
Float underground along the Caves Branch River, exploring underground caves the Maya once inhabited
See flora and fauna, and learn about plants the ancient Maya used
Enjoy a buffet lunch (included) at the Canopy Café
What You Can Expect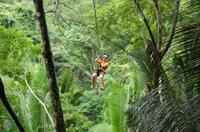 Experience two of Belize's most exciting adventures on this combined ziplining and cave tubing adventure departing from Ambergris Caye. Hop aboard a quick 15-minute flight to Belize City from the San Pedro airstrip. The base for your adventure is Caves Branch Outpost, located on an archaeological reserve an hour's drive along the scenic Western Highway.
After receiving your equipment and a quick safety briefing, you'll be ready to soar across the first zipline. You will launch off a platform nestled high up in a tree to experience the feeling of flying through the jungle. Ranging in length from 200 to 600 feet (61 to 182 meters), seven different zipline cables will take you through the upper reaches of the rainforest, with amazing views of limestone cliffs and the rich biodiversity of Belize's tropical forests.
Next, you'll trade in your zipline harness for a hardhat and headlamp. Give your adrenaline levels a break with a short nature walk through the jungle, while your guide points out herbs and plants that the ancient Maya used for healing. Absorb the sights and sounds of a vibrant array of native bird species along the way.
You'll reach the Caves Branch River and a tunnel leading to an extensive underground cave system. After learning some safety tips from your guide, settle into your inner tube and launch onto the gentle currents of the river. Caves were important in ancient Mayan mythology as the entrance to their underworld, Xibalba. As you float, learn about how the Maya used these caverns for ceremonial purposes, and admire the incredible crystalline formations created by the movement of water through the caves over thousands of years. After gliding through several different caves, you'll emerge back into the sunlight of the open river.
Refuel after your adventure with a hearty buffet lunch at the Caves Branch Outpost Canopy Café. You'll then be driven back to Belize City for your return flight to Ambergris Caye.
June 2013
We sooooo love it! So much fun! Great tour guide, good food. Beautful place! So worth seeing. You also get a lot of history and info from this trip about the country. We did a total of 3 trips on our honeymoon all with the same company. They are all great people. They were there when they said they would be and took great care of us.
January 2015
Zip line and cave tubing was fantastic, so was our guide, very knowledgable and funny. Little mix up with pick up and flight, delayed us an hour, but tour office sent someone to airport to handle things.
April 2014
Transportation to and for was a bit crazy but the actual tour was fun and interesting. Zipline was exhilarating!
Advertisement
Advertisement