Explore treetop canopies and underground caves on this full-day adventure tour at Caves Branch Outpost from Ambergris Caye. After a short flight from Ambergris Caye to Belize City, you'll ride along a 7-course zipline before heading on a nature walk to your underground cave-tubing adventure. Plus, enjoy a buffet lunch (included) at the Canopy Café.
Highlights
8.5-hour zipline and cave-tubing adventure tour in Belize
Enjoy a short round-trip flight between Ambergris Caye and Belize City

Whiz through the treetops by zipline along a tropical forest canopy at Caves Branch Archeological Reserve
Float underground along the Caves Branch River, exploring underground caves the Maya once inhabited
See flora and fauna, and learn about plants the ancient Maya used
Enjoy a buffet lunch (included) at the Canopy Café
What You Can Expect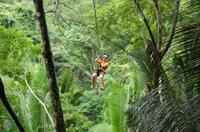 Begin your full-day adventure with a 15-minute flight to Belize City from the San Pedro Ambergris Caye Airstrip! Then, relax on a 1-hour drive along Belize's Western Highway to Caves Branch Outpost, located in the Nohoch Che'en Caves Branch Archeological Reserve. When you arrive, prepare for your zipline and cave-tubing adventure!
First, get an instructional safety briefing from an expert guide and try on your equipment – including harness and hardhat. Then, climb up to your first zipline, secured to a platform high up in a hardwood tree, and look out across the tropical forest canopy. Your spectacular view includes palm fronds and a scenic backdrop of karst limestone cliffs.
When you feel ready, take a thrilling leap and propel yourself by the overhead cable across the first 150 feet (46 meters)! When you arrive at the next platform, you'll be excited to take off again and continue gliding gracefully between treetops. With six more ziplines to go, each ranging in length from 200 to 600 feet (61 to 182 meters), you'll feel like you're flying!
After the final stretch, exchange your zipline gear for cave-tubing equipment, including a hardhat with headlamp, and follow your guide down a nature trail. Along the way, learn about the herbs, roots and medicinal plants the Maya used for ancient remedies. Your guide will point out the sounds and sightings of various bird species as well.
You'll arrive at the entrance tunnel to an ancient, underground cave system. Here, the Caves Branch River winds through caverns the Maya once occupied, called Xibalba – the underworld – in Mayan mythology. After a safety briefing and instructions on proper cave exploration from your guide, you'll be ready to float along the gentle currents.
Sit back on your own inflated inner tube and enjoy drifting through the beautiful caves, where stalagmites and stalactites and other crystal-like formations have developed over time. You'll surface into the sunlight before submerging into another cave; your cave journey ends in the open river with the rest of your group floating on their tubes.
Your adventure at Caves Branch Outpost ends with a buffet lunch at the Canopy Café (including juice or iced tea), before transport back to Belize City for your return flight to Ambergris Caye.
June 2013
We sooooo love it! So much fun! Great tour guide, good food. Beautful place! So worth seeing. You also get a lot of history and info from this trip about the country. We did a total of 3 trips on our honeymoon all with the same company. They are all great people. They were there when they said they would be and took great care of us.
January 2015
Zip line and cave tubing was fantastic, so was our guide, very knowledgable and funny. Little mix up with pick up and flight, delayed us an hour, but tour office sent someone to airport to handle things.
April 2014
Transportation to and for was a bit crazy but the actual tour was fun and interesting. Zipline was exhilarating!
Advertisement
Advertisement