Enjoy tours of Petra, Wadi Rum and the Dead Sea on this 3-night private tour of Jordan's wonders from Amman, with your own private guide. Head south from Amman for a guided Petra tour: seeing the best of this age-old, UNESCO-listed rock-cut city. The next day, explore the spectacular desert valley of Wadi Rum, and 'swim' in the salt-rich waters of the Dead Sea. Three nights of accommodation in Amman and Petra; daily breakfast and dinner; and airport transfers at the start and end of your trip are also included.
Highlights
3-night tour of Petra, Wadi Rum and the Dead Sea from Amman with a private driver
See the best of Petra, including the Siq, Treasury (El Khazneh) and the Royal Tombs, led by a local guide
Ride a 4x4 through the canyons, valleys and deserts of Wadi Rum
Float in the salt-rich waters of the Dead Sea
Enjoy two nights in Jordan's capital of Amman, plus a night in ancient Petra
Choose from a range of hotel standards to suit your budget
Recent Photos of This Tour
3-Night Jordan Private Tour: Petra, Wadi Rum and the Dead Sea
What You Can Expect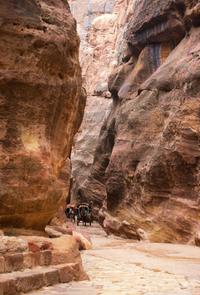 Experience Jordan's most famous natural and historical beauty spots on this 3-night tour, accompanied by your own friendly and knowledgeable private guide, who doubles as your driver.
After relaxing overnight in Amman on Day 1, travel south through Jordan's sun-baked desert landscapes to Petra, the UNESCO-protected, ancient city hewn into a rocky valley more than 2,000 years ago. Enjoy a guided tour of Petra's main sights, including the Siq, Treasury (El-Khazneh) and rock tombs. Then, after an overnight stay in Petra town, continue the next morning to Wadi Rum, a protected desert valley renowned for its natural beauty.
Take an exciting 4x4 ride around the valley, mountains and dunes; and then travel on to the Dead Sea. Get time here to 'swim' in the salt-rich waters before your return to Amman and a final, overnight stay.
Your tour includes round-trip private transport, three nights of accommodation in your choice of tourist-, prime- or superior-class hotels, breakfast and dinner each day, and time for lunch (own expense) on each day of your travels.
Itinerary
Day 1: Amman Queen Alia International Airport - Amman (D)
Start your Jordan experience with an airport transfer to your hotel in Amman. Check in, and then enjoy dinner in your hotel.

Day 2: Amman - Petra (B, D)
After breakfast and a hotel pickup by your car and driver, travel south through the rugged desert landscapes to Petra, the ancient rock city in Jordan's Shara Mountains — your time on the road is roughly 3 hours.

After lunch (own expense), enjoy 2-hour walking tour of this awe-inspiring Nabataean city and UNESCO World Heritage site with a local guide. One of the Seven Wonders of the World, Petra was carved into a sandstone gorge more than 2,000 years ago to dominate the trading routes of ancient Arabia and is rightly regarded as the jewel in the crown of Jordan's historic sights.

Walk along the narrow Siq, the high-walled fissure in the rocks that winds into the heart of the city. Then, stop in your tracks at your first breathtaking glimpse of the Treasury, known locally as El-Khazneh —Petra's stellar sight. Wonder at its intricate façade and hear how movies such as Indiana Jones and the Last Crusade were filmed here.

Take photos of this glorious monument and then continue your tour. See Petra's ornate tombs cut into the rock face and admire the stunning theater that once sat 3,000 spectators. As you walk, hear stories and facts about the ingenious Nabataeans who chose, carved out and then made this place their home so long ago. After your walking tour finishes, check in and enjoy dinner at your hotel.

Day 3: Petra - Wadi Rum - Dead Sea - Amman (B, D)
Start your day with breakfast at your hotel and then travel to the spectacular desert wilderness of Wadi Rum. Sometimes known as the 'Valley of the Moon' for its lunar-like landscapes, this protected region of mountains, dunes and canyons was where TE Lawrence, known as 'Lawrence of Arabia' fought alongside the Bedouin locals in World War I.

The locals have named many of the sites in Wadi Rum after Lawrence and numerous scenes from the iconic movie, Lawrence of Arabia, were filmed on location here. Enjoy an exhilarating 2-hour trip by 4x4 through this majestic place to immerse yourself in its serene beauty and ever-changing colors. Rumble along desert valleys, through narrow gorges and past red dunes and mountains and stop to take photos along the way.

After a break for lunch (own expense), travel onward to the Dead Sea, the lowest point on Earth. Sitting at 1,312 feet (400 meters) below sea level, this glittering inland sea contains extraordinarily high levels of salt and minerals, and offers up an incredible experience: the chance to float rather than swim!

Arrive at the Dead Sea Beach Rest House and wade in to experience a short floating session from the beach: it's an unforgettable sensation. Finish your day by relaxing on the 1-hour journey back to Amman. Check back into your hotel for dinner.

Day 4: Amman (B)
Your 3-night Jordan tour finishes after your hotel breakfast. Check out of your hotel and relax on a convenient airport drop-off at Amman Queen Alia International Airport at a time to fit your flight departure.

June 2016
I can and #39;t rate this tour enough! The staff were very professional and helpful, everything was catered for. We saw all the main sites in comfort and were made to feel really safe.
June 2016
My two friends and I traveled to Jordan during Ramadan. This tour was SUPERB, and we would highly recommend it. Not only did it ease our travel concerns, as you receive pick-up from and drop-off to the airport, arranges transportation, and books hotels. We also loved the sights--the Wadi Rum, the Dead Sea, and Petra. And our guide, Basel, was incredibly welcoming and friendly, and answered all of the questions we had throughout our trip. He even helped set up separate tours to Mount Nebo and Jerash for us! For a shorter stay in Jordan, take this trip! And request Basel--an amazing guy and guide!
March 2016
This trip is absolutely fantastic and highly recommended! Shadi was a wonderful guide and driver who was professional and reliable, as well as being a really nice guy! We were two young Australian women travelling together and he made us feel comfortable and safe at all times on the trip. We covered lots of ground and were so impressed by the parts of Jordan we saw. It is such a beautiful country with a fascinating history. We can't wait to return and explore more next time!
March 2016
Me and my wife did this tour for one of our marriage anniversary and this is the best tour we have done so far, the Driver Shadi Abdulla, my new friend in Jordan was awesome he took utmost care of us and was very very careful while driving and also made sure we were comfortable all through the trip, he gave us many suggestions and helped ways to save money without compromising on luxury and safety .
I'm really happy with the tour and the people in the Jordan, I was initial skeptical about safety but Jordan was really a safe place to travel, I really liked the hospitality of the people there.
During our tour, the tour manager Carol called us to wish us on our anniversary and made sure we were OK all through the trip, also they upgraded us with better accommodation in Wadi Rum for our anniversary.
Jordan has got lot to see with great history and culture, I would definitely recommend the place and the tour.
January 2016
This tour was simply amazing! The driver/tour guide was so knowledgeable and very, very nice. I went on this trip alone, and not once did I feel uncomfortable. Everyone I have come in contact with since returning from my trip, I have told them that I want them to visit and have the same magnificent experience as I did. This is the company to do it with!! Shadi was so good at taking care of everything that I needed. When I come back I will be requesting him again. There are no words to explain how well I was treated and taken care of. I am beyond happy that I got Shadi, I don't think the trip could of been any better.

December 2015
Awesome trip put together on very short notice a little over 24 hours, and even then they were flexible and able to make different arrangements for us. Great guides too!

November 2015
This tour was amazing!! I booked this tour months ago for myself, two sisters and my mum and all of it was better than I could have expected. It was so professional and organised from our arrival transfers to the tour guides, our super clean and luxurious accommodations and the friendly staff! Thanks
August 2015
This past weekend my sister and I Canadian, early twenties decided to take this tour in Jordan. Before booking we were a little apprehensive to be travelling as two young women and had been warned about the safety of travelling in a country surrounded by countries that are experiencing conflict. If anyone is hesitant we can tell you, we had a fantastic time and at no point did we feel unsafe or at risk on our journey! Many people we met expressed how tourism is suffering in Jordan which is extremely unfortunate - a beautiful country with very welcoming people. Our guide Shadi was fantastic, he was very friendly and went out of his way to accommodate for our travel itinerary. We flew in late and he made sure that we could still get a meal at the hotel. As well, our flight home was in the evening on the last day so he adjusted our itinerary by taking us to the Dead Sea on the last day to give us more time and a more relaxed schedule - we really appreciated him thinking of this. All the guides we met throughout our trip in Petra and wadi rum spoke fantastic English and made sure we had an enjoyable time. Our guide Omar in Wadi Rum let us take the wheel on our desert excursion and showed us how locals like to drive through the sand dunes! Little things like that really made our experience in Jordan exceed expectations. There is quite a bit of driving on this tour, but if you want to see these three big attractions in a short time you have to be prepared for that. We would recommend this tour and really want to emphasize to anyone hesitant that as two young women travelling alone we felt completely comfortable and really appreciated having Shadi as our guide to show us around and ensure we were safe and sound throughout the entire tour. With a little more time we would definitely return to Jordan and keep exploring. Happy travels to those heading to this wonderful country!
July 2015
First Class Personal Service. Outstanding and Accommodating.
June 2015
Everyone in our family felt that this trip was a 10 out of 10. We loved the hike down to Petra, Wadi Rum was extremely beautiful, and getting to float in the dead sea was amazing!! Our tour guide, Mr. Nabil was very knowledgable and was kind to our children, which always scores a lot of points with us. We chose all tourist class hotels and we thought they were perfectly adequate. The Larsa hotel was clean and comfortable with good meals- we arrived at 3 am and they brought us sandwiches to our room! And the Amra Palace hotel was older but nice and comfortable. The staff was extremely kind and welcoming- especially to our children- and the food and atmosphere were very good. Our only regret is that we couldn't stay longer!!
Advertisement
Advertisement