See the highlights of Jordan on a 6-night tour with 3-, 4- or 4-star superior hotel accommodation in Amman and Petra included! Contrast the hubbub of Amman with the sun-scorched serenity of Wadi Rum desert; defy gravity with a soak in the salt-rich Dead Sea; and gaze at Roman ruins in the ancient city of Jerash. Sightsee your way around the rock-carved city of Petra, and then laze on a beach in Aqaba. Do all this and more on this incredible multiday Jordan tour, led by an expert local guide.
Highlights
6-night Jordan tour from Amman, led by a professional local guide
Contrast the sights of Amman with ancient Jerash during city sightseeing tours
Visit the Dead Sea and swim in the salt-rich waters of the lowest place on Earth
Admire views of the Jordan Valley from Mount Nebo
See the Siq, Treasury (Al-Khazneh) and Royal Tombs in the UNESCO-listed city of Petra
Spend four nights in Amman and two nights in Petra, enjoying 3-, 4- or 4-star superior hotel accommodation
What You Can Expect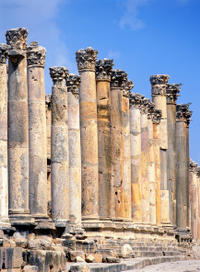 Civilization can be traced to around 9,000 BC, meaning Jordan has one of the world's oldest cultures as well as some spectacular sights. With an expert local guide at your side, you'll discover Jordan's countless highlights during city tours and excursions. Learn about the country's enthralling history, from its significance in biblical tales to its days as the ancient Decapolis during the time of the Roman Empire.

In between excursions and transfers between cities, enjoy plenty of free time to discover the country, too. Choose from tourist-class, prime-class or superior-class hotel accommodation, and enjoy four nights in Amman as well as two nights in Petra — a UNESCO World Heritage site. Hotels are centrally located, allowing you to get a feel for these contrasting cities at your own pace.
Itinerary
Day 1: Amman
Your tour of Jordan starts with a pickup from Queen Alia International Airport Amman. After touching down, look out for your driver and then relax on the transfer to your hotel. Check in and then spend the rest of your afternoon or evening at leisure.

Overnight: tourist-class, prime-class or superior-class hotel in central Amman

Day 2: Amman – Jerash – Amman (D)
Head out on your Amman city tour after breakfast and see the sights of downtown Amman from the comfort of your air-conditioned coach. Pass bustling souks (markets), coffee shops and mosques, and get a feel for the frantic pace of day-to-day life in the downtown district. Stop for photos by the Amman's magnificent Roman Theatre, and hear of its use in Roman times when Amman was known as the city of Philadelphia.

After a break for lunch in town (own expense), travel north to Jerash, roughly an hour away. One of the best-preserved cities of Jordan's Decapolis, Jerash is often called the 'Pompeii of Asia,' a name that harks to its impressive collection of Roman relics within its ancient city boundaries. See monuments like the Temple of Zeus and colonnaded Oval Plaza (also known as the Forum). Pose for picture by the Temple of Artemis and hear how it was later used as an Arab fortification during the 12th century.

Return to Amman in time for dinner at your hotel, and then spend your evening at leisure.

Overnight: tourist-class, prime-class or superior-class hotel in central Amman

Day 3: Amman – Dead Sea – Amman (B, D)
Enjoy breakfast, and then travel south to the Dead Sea by coach. Officially the lowest place on Earth (and the only place where you can walk below sea level), the Dead Sea is compelling from every angle. After paying your entrance fee to the Dead Sea Resthouse (a resort in the region), spend time at leisure, either bobbing around in its buoyant salty water or lathering yourself in its nutrient-rich mud for a skin-pleasing treat. Bring your camera to capture lunar-like photos of the surrounding Moab Desert, and relax in one of the resort's cafes .

Meet your guide at the pre-arranged time in the late afternoon, and then travel back to Amman in time for dinner.

Overnight: tourist-class, prime-class or superior-class hotel in central Amman

Day 4: Amman – Madaba – Mount Nebo – Petra (B, D)
Check out of your hotel after breakfast and head south to the market town of Madaba, traveling along the King's Highway – once a vitally important trade route in the Middle East. Often called the 'City of Mosaics,' the city owes it popularity to an incredible mosaic map of the Holy Land that carpets the floor of St George's Church. Head inside the church to see it for yourself, and hear about the ancient biblical sites from your guide.

After stopping for lunch in town (own expense), continue traveling to Mount Nebo, the hill where Moses was said to have been granted a view of the Promised Land. Stop to admire views of the Jordan Valley, seeing the ancient lands of Judah and Jericho, and then return to your coach for your journey to Petra. Check in to your hotel, enjoy dinner and spend your night doing whatever you please.

Overnight: tourist-class, prime-class or superior-class hotel in central Petra

Day 5: Petra (B, D)
Head out after breakfast to enjoy a full day of sightseeing in Petra with your guide. One of the Seven Wonders of the World, the rock-carved city was created more than 2,000 years ago and its pink-hued streets, lined with long-forgotten tombs and incredible rock buildings are — for many — the highlight of a trip to Jordan.

After your hotel pickup, travel through the Siq — a naturally formed gorge that acts as an entrance corridor to Petra — and then come face-to-face with the grandeur of the Treasury (Al-Khazneh). Gaze in wonder at its magnificent Hellenistic façade, carved into the rock face, and hear tales of the countless films that have used the building as a filming location, such as Indiana Jones and the Last Crusade, and Transformers: Revenge of the Fallen.

Stop for lunch in town (own expense) and then continue your afternoon of sightseeing, admiring sights like Petra's Nabataean theater, the Royal Tombs (the city's impressive burial grounds) and Petra Church. Finish your tour with a drop off at your hotel, and then spend your night at leisure in the city.

Overnight: tourist-class, prime-class or superior-class hotel in central Petra

Day 6: Petra – Wadi Rum – Aqaba – Amman (B, D)
Start your day with breakfast in your hotel, and then travel by coach with your guide to Wadi Rum, where scenes from Lawrence of Arabia were filmed. Swap your mode of transport for a spacious 4x4 jeep, and explore Wadi Rum in a convoy, riding over red-sand dunes and around the granite mountains that punctuate the desert landscape. After two hours, return to your coach and leave the desert behind as you travel to Aqaba, Jordan's sun-drenched southern city.

Enjoy free time in the city to do whatever you please, perhaps lounging on the beach or visiting Ayla: Aqaba's ancient church. Meet your guide at the pre-arranged time and start your journey north to Amman. After traveling for roughly 3.5 hours, check in to your hotel, enjoy dinner and spend the rest of your night at leisure.

Overnight: tourist-class, prime-class or superior-class hotel in central Amman

Day 7: Amman (B)
Finish your tour after breakfast, checking out of your hotel around late morning.
April 2015
this is a great tour for seeing Jordan . Ask for the driver shadi if you can get him when booking as he is a great guy. they go to great length to look after you in this tour.
October 2014
I just returned from this trip and had the most amazing time. Anyone who is concerned about Jordan's proximity to middle east conflict zones should rest at ease, Jordan is extremely safe and very peaceful. My friend and I traveled together (2 women) from the US and UK. We had a private driver for the whole week, Shadi, who spoke excellent English and was helpful throughout the trip. The cost was inclusive of accommodation with breakfast and dinner at the hotels including days of arrival/departure, and included entrance fees to excursion sites, and local guides at Jerash, Madaba, Mount Nebo, Petra and Wadi Rum. Jordan has something for everyone, it is absolutely beautiful. The hotel in Amman was well appointed and there were plenty of food options. The hotel in Petra was on a ridge in Wadi Musa, the staff were friendly and there was a nice pool complex to relax in. This trip definitely packs in the highlights in 5 full days of excursions. If you enjoy hiking, you may consider adding an extra day in Petra to really explore more of the trails. If you enjoy being in the desert. you may also like to extend your trip with an overnight camping stop at Wadi Rum. On the whole, there was enough time at each of the sites to cover the main features. Jerash is on hill and can be quite windy so take a wind breaker and covered walking shoes (~3 hours). Mount Nebo is spectacular (also windy). The Dead sea resort we visited was fairly basic, but the resort area had adequate changing facilities, a pool and chairs if you want to make a day of it. At Petra, make sure to attend Petra by night, a candlelit experience not to be missed- comfortable closed walking shoes are essential. I would definitely recommend 2 full days in Petra as I love to take pictures and would want to explore more. It is breathtakingly beautiful. The people in Jordan are very welcoming and friendly, and unlike some places, as 2 women we were not hassled at any time. Highly recommended destination.
Advertisement
Advertisement