See the highlights of ancient and modern Amman on this private 4-hour city tour. Traveling by private, air-conditioned vehicle with an informative private guide, discover the many different faces of Jordan's capital, from its dusty classical ruins to vibrant markets and the upscale malls of the modern city. See top Amman attractions including the stunning Roman amphitheatre, King Abdullah Mosque and the ruins and archaeological museum of the hilltop Citadel. Upgrade to finish with a lunch of delicious 'mezze' (small dishes) or lunch followed by a pampering Turkish bath experience.
Highlights
4-hour private sightseeing tour of Amman
See the stunning Roman amphitheater, a 6,000-seater stadium dating from the 2nd century BC
Explore the Roman, Byzantine and early Islamic ruins at Amman Citadel with a guide
View the antiquities on show at Amman Archaeological Museum at the Citadel
Upgrade to a 6-hour tour to include an authentic Arabic mezze lunch
Upgrade to an 8-hour tour to enjoy an Arabic mezze lunch and pampering Turkish bath experience
Enjoy the best sights and personalized attention from your driver on this private tour
Recent Photos of This Tour
Private Amman City Sightseeing Tour with Optional Arabic Mezze Lunch and Turkish Bath
What You Can Expect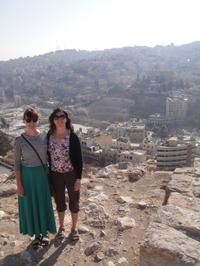 Begin your 4-hour private tour with a morning pickup from your central Amman hotel. Meet your informative private guide who doubles as your driver, and start out on your explorations of the Jordanian capital's highlights.

As you travel, hear about the history of this fascinating city, whose past stretches back to 3500 BC and before. Hear about the city's days under the Roman Empire, and how it was occupied by the Nabataeans and Byzantines.

View one of Amman's star attractions, the King Abdullah Mosque, famous for its blue mosaic dome, and the nearby Coptic Church. Then, continue to the Roman amphitheater, a magnificent hillside structure believed to have been built in the 2nd century.

Admire the symmetry and scale of the theatre as your guide explains how it was built as part of the Roman city of Philadelphia, and could accommodate up to 6,000 spectators.

Next, make your way to Amman Citadel, the hilltop collection of antiquities that looms over the city. Explore the timeworn Roman, Byzantine and early Islamic relics, and pay a visit to the Citadel's Archaeological Museum to inspect its collections of ancient artifacts discovered at sites from across Jordan.

Pass the Raghadan Palace, the burial place of the late King Hussein, and ride around the downtown area to see its vibrant markets, traditional mosques and churches. Then, delve into the upscale neighborhoods of Abdoun and Swefieh, where luxury shopping malls and swanky private villas line the streets.

Your 4-hour tour ends back at your hotel. Alternatively, ask for a drop-off at one of the malls on your tour or at Abdali Boulevard, a stylish new enclave of designer shops regarded as Amman's up-and-coming downtown area.

Tour plus Arabic Lunch
Upgrade to a 6-hour tour and after your city tour, savor a mouth-watering lunch of Arabian mezze at a local restaurant. Enjoy an assortment of small plates, such as barbecued chicken and beef, hummus, salads and breads, and after your meal, relax with a hotel or shopping mall drop-off — your choice!

Tour plus Arabic Lunch and Turkish Bath
Upgrade to an 8-hour tour and following a succulent lunch of tasty Arabian mezze, wallow in a luxurious Turkish bath experience, including an invigorating steam room session, soapy scrub and muscle-melting massage. Then, duly refreshed and revitalized, relax with your choice of either a hotel or shopping mall drop-off.
October 2014
What a great way to see many of the city's landmarks in just half a day! Excellent lunch location for some authentic Arabic food too.
April 2014
Interesting tour. My wife and I are pretty spontaneous and this seemed like a unique twist on a basic tour. We were picked up on time from our hotel and driven via private car around Amman. We found out that our guide was actually not a tour guide, but rather the brother of the owner of the car and simply doing him a favor by driving us around the city. It felt more like a friend showing us around his city. Not much structure or history provided but this was fine with us. The dinner was absolutely fantastic. I advise you to skip lunch because there is a ton of amazing food. We also asked to start the tour at 5pm instead of 6pm because we wanted to see some of the sights during daylight. The Citadel was closing when we arrived but we were able to talk our way in for some beautiful pictures. Most of the remainder of the tour was driving around the upscale areas of Amman. I do not recall seeing the Radhadan palace but I may have forgotten. If you are interested in a laid back "tour" of the city with some great food, this would be good for you.
March 2014
The driver was very friendly and I can't say enough about the dinner which was amazing! The only disappointment was the cost. If the dinner wasn't as good as it was I wouldn't reccomend this tour. Cab rides are cheap (3JD to the citadel) it was just too expensive.
February 2014
Highly recommend! A little more training on the crew, on some info.
Amazing intro to key places of interest.
Rababa United Arab Emirates
April 2013
Our driver was on time and picked us up from the hotel to take us around the city. He was immensely friendly and knowledgeable. We went to the Citadel at sunset, then headed to view the Roman Amphitheatre from a high point in the city.
We were then taken for a trip through Downtown Amman before heading to a restaurant for dinner. The reason this tour misses a star is because the restaurant's service was a bit of a let-down and the staff were not that friendly or welcoming.
February 2013
Loved, loved, loved, the lunch. Driver pleasant, and helpful.
Randell B USA
July 2010
Amman is BEAUTIFUL, and the lunch was good. I was surprised to have to pay for water at lunch. As for the tour, I had no guide. I could have paid a taxi to take me to the Citadel. That's all I saw. I was a little offended by the gift shop. The driver was clearly getting a cut.
Advertisement
Advertisement