Discover ancient civilizations from the Roman Empire and beyond on this private half-day tour to Jerash from Amman. Follow your private guide through the streets of Jerash, widely considered among the best-preserved of all the world's ancient Roman cities. Admire plazas, temples, theaters and colonnaded avenues once abuzz with life under Roman rule. Discover settlements dating from the Bronze and Iron Age, and gaze back over 2,500 years of human occupation. With your private guide to lead the way, choose your route to see the attractions of most interest.
Highlights
Private half day tour to Jerash

Visit one of the best preserved city's of the Roman Empire

See the biblical land of Gilead and it's ancient ruins

Explore the cities original temples, theaters and plazas

Local English-speaking tour guide

Tailor the tour to suit your own interests

Recent Photos of This Tour
Private Half Day Tour to Jerash
What You Can Expect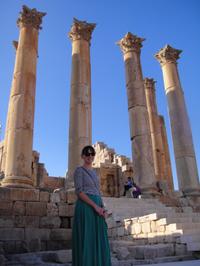 Wander among the original temples, theaters, plazas, paths and colonnaded streets, all enclosed within the remaining city walls. Within the city walls have been found the remains of settlements dating from the Bronze Age, the Iron Age, the Hellenistic, Roman, Byzantine, Umayyad and Abbasid periods, indicating human occupation at this location for more than 2,500 years.
A local English Speaking Guide will be included for 2 hours in Jerash. The guides are provided by the Authority of Jerash under the Ministry of Tourism.
This is a private tour so please list any special interests you have (art, architecture, history, culture) at time of booking to alert our driver, so that he or she can better prepare for your private tour.
December 2014
Better than expected, as we saw a whole city of numerous ruins and buildings. The tour guide Zahir was very informative. The level of history here is immense
October 2014
This site was probably best-preserved Roman cities I've ever visited! Simply beautiful.
April 2014
Awesome tour in Jordan. A short 45-60 minute drive to get there from Amman. Great driver (Basel) that was able to educate us on the history of Jordan, politics, religion, and any thing else you wanted to know about Jordan and the surrounding countries. Our tour guide was great at Jerash as well (provided by the booking on Viator). A dream come true all around for a family vacation. ( Note - Try to get Jordanian Dinar prior to getting to the airport. The airport gives a horrible exchange rate to buy your Visas to get into the country)! (April 2014)
April 2013
If you are in Amman, make the time see Jerash...one of the best preserved roman cities. A guided (govt guides) visit takes 2 hrs, and its time well spent!

March 2013
Wonderful day trip from Petra. Our driver arrived promptly at the hotel and drove us to Jerash (beautiful drive). He was very friendly and spoke great English. The guide was very knowledgable and provided great detail.

Kat United Kingdom
July 2012
Visiting Jerash was one of the highlights of our trip. We felt like VIPs with our driver! The ruins are a must-see on any trip to Jordan. Our guide was fantastic and the lunch on the way home was sensational - we tried every local dish imaginable. I would give this tour 6 stars!
November 2011
Good experience - as easy to do as the original booking. Both our driver and our guide at Jerash were excellent, the latter extending the tour because of our obvious interest. If you have a short stopover, go to Jerash - with the exception of the Colosseum, we reckon it beats Rome!
Kate B United Kingdom
April 2010
Perfectly prompt driver, in an excellent quality car. Had a wonderful guide with excellent knowledge of the local area and the sights in Jerah, and beyond that we also discussed more generally the differences between the UK and Jordan, a very intresting and memroable time of my trip to Jordan.
March 2010
Jerash is a spectacular site with Roman ruins that stagger the imagination. This has to be one of the largest and most complete Roman sites in the world. It is a must-see, even if you have been to some of the other famous sites in Italy, Turkey and Israel.
July 2012
The entire experience was excellent. The only issue is that the driver depended on finding an independent guide at the actual site, and he was successful at getting us a very good guide and everything worked out. During my last Viator experience in Luxor, the guide and driver met us at the airport and we had a dedicated guide.
Advertisement
Advertisement