Discover three of Jordan's famous desert castles on this 4-hour private tour from Amman. With an informative private driver, learn about these fabled castles, built by Umayyad rulers during the 7th and 8th centuries as you visit each one in the desert plains of eastern Jordan. Explore UNESCO-listed Qusayr Amra, famous for its 8th-century frescoes of hedonistic scenes, before continuing to the atmospheric Qasr Kharana and Qasr al-Azraq castles, the latter used as a military base by TE Lawrence, known as 'Lawrence of Arabia,' during World War I.
Highlights
Half-day desert castles tour of Jordan from Amman with a private driver
Travel deep into the sweeping desert landscapes of eastern Jordan
Hear about the Umayyad dynasty, Roman history and Lawrence of Arabia
Visit UNESCO-listed Qusayr Amra as well as Qasr Kharana and Qasr al-Azraq
Enjoy a flexible itinerary and tailor the experience to your preferences
Recent Photos of This Tour
What You Can Expect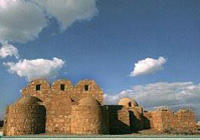 After pickup from your central Amman by private, air-conditioned minibus, relax as you journey out of the city and into the desert plains of eastern Jordan.

Chat to your knowledgeable private driver to learn fascinating facts about the castles on your tour. The region is speckled with 7th and 8th-century castles — many within a 15-minute drive of each other — that were originally built by the caliphs of the Umayyad dynasty as rural retreats and hunting lodges.

Hear tales about this powerful dynasty, the first Muslim rulers of the Arab kingdom, including fascinating snippets about their extravagance and debauchery.

As you travel, feel free to tell your driver if there's a castle you want to see more of or another castle you'd like to visit, at your own expense. Your tour is private, so the itinerary can be tailored to suit your interests.

After about 1 hour on the road, pull up at UNESCO-listed Qusayr Amra, one of east Jordan's most famous castles. Once a hunting palace of the Umayyads, this splendidly restored edifice is graced with 8th-century frescoes showing decadent scenes of nude women, wine and parties.

When you feel peckish, get tips from your driver as to local restaurants, and take a break for lunch (own expense), before traveling onward to Qasr Kharana, an imperious 2-level fortress standing in a huge plain.

Thought to have been built on Roman foundations, this evocative castle exudes intrigue and displays a rich array of Mesopotamian, Arabic and Greek architectural influences.

Finally, head for Qasr al-Azraq, originally an Umayyad hunting retreat and once used as a headquarters by TE Lawrence, the 20th-century British soldier and Arab Revolt leader perhaps more famously known as 'Lawrence of Arabia.'

Wander around the sun-burnished courtyards, towers and mosque and learn how Lawrence based his operations here during 1917 to 1918.

After exploring here, relax on your ride back to Amman where your experience finishes with a hotel drop-off.

Allyson W USA
October 2015
Once again my driver was Shadi. I was the only one on the tour and the only one visiting, nice for me I got great pictures. Had Jordan to myself. On the way to the first castle, we drove pass one of the refugee camps in Jordan. It was hugh, very interesting. Lots of security surrounding the camps. High recommend this tour. Bring water. About a 2 hour drive thru the desert. Air conditioned van. Thanks again Shadi.
Mark W USA
August 2011
For this tour, a driver takes you from your hotel out to the three sites and pays admission. You're generally on your own to tour the actual sites (guides can be hired, but you really don't need them).
My driver was prompt, spoke English well, and I enjoyed the conversation with him along the way. He did tour the sites with me, though technically he wasn't a guide. I had plenty of time at each site - I actually got 5 hours for the price of 4.
I suspect that the differing reviews depend on the luck of the draw with the driver. In any event, the sites themselves are worth spending the morning visiting, and it's a chance to see a different side of Jordan.
And where else are you going to get a picture showing the distances to the Saudi Arabia and Iraq borders?
Giovanni S Italy
May 2009
Very interesting. The castles, completely different from one another, are outside the normal tourists' routes. Even our kind driver did not know them! We got to see the beautiful panorama of Jordan.
KRISTIA K USA
May 2009
The drive was great, the castles very interesting, but the driver spoke no English. He was great but the time could have been better if we could have communicated better.
October 2014
driver showed up on time.the castles were wonderful to explore. however, the itinerary says 'admissions to the castles' under the 'inclusions' section, but the driver kept asking me to pay for the castle entrance ticket. According to the tour description the entrance to the castles were included. So why did the driver ask me to pay for the entrance tickets? Either the tour inclusions were wrong or the driver tried to make me pay. because of this, i'm rating this tour just a 3 stars. if not because of this, it would have been a 5.
Advertisement
Advertisement