Discover Lawrence of Arabia country on a half-day desert castle tour around the beguiling plains of eastern Jordan. With a private driver, visit three of the region's famous desert castles — UNESCO-listed Qusayr Amra, Qasr Kharana and Qasr al-Azraq — and hear tales of the powerful Umayyad dynasty for whom the fortresses were built. The itinerary on this half-day tour is flexible and can be tailored as you wish.
Highlights
Half-day desert castles tour of Jordan from Amman with a private driver
Travel deep into the sweeping desert landscapes of eastern Jordan
Hear about the Umayyad dynasty, Roman history and Lawrence of Arabia
Visit UNESCO-listed Qusayr Amra as well as Qasr Kharana and Qasr al-Azraq
Enjoy a flexible itinerary and tailor the experience to your preferences
Recent Photos of This Tour
What You Can Expect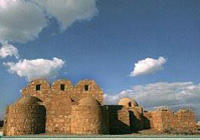 Start with a hotel pickup from Amman by air-conditioned minibus, and then travel to the parched plains of eastern Jordan with your private driver. While not an official Ministry of Jordan guide, your driver is knowledgeable about the area and its history, and is able to point out sites of interest as you travel. Local guides are also readily available at each of the castles, should you want to hire one at your own expense.

The region is strewn with the famous desert castles — many within a 15-minute drive of each other — that hark back to the days of the Umayyads. Hear fun historical facts about the dynasty, the first Muslim rulers of the Arab kingdom during the 1st century, and learn about their pleasure palaces, opulent spas and hunting houses.

After roughly 2.5 hours on the road, your first stop is Qusayr Amra, a UNESCO World Heritage site and highlight of any trip to the region. Once an Umayyad hunting hideaway, the impeccably preserved castle is now best-known for its 8th-century frescoes that depict hedonistic scenes of nude women, wine and wild times.

Ask your driver to recommend a nearby eatery for lunch, if you wish, and take a break to enjoy some food at your own expense. Then, continue to Qasr Kharana, the imposing 2-storey fortress that sits in the center of a vast and open plain. Believed to have been built on Roman foundations, the structure resonates with intrigue and Mesopotamian, Arabic and Greek influences are all apparent inside its walls.

The final stop of your tour is at Qasr al-Azraq, on the outskirts of Azraq town. Famously the headquarters of TE Lawrence (Lawrence of Arabia), the building was previously used as a hunting lodge by the Umayyads, and later fortified as a defense against the Christian Crusaders. Gaze in awe as you explore the setting, and discover its courtyards, towers and mosque.

If you would prefer to visit another castle in the area at your own expense, simply let your guide know. The itinerary is flexible and can be tailored to your interests. After your final castle visit, relax on the journey back to Amman and finish with a hotel drop-off.
August 2011
For this tour, a driver takes you from your hotel out to the three sites and pays admission. You're generally on your own to tour the actual sites (guides can be hired, but you really don't need them).
My driver was prompt, spoke English well, and I enjoyed the conversation with him along the way. He did tour the sites with me, though technically he wasn't a guide. I had plenty of time at each site - I actually got 5 hours for the price of 4.
I suspect that the differing reviews depend on the luck of the draw with the driver. In any event, the sites themselves are worth spending the morning visiting, and it's a chance to see a different side of Jordan.
And where else are you going to get a picture showing the distances to the Saudi Arabia and Iraq borders?
May 2009
Very interesting. The castles, completely different from one another, are outside the normal tourists' routes. Even our kind driver did not know them! We got to see the beautiful panorama of Jordan.
Advertisement
Advertisement