Experience Jordan's greatest ancient treasure on this private day trip to Petra from Amman. After traveling from Amman to Petra with a private driver, enjoy a 2-hour guided tour of UNESCO-listed Petra: a rock city cut into a sandstone valley some 2,000 years ago. Walk or ride a horse along the Siq entrance canyon, and behold the rose-tinted Treasury, Royal Tombs and more. During your explorations, learn about Petra's history from your local guide and see lesser-known Little Petra, whose sculpted rock buildings were a suburb of the main city.
Highlights
Full-day private tour of Petra from Amman
Two-hour private tour of Petra's incredible sites by an English-speaking guide
Entrance fees, horse and guide
English-speaking driver
Pick-up and drop-off from selected Amman hotels
Recent Photos of This Tour
Private Tour: Petra Day Trip including Little Petra from Amman
What You Can Expect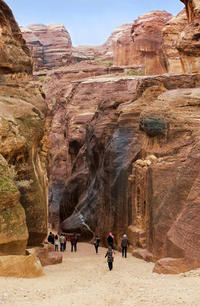 After pickup from your central Amman hotel, settle into your private, air-conditioned vehicle with your private driver, who doubles as your guide on your journey to and from Petra.
When you book, take care to list any special interests you have, such as art, history or culture, so your driver can prepare for your private tour in advance if necessary.
Then, sit back and relax as you journey south through Jordan. As you travel, gaze at the desert landscapes and hear tales of Petra's history. Hewn into a sandstone valley by the Nabataean people some 2,000 years ago, this ancient rose-red rock city was located at the crossroads of age-old trading routes.
After a while, pass by Little Petra, a small rocky valley of carved Nabataean-era buildings that archaeologists believe was a suburb of Petra, and acted as an accommodation stop for the traders who traveled through the city.
See some of the carvings here, and then continue to the main Petra site. On arrival, leave your vehicle, and enjoy a 2-hour tour of this UNESCO-listed wonder with a local guide provided by the Authority of Petra under the Ministry of Tourism.
Walk or ride a horse through the famous Siq, the narrow 1-mile (1.5 kilometer) rock fissure that was once the city's entrance, and marvel at your first glimpse of the hauntingly beautiful Treasury (El Khazneh) as the canyon suddenly opens up.
Admire this rose-pink masterpiece, originally built to house priceless treasures and capture it on camera. Then, walk through the widening canyon to witness other buildings such as the 3,000-seater Theatre, Royal Tombs and the High Place of Sacrifice, a clifftop altar that was once used for animal sacrifices and other ceremonies.
As you explore, listen as your guide describes how the Nabataeans sculpted the buildings, and learn how they mastered the harsh desert conditions to make their lives here.
After around two hours of exploring, return to Petra's entrance and rejoin your private vehicle and driver. Then, journey back to Amman, where your day trip ends with a hotel drop-off.
Please note: please wear comfortable shoes and bring a sunhat for this unforgettable adventure.
May 2016
I highly recommend this tour, truly excellent and I was traveling alone. Once I booked, I received an email confirmation. The Driver-Omar was prompt and knowledgeable and I felt safe. The tour at Petra was excellent and the tour guide-Shoyab explained everything in detail. My experience was priceless!

March 2016
Really nice driver. Awesome place to visit.
November 2015
Really great tour. We spent the whole day in Petra and had a fantastic tour guide who told us a lot of history and information about local plants and was just an overall friendly guy to spend a day with. We declined the donkey ride at the beginning and the walk was not very far, so we felt like we made the right choice. We weren't able to pack a lunch, so had lunch at the Crowne Plaza restaurant in Petra not the cheapest option, but it was a buffet, so it was good value. We took an additional hike up one of the cliffs to see the view from above. It cost a bit extra, but was very much worth it.
The pick up and drop off was incredibly helpful and very flexible. We actually flew right into Amman, got picked up at the airport at 3am, drove straight to Petra and on the return, got dropped off at our hotel on the Dead Sea. The non-Amman pick up and drop off did cost extra, but not as much as hiring separate transport would have and the driver was fantastic driving so far at odd hours with us sleeping half the time.
Overall, with all the additional charges, it was not cheap, but considering this was the main highlight of our holiday and we had an incredible time there and everything went smoothly and easily, it was well worth it.
August 2015
My very friendly driver picked me up at the hotel in Amman and drove the 3 hours to Wadi Musa/Petra. He organised my entry ticket and a guide and after I'd finished walking to Petra city and back, he was there to drive me back to Amman. All in all a very nice day where I didnt have to think about a thing.
February 2015
Excellent trip . From been picked up early by my driver ,who was very polite and good driver . We arrived at petra .i was taken back from start to finish . The little shop there is a little expensive . Its very dusty and old shoes are a must , good walking boots . The beduins love to show you there home land . I will go back if only to see the rest . The high light of my trip was to meet and get my book signed by Margaret who wrote married to a beduin .amazing lady ,amazing story . Its a must for everyone to see the fabulous country and especially Petra . I will be back for sure

Franky66 United Arab Emirates
October 2014
This tour was amazing. Everybody should have seen it. Unbelievable beautiful and huge. We spend almost 5 hours there, because we wanted to see all, even the biggest building "The Monastery" 800 steps up and back down. Unforgettable experience.
October 2014
Excellent tour! The local guide was excellent, and very knowledgeable. A must when in Jordan!
August 2014
August 2014
To start we had a great guide/driver who picked us up from the air port and drove us around to take care of some business matters before heading to the hotel , Kempinski, with out any fuss, by the way what a great hotel.
The tour to Petra from the Dead Sea took about 3 hours by road with a couple of breaks on the way.
Once there be ready for a bit of walking and it can be hot and dusty but what a place and worth the time, about 4 hours. The guide once there is not your driver but a local guide, good but they really don't know much about the place and ditch you at the end to make your own way back which is pretty easy.
Look out for the guys who will take you back to the entrance once you finished by horse and cart, they should only charge $20 per couple, they try and charge each.
The return trip, another 3 hours by a different route, gave us the chance to see more of the country
Be ready to tip every one as part of the deal here but what a great place.
July 2014
Great day trip to Petra, amazing driver Jemal, and very informative guide on site too - definitely recommend!
Advertisement
Advertisement