Celebrate the rock-and-roll lifestyle during your visit to Hard Rock Café Amsterdam. Check out the café's collection of musical memorabilia, including a silver bodysuit worn by Marilyn Manson for a Versace shoot, an acoustic guitar used by Jimi Hendrix and Eddie Van Halen's trademark Kramer guitar. Dig into crowd-pleasing food and shop for souvenirs at the on-site retail store.
Highlights
Hard Rock Cafe Amsterdam
Classic American-style food and music
Includes 2- or 3-course dinner and soft drink
Legends of rock memorabilia and retail store
Recent Photos of This Tour
What You Can Expect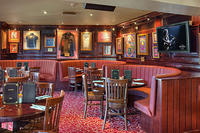 Party like a rock star during your visit to the Hard Rock Café Amsterdam, located near Leidseplein along Max Euweplein. The restaurant is split into three levels that provide wonderful views of Amsterdam's scenic canals.

Enjoy delicious food in the vibrant atmosphere, with live music courtesy of the Paradiso that's sure to get those wooden dancing shoes tapping. Choose from the Gold Menu or Diamond Menu (see below); each offers a range of tasty choices, ranging from burgers to salads to mac-and-cheese and ribs.

While you wait for your food to arrive, peruse the rock memorabilia. Admire Eddie Van Halen's trademark Kramer guitar, and get a kick out of the silver bodysuit worn by Marilyn Manson for a Versace shoot.
Itinerary

GOLD DINNER MENUChoice of Main Course:
Legendary Burger served with Fries
Veggie Burger served with Fries
Honey Mustard Chicken Sandwich
Chicken Caesar Salad
Twisted Mac, Chicken & Cheese Pasta
Dessert:
HRC's Signature Ice Cream


Choice of Beverage:
Soft Drink


DIAMOND DINNER MENUStarter:
Lil Chef Salad
Choice of Main Course:
Twisted Mac, Chicken & Cheese Pasta
Hickory-Smoked Bar-B-Que Ribs
Hickory-Smoked Bar-B-Que Chicken
10oz. Legendary Burger
Veggie Leggie Burger
Chicken Caesar Salad
Dessert:
Baker's Choice (dessert of the day)
Choice of Beverage:
Soft Drink

Marie H United Kingdom
June 2016
didn't have to wait too long for a table as we were priority booking we were a partay of 3 we got seated upstairs we had purchased the diamond menu 3 courses we must say all 3 courses were plentiful and delicious you get free refills of soft drink which is also very good the staff were awsome as they sang happy birthday to my cousin well recommended xx

March 2016
I loved this tour. I was so happy not to have to wait in those long lines to get a table. I definitely felt VIP and the food was great. Would do it again!
Michal H Israel
October 2015
September 2015
We arrived that evening with our visitor voucher and within 2 minutes we were seated. The estimated waiting time for the guest ahead of us was 45 minutes. Had a perfect seat overlooking the canal. Great food!

August 2015
All went up to our expectations.As soon as I presented the voucher we were presented to our table as I had requested overlooking the canal. The italian guy taking care of us was extremely cordial and he was pleased to know we come from his neighbouring country Malta. Food as usual at The Hard Rock Cafe is exceptional. We enjoyed the entire evening.
May 2015
Definitely worth the money! Highly recommended!
April 2015

March 2015
So glad we did this - Valentines evening and the wait for a table was 3 hours!! We went straight in and were seated within 5 minutes. Food was great value for money / had 3 courses and complimentary Processo for the cost of less than a main - could not fault it. Definitely booking this for Paris in March.
Jan M USA
February 2015
This was a great start to our European adventure. The Viator voucher avoided the 3 hour wait (yes, 3 hours) and we were seated in 20 minutes. The food was fantastic and the portions HUGE which was a big surprise. Our waiter Paul was fun, cute, courteous and just made our experience a pleasure. I would definitely recommend this and I will do it in future cities as well. Took all the discussion out of where to dine the first night of our trip. Really a good deal.

JohnAllred USA
September 2014
We got into Amsterdam late at night but were able to get in there with no problem. Food was great and there were no problems.
Advertisement
Advertisement