Relish the rich artistic heritage of Amsterdam on a private walking tour of sites associated with painting pioneer, Rembrandt van Rijn. With an expert guide, delve into the life and works of the influential artist while sites integral to the painter's life and work. Discover the exhibits within the Rembrandt House Museum, the former residence in which many of his masterpieces were painted, and then tour the iconic Rijksmuseum to see some of Rembrandt's most celebrated paintings. Receive the undivided attention of your guide on this private tour, the itinerary of which can be adapted to suit your interests.
Highlights
Private walking tour of Amsterdam's Rembrandt sites
Learn about life and career of Rembrandt van Rijn, one of the greatest painters in Dutch history
See where he lived, worked and created masterpieces like The Night Watch
Admire his famous paintings on a guided tour of the Rijksmuseum
Tour can be taken in English, French, German, Spanish or Portuguese
What You Can Expect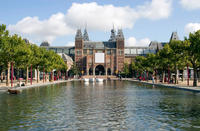 Greet your private guide outside of the Rembrandt House Museum at a time convenient for you and embark on a 4-hour walking tour of significant Amsterdam sites associated with renowned Dutch painter, Rembrandt van Rijn. Receive an insightful introduction to the painter, considered the greatest of the Dutch Golden Age, from your expert guide as you head towards your first destination.
On arrival at the Rembrandt House Museum, hear of how the building originally functioned as Rembramdt and his wife, Saskia's, marital home. Browse an incredible collection of Rembrandt's works as you explore the beautifully restored rooms of the house with your private guide.
Next, head to South Church, the site upon which Rembrandt reputedly painted his prominent masterpiece, The Night Watch. Stroll past Weighing House, the place where The Anatomy Lesson of Dr Nicolaes Tulp was painted, and then enjoy an ambient stroll around Dam Square.
Amble along Amsterdam's picturesque waterways to the Rijksmuseum, home to some of Rembrandt's most famous artworks. Admire a selection of the artist's signature talents and marvel at masterpieces like The Night Watch and The Jewish Bride while listening to entertaining anecdotes surrounding the artist.
Bid your guide farewell at the museum and opt to continue exploring if you so desire.
May 2016
This tour was wonderful. Our guide was very knowledgable, friendly and with a great sense of humour. Highly recommended.
April 2016
Guide was knowledgeable and had very good stories to share. We walked 15,000 steps he was tireless and always enthusiastic. Definitely recommend guide and the tour
April 2016
We really enjoyed our tour and the ability to walk as fast or as slow as we wished or to linger when something interested us. Derek was very knowledgeable about the history of the area and the interesting little architectural items we never would have noticed on our own. I expected more of Rembrandt-focused tour, but Derek's information was much broader than that, encompassing the descriptions and history of each of the stops along the way, regardless of its association with Rembrandt. We found that very enlightening, since it was our first visit to Amsterdam.
December 2015
Great tour - very knowledgeable guide. Great tour especially given the price
December 2015
A wonderful historical guided tour through Amsterdam by one of the best guides we have ever had. We were initially almost an hour late for our tour because it was our first day in Amsterdam and the starting location was confusing to us. Our guide waited patiently for and was wonderful.
November 2015
I highly recommend this private tour. My guide, Lia Kijzer, was terrific. She was on time, very personable and knowledgeable about the history of Amsterdam, Rembrandt, the places we should see, and the Rijksmuseum. It was such a pleasant day, like spending the day with a friend :-. It was a lot of walking and talking, and the four hours went very quickly. If you like walking, love history, and are interested in learning then this tour is for you.
September 2015
Excellent tour! This was a wonderful tour to start our trip in Amsterdam. Our guide was excellent!!
August 2015
Excellent knowledgable guide
July 2015
Great insight into the city and Rembrandt.
July 2015
Exzellent guide, Tour was very informative.
Advertisement
Advertisement