Immerse yourself in the vibrant color and aromatic aromas of the Keukenhof Gardens and a working bulb farm on a full-day trip from Amsterdam. With a knowledgeable guide, visit North Holland's gorgeous capital, Haarlem, and absorb the Gothic grandeur of the city's architecture. Discover the agricultural heritage of a working bulb farm and then head to Kuekenhof Gardens to sail past long entrance lines with your priority-access pass. Receive a fascinating introduction to the site's history and then spend free time exploring the colorful kaleidoscope of blossoms. Enjoy a complimentary Dutch lunch on this enriching tour.
Highlights
Day trip to Keukenhof Gardens including Haarlem and a bulb farm
Take a walking tour of Haarlem and learn about its Gothic architecture
Explore a working bulb farm and learn about Dutch flowers
Bypass the entrance lines with a skip-the-line Keukenhof Gardens ticket
Learn about the history of Keukenhof Gardens on a walk through the park
Enjoy free time to admire the famous tulips and other colorful flowers
Enjoy lunch at the bulb farm
Why Our Insiders Chose This Tour
This tour gives you an insider's view of the Keukenhof Gardens. Skip the line and take a tour to learn all about the site. You also get to discover nearby Haarlem, a medieval gem. My highlight? The chance to enjoy lunch in the tulip gardens!
Recent Photos of This Tour
Skip-the-Line: Keukenhof Gardens, Haarlem and Holland Bulb Farm Day Trip from Amsterdam
What You Can Expect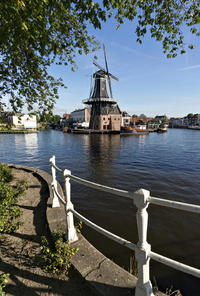 Depart from central Amsterdam in an air-conditioned coach destined for Haarlem, North Holland's architecturally rich capital. On arrival, embark on an informative walking tour of the city's grand Gothic buildings and medieval monuments; admire the tableau of charming cafes, ancient churches and glittering waterways as you discover the city's history from your guide. Visit the Frans Hals Museum while in Haarlem which opens it doors early for the tour group. While at the museum see the Tulip Mania exhibit.
Next, head to a working flower bulb farm to enrich your knowledge of the production of flower bulbs in the Netherlands; greet the farmer and admire the tremendous skill required producing flowers. It's at the bulb farm where you will enjoy a complimentary lunch.

Then, travel onward to your final destination, the world-famous Keukenhof Gardens. Priority-access pass in hand, sail past the long lines at the entrance and head straight inside to begin exploring the vibrant kaleidoscope of floral color. Enjoy a leisurely walk through the gardens, listening to illuminating commentary from your guide, and then set out to explore the 79 acres (32 hectares) of Eden-like space independently.
Take fabulous photographs of beautiful flowers that beg to be captured. Reconvene with your guide at a pre-arranged time and relax during the journey back to Amsterdam, where the tour concludes.
May 2016
Loved absolutely everything about this tour. The town of Haarlem and museum, the bulb farm, the gardens were beyond spectacular. Will never forget this experience. Tour guide was very personable and informative and enthusiastic!
RickR United Kingdom
May 2016
A well organised, comfortable and interesting experience. I would highly recommend it.
The trip lasted from 9:45 am to 6:00 pm and we had time to stroll through Haarlem and visit the Frans Hals Museum. Paintings of wealthy families in the Bulb Growing business. The town was pretty and quiet.
The bulb farm was very interesting and the farmer had held back from cutting the heads until the tour season had finished. There were still flowers in some of the feilds this late in the season 1st week in May. Lunch was pleasant then we drove to Keukenhol Gardens by 3 pm.
The 2 hours we got strolling around the gardens was a great experience and the highlight of the trip. We had time to see as much as we wanted in that time.
The Tour Guide Pieter was very good, keeping us informed and entertained for the whole trip. Coach was smooth and comfortable.
I would recommend this tour if you want to see behind the scenes of Bulb production. It helps to appreciate the spectacular displays at Keukenhof Gardens even more.
April 2016
This was a fantastic tour. Our guide, Marian, was friendly, knowledgable, and approachable. The tour and museum of Haarlem were delightful. The bulb farm and fields with lunch were really special. The gardens were full of people but there were still areas where we could find peace and quiet and the flowers were spectacular. I am so glad we took the day for this it was a highlight of the trip!
April 2016
Great venue with variety. Pieter was an excellent guide, very professional.
The driver was equally as good and a great assist to us needing aide.
Would do it again!
April 2016
April 2016
Very much enjoyed visit to Haarlem and the bulb farm. Tour guide was excellent. Keukenhof Gardens were terrific.
June 2015
The Keukenhof Gardens were fantastic. Very enjoyable
May 2015
the gardens are beautiful. No Picnic Lunch however. They gave you 15Euro vouchers to use at any of the food places. That was OK though. Haarlem was a really nice town and great architecture. beautiful old church
May 2015
This was such an awesome day. We met our guide in Amsterdam, got on the van and went to Haarlem. We toured this beautiful place for an hour. Too bad it was raining so hard! Got back on the van and traveled to meet up with a private grower of flowers. He talked to us about the flowers that grow in the area.
We then traveled to Keukenhof Gardens. We were on our own for four hours to discover this place. It was awesome! So many beautiful flowers to look at. I would highly recommend this tour to everyone!
May 2015
Amazing tour with lovely guide Josie! Would have loved more time in Haarlem to explore more of the area. Keukenhof and tour of local farmer was outstanding! Did not disappoint.
Advertisement
Advertisement