Experience an explosion of color at the Keukenhof Gardens, blooming with millions of tulips, hyacinths, daffodils, other spring bulbs and beautiful trees. On this 6.5-hour tour from Amsterdam, travel through the lovely Dutch countryside and first take a guided tour of a tulip farm. Then, enjoy skip-the-line privileges at Keukenhof Gardens before discovering the pleasures of this floral paradise on your own. With transport by luxury coach included, this tour is the easiest way to get to these out-of-the-way gardens, one of the Netherlands' top attractions.
Highlights
6.5-hour Keukenhof Gardens tour from Amsterdam
Travel through the Dutch countryside and stop to take photos of the flower fields
Visit a tulip farm for an informative walking tour
Enjoy 3 hours to wander the Keukenhof Gardens at your leisure with your skip-the-line ticket and

provided map

Learn all about the incredible tulip gardens from your expert guide
Recent Photos of This Tour
What You Can Expect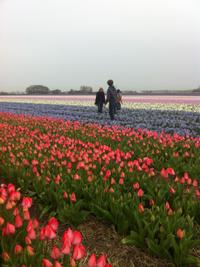 The unforgettable display of springtime blooms at the Keukenhof Gardens makes it one of Holland's most popular attractions. Select from a morning or afternoon departure from central Amsterdam. Please note: This tour is seasonal and runs between March 20 to May 18.

Board a luxury coach and together with your informative guide, admire the countryside landscapes on the 1-hour drive to Keukenhof, passing colorful tulip fields along the way. En route, hear about the history of Keukenhof and the flower fields that are characteristic of the surrounding area.

Stop at a tulip bulb farm for a 45-minute tour, where a tulip farmer leads you on a walk through fields of tulips, hyacinths and daffodils. Gain insight into the difficult work involved in maintaining the farm, and snap photos of the stunning scenery before continuing to Keukenhof Gardens.

Upon arrival, use your pre-booked admission ticket to sail past the ticketing line. Enjoy three hours of free time to explore the Keukenhof Gardens on your own, with a provided map that gives you the gardens' highlights.

Meander along windy paths, into greenhouses, along brooks and shady ponds. Admire the blaze of color from the blossoming tulips, daffodils, bluebells, hyacinths and many other flowers. Swing by a pavilion to check out a special exhibit, and enjoy refreshments at one of the restaurants in the park (own expense).

When it's time to leave, board your coach for the return trip to Amsterdam.
June 2016
Beautiful!!!! Had a great time at Keukenhof. The tulip farm was great and educational and the free time at the garden was very nice...almost to short if you like to take a lot of pictures...don't spend time eating or you will miss too much
June 2016
It was beautiful and the service was great.
June 2016
Beautiful and amazing, should be on eveyones bucket list!
June 2016
This is a GREAT tour. Keukenhof Gardens was as beautiful as advertised. The trip to the tulip farm was a true highlight and not to be missed. Not only can you get up close to the tulips but the owner is most informative and very helpful.
June 2016
Fantastic!! Exceeded my Expectations.

June 2016
Perfect day for the tour
Tulips were at peak
Very helpful to visit tulip farm and we were pleased it was part of the tour
None of this is to be missed
June 2016
June 2016

May 2016
Wow... the tulip farm was amazing and very informative. We had just over 3 hours to spend in Keukenhof and when it came time to leave we were still wanting to stay longer. It is absolutely beautiful. We went on May 9 and the flowers were still very beautiful, but I would imagine if you came a couple of weeks earlier they would only be better. Highly recommended!
May 2016
We thoroughly enjoyed this tour! Although it was on/off rain and we didn't get to experience all of the tulip farm, we learned a lot and the Keukenhof Gardens were spectacular. We particularly enjoyed having 3 hours to tour the Gardens on our own at our own speed and focus on what we wanted the most. Definitely a highlight of our trip to Amsterdam!
Advertisement
Advertisement