Special Offer
Book and travel by May 8, 2016 and save 10% off our previously offered price for the afternoon departure option!
Experience an explosion of color at the Keukenhof Gardens, blooming with millions of tulips, hyacinths, daffodils, other spring bulbs and beautiful trees. On this 6.5-hour tour from Amsterdam, travel through the lovely Dutch countryside and first take a guided tour of a tulip farm. Then, enjoy skip-the-line privileges at Keukenhof Gardens before discovering the pleasures of this floral paradise on your own. With transport by luxury coach included, this tour is the easiest way to get to these out-of-the-way gardens, one of the Netherlands' top attractions.
Highlights
6.5-hour Keukenhof Gardens tour from Amsterdam
Travel through the Dutch countryside and stop to take photos of the flower fields
Visit a tulip farm for an informative walking tour
Enjoy 3 hours to wander the Keukenhof Gardens at your leisure with your skip-the-line ticket and

provided map

Learn all about the incredible tulip gardens from your expert guide
Recent Photos of This Tour
What You Can Expect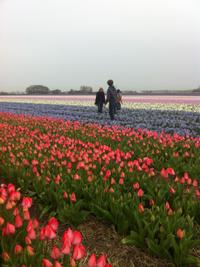 The unforgettable display of springtime blooms at the Keukenhof Gardens makes it one of Holland's most popular attractions. Select from a morning or afternoon departure from central Amsterdam. Please note: This tour is seasonal and runs between March 20 to May 18.

Board a luxury coach and together with your informative guide, admire the countryside landscapes on the 1-hour drive to Keukenhof, passing colorful tulip fields along the way. En route, hear about the history of Keukenhof and the flower fields that are characteristic of the surrounding area.

Stop at a tulip bulb farm for a 45-minute tour, where a tulip farmer leads you on a walk through fields of tulips, hyacinths and daffodils. Gain insight into the difficult work involved in maintaining the farm, and snap photos of the stunning scenery before continuing to Keukenhof Gardens.

Upon arrival, use your pre-booked admission ticket to sail past the ticketing line. Enjoy three hours of free time to explore the Keukenhof Gardens on your own, with a provided map that gives you the gardens' highlights.

Meander along windy paths, into greenhouses, along brooks and shady ponds. Admire the blaze of color from the blossoming tulips, daffodils, bluebells, hyacinths and many other flowers. Swing by a pavilion to check out a special exhibit, and enjoy refreshments at one of the restaurants in the park (own expense).

When it's time to leave, board your coach for the return trip to Amsterdam.
May 2016
The Gardens were breathtaking. We lucked out and had a gorgeous springtime Sunday with deep blue sky to reflect all those blooming colors! It was a nicely efficient and comfortable way to be transported to this attraction. The visit to the tulip farm first was very much worth it - a true, inside look at the labor and love that goes into the millions of bulbs that find their way to be planted.
May 2016
Keukenhof Gardens are not to be missed in the Netherlands! So beautiful and our guide was so great! The stop at the bulb farm was informative, yet casual and very welcoming! We went in mid-April and I think the following week was probably when everything was really in full bloom but there were still some tulips blooming and a lot of daffodils and hycaniths. The only negative I would say is the bus seats were a little cramped.
May 2016
If you are in Amsterdam during tulip/daffodil season, this is a MUST DO! We gathered at the tours and tickets' store front, which houses many different tour groups. The meeting point is very close to Central Station and easy walk from Dam Square. You will gather on a large double-deck bus in US think a Megabus. We were initially concerned about getting seats as the group could be a little pushy walking to the bus pick up point, but were able to find seats on the bottom. The ride is rather long, almost an hour one way. We slept for some, as we had landed from our overnight flight that morning. We were able to land, leave our luggage, and make it to the 1:30 departure no problem - this tour was the perfect way to prevent jet-lag and still get in some beautiful sight-seeing with low demand for alertness/focus like a museum tour or something to think about. Our guide narrated some of the ride and explained about the industry. The farm tour was worth it. The 'field tour' would be a drive-by experience, and we are so happy we chose this tour with getting out of the bus and actually walking through the fields of daffodils - there were acres and acres of blossoms! The farmer explained a great deal about the farming of bulbs. I learned why my tulips at home fizzle out! Now I now how to plant them and keep them coming back year after year. You view a short movie about the other seasons of the farming of tulip bulbs, and end with a visit to a quaint store filled with examples of blooms you can order and have shipped to your home. I ordered some and while the cost may be a little higher than I usually spend, I am happy with knowing my hard earned money will go to another hard working family. The Keukenhof gardens are everything people say and more. Absolutely breath taking, something unlike anything I've seen here in New England... fields and fields of artistically placed bulbs. Artwork in the landscape really. There were demo greenhouse and more... Don't hesitate - Just go!
May 2016
this tour was great even though the weather was not the best, but we had a great time, we were, a well looked after,a good farm visit and gardens were great. All in all a brilliant day out
May 2016
Great tour!
The flowers were beautiful!
The tulip farm was extremely interesting!
Rick
May 2016
Interesting stop at the bulb farm prior to going to Keukenhof. The gardens were absolutely fantastic and even the heavy rain on the way there couldn't diminish our enjoyment.
April 2016
Enjoyed the tulip farm prior to the Gardens. Would advise bringing a lunch since the lines for food/drink are long.
April 2016
First class worth the extra for the bulb farm
April 2016
Excellent tour pick up and meeting points easily found. Great experience to visit these gardens.
April 2016
This was the highlight of our 10 day trip to the Netherlands and Germany. The tour was excellent and we had plenty of time to enjoy the flowers. Don't miss this tour!
Special Offer
$68.99 Save $6.90
Advertisement
Advertisement