Find beervana on this 3-hour evening Amsterdam beer tour that avoids the tourist-traps and showcases some of Amsterdam's quality bars. An in-the-know guide takes a small group, limited to just 12 beer nuts, around the picturesque city to popular local watering holes, including a brewery in the Red Light District and a beer hall boasting more than 200 types of frothy goodness! Along the way, sample three beers and learn about the Netherlands' beer-brewing history.
Highlights
3-hour evening Amsterdam beer tour led by an expert local guide
Learn about the history of the Dutch brewing industry while exploring Amsterdam
Enjoy a typical Dutch bar snack and sample three different beers, recommended by your guide

Visit a brewery in Amsterdam's Red Light District with your guide

Choose from a selection of more than 200 beers in a legendary local beer hall
Small-group tour with a maximum of 12 people ensures a more personalized experience
Recent Photos of This Tour
What You Can Expect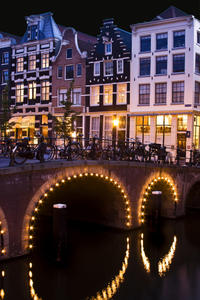 The Netherlands' beer industry started in the early 17th century and exploded into production about 300 years later, leading to its world-renowned reputation as a beer-brewing powerhouse. Quench your thirst for quality Dutch beer on this 3-hour evening Amsterdam beer tour, which includes sampling three beers as well as a typical bar snack.

Meet your informative guide in central Amsterdam and as you stroll along the city's charming cobblestone streets, learn about the country's brewing industry, shaped in part by American and German influences.

Stop at a succession of different bars — frequented by locals — including an intriguing little place where Amsterdam 16th-century nuns once made their own brews. Your guide also leads you into the bold and racy Red Light District. Leave the crowds behind and visit a small brewery located in the heart of the neighborhood to sample an array of beers in an atmospheric tasting room.

Finish up in a famous local beer hall that features more than 200 different varieties of beer! End your tour on a high note with a bitter ale, a pale lager or a triple malt. Your guide leaves you here, so you're placed in the perfect spot to continue enjoying Amsterdam's best beer right where you are!

January 2016
Fantastic - great intro to the city center and so much fun - excellent value for the money.
I am 57, and thoroughly enjoyed this - for all those 18 who enjoy a drink or two or three while touring!
December 2015
We took this tour in mid October and had a fabulous time. Sean was a lot of fun. I'd definitely recommend this tour. All of the beers we tried were excellent.
October 2015
Guide Sean was great. This was an intimate group--only four of us. We started out at a pub that had a bewildering selection of beers, where we were guided in our sampling. We moved on to a place that sold home made liqueurs that were out of this world. This part we had to pay for about 3 euro. It was then on to another pub where we picked up a free souvenir, and then sampled some of their beer. We ended up in another place that brewed its own beer. These are places that you would never find on your own, so that made the circumstances even better. We had a great time--lots of beer and lots of laughs.
August 2015
We enjoyed it very much. It was laid back but in a good way.
March 2015
This was the 2nd time taking this tour and we had a great time. We got to see some amazing little places and enjoyed the beer. Shaun made just the right beer selections for us. A great way to spend a few hours, we made note of our favorite places and can't wait to go back!!
Pam and Grayson

Cherie B USA
July 2014
This tour was great. Sean, the guide, is quite knowledgable in different processes of brewing beer. We were a small group and he kept it lively the whole time. The 3 places we tasted beer at were super, with great atmosphere as well. If you enjoy learning about what you're drinking, take this tour!!
July 2014
We had a wonderful time on this tour. There were 4 of us + another traveler in our group, and Sean really went above and beyond your run-of-the-mill tour with us, helping us experience some unique and wonderful aspects of Amsterdam that we had not even noticed in our first few days there. We really appreciated how he asked for our input, then listened to and worked to meet our needs and requests. He was very proud of and respectful toward all the special nuances that make Amsterdam the amazing city it is, and with what he recommended and introduced us to, we hope to visit Amsterdam again soon!
May 2014
Excellent tour! The guide was very personable and had lots of interesting information to share about Amsterdam and its history. We went to three different bars which all had a wide variety of beers to choose from, and a nice snack was included. Highly recommended!
Tyler R Canada
January 2014
The tour was my self, a couple from America, and our American ex-pat tour guide, Sean. A very small group to be sure. He knew the area and history of not just beer, but Holland and the variety of native alcoholic beverages. We got to choose from a few local beers at each bar so each person could tailor the tour to their specific tastes, or be adventurous if the mood strikes. Having a light meal before the tour starts would be a good idea as you may get too effected by the drinks to fully appreciate it all by the end.
January 2014
Fun and knowledgible guide! Knows all the best/true Brussels beer spots. And all the bartenders know him!
Advertisement
Advertisement