From the bright lights of Las Vegas to the breathtaking splendor of the Grand Canyon, this 3-day trip from Anaheim has it all. After exploring the glitz of the desert's most famous city, enjoy a narrated bus excursion to the Canyon's stunning South Rim.
Highlights
3-Day Las Vegas and Grand Canyon Tour from Anaheim
Travel in style and comfort where you will be taken care of by the onboard stewardes
Two night stay at the Tropicana in Las Vegas

Grand Canyon South Rim bus journey from Las Vegas
Round trip transportation from Anaheim

What You Can Expect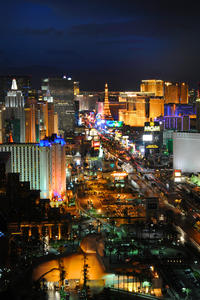 Climb aboard your state of the art motorcoach and travel in comfort from Anaheim to Las Vegas. During the 4.5-hour drive, relax and enjoy the services and amenities provided by the onboard attendant along with the recently released movies shown on the sophisticated entertainment system.
From your drop-off point at Harrah's Hotel in Las Vegas you will need to make your own way to the Tropicana Las Vegas, which will be your home base for the next two nights. Head out for some free time on the town and experience the neon sparkle of the city's celebrated strip.
South Rim Bus Tour:
From Las Vegas, it's a striking, scenic journey to the Grand Canyon's South Rim National Park. With plush seating, restrooms and windows offering sweeping views of the landscape, this deluxe bus tour offers an historical narration of the Hoover Dam, Indian Wars, and the lives of cowboys and pioneers. Along the way, stop at the best and most exclusive overlooks for dazzling views over the Canyon Rim.
For those who appreciate true comfort combined with splendid natural beauty, this tour is ideal. Following an included buffet lunch at the Kaibab National forest area, your tour concludes with a drop-off in Anaheim.
Please note: the listed price does not include the $2 fuel surcharge (per person), which payable when you check in for your tour. There is also a per night plus tax hotel resort fee. The price displayed is per person, based on 4 people per room. If you require separate rooms, you must make separate bookings.
April 2016
Comfy trip from Anaheim to Vegas, fun rep on coach. Did not feel like 5 hour trip. Tropicana hotel fantastic, right on strip close to MGM and New York New York, Great view from club tower room. Grand Canyon trip was a long but very enjoyable day, great guide/driver Tess. Would highly recommend.
December 2015
Las Vegas was phenomenal and fantastic. My hotel Tropicana was very comfortable. The Michael Jackson One Show at Mandalay Bay was out of this world, the dancing was fabulous ! Enjoyed my time there.
August 2014
August 2014
August 2014
This was a great way to see Las Vegas and the Hoover Dam and Grand Canyon. Just wish we had more time in Las Vegas. The Grand Canyon Tour is a very long day but we really enjoyed it. A lot of this was done to Mark our tour host and Bus driver that day. The trip from Anaheim to Las Vegas was really good. Thanks to our driver (sorry didn't get your name) and to Natasha our host from Lux Bus. Natasha certainly made this a really informative interesting and amusing trip.
April 2016
Only after I confirmed my booking with the vendor by phone did I find out that this so-called 3-day tour is actually not the kind of packaged tour I imagined, such as having 1 single contact point or guide throughout the whole tour. As the vendor is just a bus company, when I called them to confirm they could only confirm the pick up time and place for my transfer between Anaheim and Las Vegas. The hotel stay and Grand Canyon tour were on separate vouchers which I had to liaise with 2 other vendors on my own the hotel itself and the Grand Canyon tour provider respectively. The bus rides, the hotel and the Grand Canyon tour were not bad but it's a bit inconvenient for me to liaise with 3 parties separately and a bit disappointing taking into account that I actually only booked 1 tour via Viator. I expected 1 company to take care of all elements of the 3-day tour with a single point of contact etc.
July 2012
The trip to Los Vegas was very good, the bus company certainly looked after you. However the hotel...was a building site...dirty and smelling of smoke! in addition to this, the trip from the Canyon was hindered by the bus having a tyre blowout.....we had to wait 2hours on the side of the road fro repairs. The trip allows 2 hours to view the Canyon and takes 5-6 hours to get there. I would not recommend this to anyone. You would be better to fly to Flagstaff and hire a car from there....this allows a better choice of accomodation and more time at the Canyon.
Advertisement
Advertisement