Explore Catalina Island and the town of Avalon during this full-day trip from Anaheim. Board a comfortable, modern passenger ferry to travel the 22 miles (35 kilometers) off the coast to this quaint island. Stroll through Avalon, the small town with a Mediterranean feel, to dine at seaside restaurants or peruse the shops. Cycle around the island, snorkel or relax on the beach. Round-trip transportation from Anaheim and Buena Park hotels is included.
Highlights
Catalina Island Tour from Anaheim

Visit the city of Avalon - one of the most visited tourist destinations

Dine at one of 30 casual or fine dining restaurants

Shop at specialty or boutique shops which offer everything you may need

Enjoy aquatic activities such as snorkeling, kayaking or scuba diving

Includes ferry transfers and hotel pickup and drop-off

Why Our Insiders Chose This Tour
A easygoing getaway from the theme parks of Anaheim! Choose from all kinds of activities, from snorkeling to shopping. You may even spot dolphins on the ferry rides!
Recent Photos of This Tour
What You Can Expect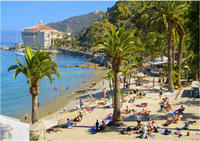 After morning pickup from your Buena Park or Anaheim hotel, transfer to the ferry terminal.
Climb aboard a comfortable, state-of-the-art ferry for the 22-mile (35-kilometer) ride across the Pacific Ocean to Catalina Island. Along the way, view the endless blue of the ocean waves and maybe even spot some dolphins playing in the surf.
Disembark in Avalon, one of the island's most popular destinations.
Nature-lovers can take to the waters for aquatic activities. Explore the island's marine environment by going snorkeling, scuba diving or kayaking (own expense). Take a relaxing bike ride or stroll through the streets of Avalon at your leisure.
Dine at one of many seaside restaurants or go shopping at specialty and boutique shops.
At the end of your time on Catalina Island, return to your Anaheim or Buena Park hotel via ferry and ground transportation.
Please note: the listed price does not include a USD$3.00 fuel surcharge per person (required), payable direct to the tour operator on the day of your.

May 2015
Best time every if go get a cart for the day would say to go it was great
June 2014
Wonderful trip...didn't have any worries! The bus picked us up at the hotel, delivered us to the Ferry and was there to pick us back up when the Ferry returned. Loved the Island, as well!
January 2014
Great trip! On Catalina Express trip over captain stopped so we could view a whale (!!) and on trip back saw a huge pod of dolphins leaping out of the water in the boat's wake. Those two things were worth the price of admission for me! The island is beautiful...with many views reminding me of something out of the movie Jurassic Park. We rented a golf cart to explore with ($80 for 2 hours with an additional one free if wanted...we used all 3 hours.). Make sure you have CASH or TRAVELER'S CHECKS for a deposit. They accept credit cards for the actual payment but want a cash or t-check for the deposit. This immediately put a damper on the trip because I carry very little cash...until a very, very nice woman asked me how much cashe I had and accepted a much lower amount as a deposit. I wound up letting her keep it as a Christmas Gift for being so nice and helping me out.Only down side to the trip is there wasn't enough time to see and do everything I would have liked to.
January 2014
Very professional. On time, excellent communication, courteous drivers.
December 2013
We had the most relaxing and wonderful time in Catlina we went and sat close with the dolfins and stayed overnite which is a must as you dont have time in one day to see and do what you want.
June 2013
Great side trip for something different to do in LA. The boat ride from Long Beach is about 70 minutes so sit back and relax with a drink and some snacks. We rented a golf cart at the terminal for 2 hours ($80) and got a third hour for free. Drove around the island, stopped for lunch on the beach and got the cart back just in time. Walked around the village with lots of shops to buy souvenirs and reasonably priced T-shirts. Lots more to do like zip lining, renting kayaks, glass bottom boat ride, submarine ride and hosted tours. Could have spent more time there and we'll probably go back if we are ever in the area again.
June 2013
It was great experience, I think nobody should miss a visit to Catalina Islands. It was very convenient as bus picked us up outside the hotel and dropped us back there. My husband and I loved it.
April 2013
Lovely spot and would have liked to spend more time there. Ferry trip over and back was great and we saw dolphins on the way over. I want to go back as there was much we did not get a chance to see!
November 2012
As with all previous bookings with this company, it was very enjoyable experience from the pick up driver to the tour to the return journey. Knowlegeable people, friendly staff and an excellent choice of tours.
Look forward to my next booking.
Thanks to everyone
Deborah A Australia
July 2012
This trip was one of the best of our stay in California. Catalina is absolutely beautiful. We did snorkelling and kayaking while we were there. The shops are gorgeous also. The boat trip out is delightful and takes an hour. We came across a huge pod of dophins on the way so the cat stopped for everyone to take pictures. Fabulous place to visit. If we went again though we would find our own way to Newport Beach and get the cat out to the island and either spend a long day there or over night. Do not plan to do any activity that is long as you do not get much time on the island at all. Unfortunately the time we were able to spend on Catalina was only 3.25 hours which was no where near long enough. The boat dropped us at 11am and we had to be back at the dock at 3.15pm. The trip to the boat at Long Beach only took 45 minutes from Anaheim but going back to Anaheim was a 2 hour trip as the driver had to go to Huntington Beach to pick up a couple. I personally would not do this tour again as the time on Catalina is far too short and returning to Anaheim is far too long.
Advertisement
Advertisement