Experience Hollywood's glitz and glamour on a full-day tour to movie stars' homes, tinseltown's most iconic sites and Universal CityWalk. Get a glimpse of the mansions that sprawl through Beverly Hills and Bel-Air, and take a slow cruise down Sunset Strip and Rodeo Drive. Explore Hollywood Boulevard's red carpet theaters, find your favorite names along the Walk of Fame, then finish your day with shopping and snacks at Universal CityWalk, a bustling retail district in the heart of the city.
Highlights
Hollywood movie stars homes tour

Fully narrated two hour tour that will showcase many breathtaking mansions, located in Beverly Hills and Bel-Air!
Cruise along the famous Sunset Strip and Rodeo Drive
Explore Universal CityWalk, home to unique shops and world-class dining

Recent Photos of This Tour
Hollywood Movie Stars' Homes and Universal CityWalk
What You Can Expect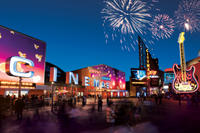 The day will begin with a fully narrated two hour tour that will showcase many breathtaking mansions, located in Beverly Hills and Bel-Air! There's no place like home for stars that may potentially include Courtney Cox, Keanu Reeves, Toby Maguire, Madonna, Halle Berry, Jackie Chan, Winona Ryder, Nicolas Cage, Peter Falk, Dr. Phil, Bob Barker and others.

Cruise Sunset Strip and Rodeo Drive where the rich and famous actually make appointments to shop! Free time on Hollywood Blvd will offer the opportunity to visit the Mann's Chinese Theatre, Kodak Theatre and the Walk of Fame.

On return, you'll make a 1-1.5-hour stop at Universal CityWalk where you can enjoy world-renowned dining establishments and unique shops and boutiques. Restaurants and shops include names such as Billabong, Element, Fossil, Sketchers, Abercrombie & Fitch, Bubba Gump Shrimp Co., Hard Rock Cafe, Wolfgang Puck Bistro and the Saddle Ranch Chop House.
Elaine B New Zealand
June 2015
This was so cool! Had no idea we would be transferred to an awesome limo. The chauffeur was fantastic and a lot of fun. The shopping was great - a fraction more time would have been welcomed.
June 2015
I had this tour booked, but it was cancelled at the last minute because there was not enough people. They were very accommodating and was able to go a similar tour instead. They could not refund the difference between the two tours, but did not charge me the $2 fuel charge. I loved the tour. We were able to get up close to the Kodak theatre and see all of the preparations that were being made for the academy awards, I t was very cool. I loved the grove, Olivera street, farmers market. I esp. loved the Santa Monica beach. Tour guide was great. I would strongly recommend this tour.
June 2015
Alex was an excellent driver, really took into account the wishes of the passengers he had and was very accommodating. The tour was very informative from start to finish. Starline gave us a great tour of the movie star homes and we still had about an hour to walk around the walk of fame before leaving for the shopping tour. Had about 3 hours at the Citadel outlets which was the perfect about of time for our group, left at 6:30pm and reached our hotel in Anaheim at about 7:30pm. Highly recommended. Thank you Alex (driver)

June 2015
it was a fantastic day!Alex our tour guide was great,we really enjoyed his company on the tour.the stars home tour is provided by starline tours and on the open air mini bus it has a sign tips $8 to $10 per person so keep that in mind.
June 2015
This was soooo great our guide was funny and informative laughed Nd enjoyed every minute ! Great tour
April 2016
The tour was fun and informative. Guide was great. I gave four stars because we went right past the farmers market but didn't get to go in. It should have been part of the tour and I was looking forward to it.
Snozz Australia
June 2015
Certainly had a great day. The bus driver was very informative, funny and new a lot about the area. The Movie Star homes are hard to see clearly, however to see how the other half live is quite amazing. The shopping tour was ok and there were quite a few shops to look for a bargain.
STEPHEN C United Kingdom
June 2015
Good day out made even better because we were one of the lucky few who got to do the stars homes in a stretch limo. Citadel shopping was not too bad either.
June 2015
citadel outlets rock and movie stars tour was good with plenty of time to do madaume tusausder hard rock cafe or ripleys believe it or not in hollywood while you wait for the coach to pick you up.
June 2015
Not the most amazing tour but I would do it just to say that you saw some on the stars homes and the shopping was good.
Advertisement
Advertisement