Spend the day at Knott's Berry Farm with the family, knowing that round-trip transportation is taken care of. Enjoy the freedom from traffic, tolls and gas prices by leaving the car at home and relaxing during the trip to and from the amusement park. With the prepaid ticket and transportation arranged, ride the rides, play the games and win the prizes, possibly enjoying a well-deserved nap on the way back to Anaheim.
Highlights
Knott's Berry Farm admission ticket
Get ready for adrenaline-pumping thrill rides and wild adventures for the whole family
Experience Silver Bullet, Knott's first suspended coaster that sends daring riders through inverted outside loops, over-banked curves and zero-G rolls
Discover five uniquely themed areas, each presenting a taste of the Southern California experience
Why Our Insiders Chose This Tour
Learn interesting tidbits about Knott's Berry Farm from your driver on the way there. Then get ready for a day of heart-stopping rides. It's a treat not having to drive home after your pleasantly exhausting day!
What You Can Expect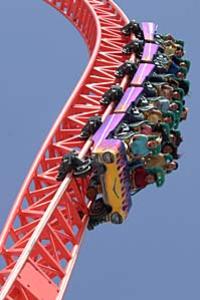 Following pickup at your hotel in Anaheim, board the comfortable coach for the trip to Knott's Berry Farm. Arrive in time for opening at 10:00am. Don't worry about parking, and breeze right in the front entrance with your pre-paid admission ticket in hand.




Discover five themed areas, each presenting a taste of the Southern California experience. Ghost Towns is a trip into the past with gun-slinging bandits duking it out in the legendary Wild West Stunt Show. The vibe of the Southern California surf scene washes over the Boardwalk area , while Indian Trails explores the heritage of the Native American civilization. Fiesta Village pays homage to Spanish California, and Camp Snoopy is home to the PEANUTS Gang and offers twenty kid-approved rides and hands-on adventures.

Knott's Pony Express promises a horseback relay at speeds never imagined in the Old West. While sitting astride one of the team's sixteen horses, you'll launch from 0 to 38 miles per hour (0 to 61 kph) in less than 3 seconds. Cover a 1,300-foot (396-meter) route past Boot Hill and Big Foot Rapids resulting in an exhilarating runaway adventure.




Ride the Silver Bullet, Knott's first suspended coaster. Zoom through inverted outside loops, over-banked curves and zero-G rolls. Climb aboard the Xcelerator to understand the true meaning of the term 'joy ride', or hop on the GhostRider for a classic wooden coaster experience.




Spend the 10-hour day enjoying the rides and games with your family, then board the coach home and kick back, knowing that your transportation has been taken care of.




Please note:

The listed price does not include a USD$3.00 per person fuel surcharge, payable at the time of tour check-in.
May 2016
i have used viator quite a few times when arriving in LA and never been disappointed also prices are very reasonable.
regards
David from the UK.
February 2016
Set up of the reservation was simple. The driver arrived as scheduled and the transport to and from the park was comfortable and short. We truly enjoyed our day at Knott's Berry Farm and would not hesitate to use Viator again for any travel destination services. It was a piece of our perfect vacation.
January 2016
Absolutly love Knotts Berry Farm, we would go again. A good variety for all ages. Loved Johnny Rockets. A really fun day out.
November 2015
Coach pickup from hotel and return from the park was on time and made the visit to Knotts very smooth.
October 2014
Pacific Coast Sightseeing and Tours picked us up at the specified location in a timely manner. The driver was very knowledgeable in points of interest. I would definitely use this company again.
April 2013
my two grandchildren loved this place excellent roller coasters great fun

Justin W Australia
April 2013
Knotts berry farm is exactly like the old Australias wonderland in Sydney. Great fun, shorter queues than disney land. Pick up and drop off were great
April 2013
Great service , all went well , had a fun day and all went well with the transport.
October 2012
We had a great day. Pick up was on time, driver very friendly and plenty of time to spend at the park. Hassle free!
August 2012
Everything went smoothly from pick up to drop off. It was busy with kids on holiday programs and families on holidays but apart from one or two rides much easier to get on rides than other places. Not as much here for very young children but perfect for our 10 year old.
Advertisement
Advertisement