Capture unparalleled views of Mt McKinley on one of three flightseeing tour options from Talkeetna. Experience the Ice Age world of Mt McKinley and the Alaska Range, including Great Gorge of Ruth Glacier — or admire Denali National Park's many glaciers and sister peaks of Mt Hunter and Mt Foraker. Want to see it all? Sign up for the Grand Denali tour, and upgrade any option to include a glacier landing to stand on one of Denali's great peaks.

Highlights
Flightseeing tour of Denali National Park from Talkeetna
Soar over Mt McKinley's majestic granite peaks, glaciers, icefalls and canyons
Admire Kahiltna Glacier, the peaks of Mt Hunter and Mt Foraker, the Great Gorge of Ruth Glacier and more
Choose from three flight itineraries
Upgrade to include a glacier landing for the ultimate Mt McKinley flightseeing experience!
What You Can Expect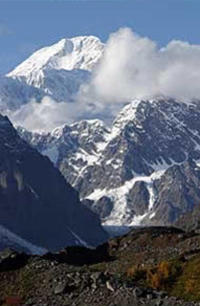 Majestic granite peaks, cascading icefalls, canyons and glaciers are part of your aerial tableaus during these flightseeing tours of Mt McKinley. As you fly high over Denali National Park and the Alaska Range, your pilot shares commentary about the geological history and local wildlife.

Choose one of three flight itineraries: South Face, Base Camp, or see it all with the Grand Denali package. For the ultimate experience, upgrade your flight to include a glacier landing.

See Itinerary below for details of each journey. Round-trip transport from your Talkeetna hotel is included.

Please note: This tour is seasonal and only operates from May through September.
Itinerary
South Face
Fly over the lush green wetlands of a northern boreal forest before entering the Ice Age world of Mt McKinley and the Alaska Range. You'll be awed by the Great Gorge of Ruth Glacier, filled with a 4,000-foot-thick (1,220-meter) river of ice. The depth of this glacier combined with the height of the towering cliffs create an abyss that is deeper than the Grand Canyon, making this one of the deepest gorges in the world. Other highlights include the Don Sheldon amphitheater and blue meltwater pools.

Base Camp
A pilot favorite, this flight leads right into the heart of the Alaska Range, with all the same features as the South Face tour as well as the eastern and western faces of Mt McKinley. Highlights include Denali's massive sister peaks — Mt Hunter and Mt Foraker — and the major glaciers that blanket the south side of the Alaska Range: Ruth Glacier, Tokositna Glacier, Eldridge Glacier, Kanikula Glacier, Buckskin Glacier, Coffee Glacier and Kahiltna Glacier, the longest in Denali National Park.

You'll also fly over Base Camp, where daring climbers begin their epic 3-week journey of Mt McKinley.

Grand Denali
Can't decide which flight to choose? Enjoy them both! The Grand Denali tour covers the same routes as both the South Face and Base Camp flights, giving you an unbeatable experience of Denali National Park.

Complete a whole circle around Mt McKinley's ridges and faces, and cross over the divide of the Alaska Range, revealing the arctic alpine tundra of the north side of Denali Park's remote interior. You'll also see Wickersham Wall, one of world's greatest continual vertical reliefs.

Upgrade to experience a glacier landing!
Land on a glacier at the base of Mt McKinley and stand among Denali's great peaks — their immense scale will astound you. Enjoy unparalleled photo opportunities here.


June 2016
Amazing tour, plane, driver. One of the best experiences in Alaska
June 2016
A must do in Alaska! The weather was not in our favor, but our pilot did a wonderful job of really maximizing our experience and giving us spectacular views! The pilot was awesome - really knowledgable of the area and definitely made the tour entertaining. The entire staff was extremely kind and welcoming. One of the highlights of our trip!
June 2016
This tour was AMAZING. I originally was only going because someone else wanted to go, but am SO glad I did it! Our trip was at capacity 11 people so I got to be co-pilot on the return flight. Chris was such a fantastic guide, making the trip as enjoyable as possible, taking pictures for everyone, and explaining everything that we were seeing. If you're on the fence about this trip because of the price, don't be--it's worth every penny.
November 2015
Awesome. Number 1 thing we did in Alaska
June 2015
They did all they could to get us a view of the summit. Great glacier landing. Must see views.

June 2016
Spectacular views from above on this magical ride. It was 3 of us in our family and the pilot and that was all that could fit in this tiny plane. Took me about 15 minutes to adjust to that and feel comfortable enough to enjoy the views and take pictures. Good thing to know before hand.
Advertisement
Advertisement