Admire epic scenery and spot Alaskan wildlife on this tour from Anchorage, which takes you along the Seward Highway to the Turnagain Arm and the Alaska Wildlife Conservation Center. Keep your eye out for whales, wolves, moose, goats and sheep on your drive, and get up close to bears, elk and caribou on your educational tour of the rescue and rehabilitation center. You also have the option to adopt an animal!
Highlights
Alaska wildlife tour from Anchorage
Travel along the Seward Highway, a designated National Scenic Byway with some of the best scenery in the US!
Spot wildlife such as whales, moose and goats along the Turnagain Arm
Take a guided tour of the Alaska Wildlife Conservation Center
Learn about the center's rescue and rehabilitation efforts as you see bears, elk and caribou up close
Option to adopt an animal!
What You Can Expect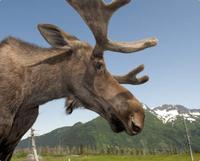 After pickup from your downtown Anchorage hotel, travel along the Seward Highway, a National Scenic Byway and one of only 15 roads in the US designated as an All-American Road. As you make your way along the Turnagain Arm, enjoy the amazing Alaskan scenery and stop to view wildlife such as sheep, mountain goats, moose, whales, wolves and eagles. You'll then arrive at the Alaska Wildlife Conservation Center.
This privately owned non-profit organization is dedicated to preserving Alaska's wildlife through public education. The center rescues orphaned and injured animals and provides spacious enclosures and quality animal care. Animals that cannot be released into the wild are given a permanent home at the center.
On your guided tour, get up-close views of bears, moose, elk, caribou and other Alaskan animals. You'll spend 3.5 hours here viewing wildlife and learning about the center's rescue and rehabilitation efforts.
You also have the unique opportunity to adopt an animal! For an additional cost, payable directly to the center, you can help support your chosen animal. You'll receive an adoption certificate, and the center's professional staff will provide the special diet, environment and veterinary care that your animal requires. Simply ask you tour guide for an adoption form or ask for more details when you make your tour reservation.
After your tour, relax on the scenic drive back to your hotel in Anchorage.
July 2015
excellent. we found all our expectancies. Anchorage a pretty city, clean, orgnizated and a very good attention for the visitors. fecitations. invited to return
July 2015
Mary is a friendly, very knowledgeable and accommodating host. We enjoyed the drive and the wildlife tour.
January 2014
Really enjoyed this tour, scenery was beautiful and was great to see the animals, weather wasnt good alas, but our guide was very informative and interesting.
April 2013
Quite nice experience. I would recommend it.
May 2015
The drive is amazing! Great scenery along the way. The Wildlife Reserve is ok, not really worth the 99. This really isn't a tour and the reserve is not very big. You can see the whole thing in an hour or less depending on how fast you want to get through it. The bears were out and about when we went which was very cool and I finally saw a moose there. Admission to the reserve is only 12.50 so you are really paying for the van to get you there and back. If you can, I would suggest renting a car, seeing the reserve, and then do some hiking lots of great trails nearby. The guide was great, very friendly and provided some interesting commentary along the ride.
September 2014
My husband and I were in Alaska for 9 days and traveled by rail from Anchorage to Fairbanks. Your "Wilderness Tour" was our last activity prior to flying back to our home state. Unfortunately both my husband and I were extremely disappointed. All of your information and brochures that we had been given or sent featured a picture of a wolf in its natural habitat. Since we had not seen any wolves we were certainly looking forward to that but not only were there no wolves, there was no mention or reference to them on the premises. Although there were some photographs and signage at the areas where the animals were penned, there was no one to talk about them or to answer questions. Your driver, other that an occasional comment or remarks, spent the majority of the drive, coming and going, interacting and conversing with the couple sitting directly behind her rather than involving or sharing information with others on the bus. Upon arrival, she simply dropped us off at the gift shop and told us when to return for the drive back. I can't speak for others, but we did not see her during our "do it yourself tour".
We were fortunate enough to have other tours and excursions that were much more enjoyable and informative, but had to specifically been looking forward to this one to be a final memory of our wonderful time in Alaska.
Thank you for giving me the opportunity to express my thoughts. Bev Bley
Advertisement
Advertisement