Discover the secrets of one of Anatolia's oldest civilizations as you explore the ancient Hittite ruins of Yazilikaya and Hattusas. Enjoy the undivided attention of your guide on this private tour as you explore the Hittite capital of Hattusas, visit the Yazilikaya rock shrines and see the remnants of an ancient civilization dating back as early as 3,000 BC. This private tour includes lunch and hotel pick-up.
Highlights
Full-day trip to Yazilikaya, home of the Hittite rock sanctuary

Enjoy personalized attention from your private guide on this special private tour of the Hittite sites

Visit the Hittite capital city of Hattusas, famous for its Cuneiform tablets

See the Lion's Gate, Kings Gate and Grand Temple in Hattusas

Transport by air-conditioned coach
What You Can Expect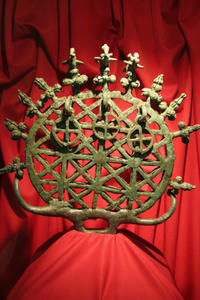 Departing Ankara in the early morning, drive for approximately 3 hours (208 kilometers) through the stunning landscape of Turkey enroute to Hattusas which was the capital of the Hittites.
Before visiting the main capitol, journey to Yazilikaya. Meaning "inscribed rock" in the Turkish language, Yazilikaya is an open air, natural rock shrine containing impressive reliefs of all the Hittite gods and goddesses. As the morning sun light shines on the bas-reliefs direct in the morning, you will be fascinated by this open air sanctuary.
Enjoy lunch in a small restaurant in a town nearby. After lunch visit the capital of Hattusas famous for the cuneiform tablets, and the capital city of Hittites.
While here you will visit Lion's Gate, Tunnel, King's Gate, Citadel and Grand Temple. After a day of impressive sightseeing, join your transfer back to Ankara.
Anonymous
July 2010
Guide was knowledgeable and friendly.
Advertisement
Advertisement