Experience Demre, Myra and Kekova during this guided day trip from Antalya. On this tour, you will discover ancient Lycian ruins in Myra and cruise the tranquil waters to Kekova Island. Enjoy an expedition to the sunken city of Simena and savor plenty of opportunities to swim and snorkel along the way.
Highlights
Full-day trip from Antalya to Demre, a province on Turkey's Mediterranean coast

See the Lycian town of Myra, once home to St Nicholas of Myra (the original Santa Claus)
Sail to Kekova Island, where you will have opportunity to swim or snorkel

Learn about the sunken city of Simena at Kekova Island

Hotel pickup and drop-off from centrally located Antalya hotels
Recent Photos of This Tour
What You Can Expect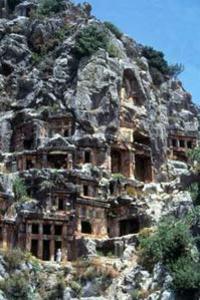 Kick off your day trip to Demre, Myra and Kekova at your Antalya hotel where you will meet your local guide. Then, hop aboard an air-conditioned coach and drive to Demre. See some of Turkey's most famous Lycian tombs at Myra and then enjoy a visit to the lovely Church of St. Nicholas, referring to the saint also known as Santa Claus.
Take a break for lunch before you board a boat and sail to spectacular Kekova Island. As the boat begins to cruise slowly, observe the beautiful sunken city of Simena. Capture photos of the ancient ruins below water and then continue to the exceptional Lycian necropolis at Teimiussa.
With plenty of beautiful sea surrounding you, grab your swim trunks and hop in for a refreshing stroke through the water. Snorkel equipment is available aboard if desired. Don't forget to bring a towel! After the boat returns you to land, hop back into your coach and drive to your Antalya hotel where your tour ends.
Agnes R United Kingdom
June 2010
I was pick up by a profesional tour guide at 7 o'clock . First we went to Demre Myra to visit Church of St.Nicholas, then we visited Lycian Tombs which were very interesting. After lunch we had tour boat to Kekova Island which was very relaxing.You could take a bath in the crystal clean water which was very refreshing. I was back at hotel around 7 p.m.
Dan?el M Kuwait
December 2009
Highlight was the boat trip to Myra. Driving around the peninsula is very scenic.
Rebecca A United Kingdom
April 2010
I'm rating this for the Perge tour... Because the company called the day before to let me know there weren't enough people to warrant taking the Demre trip. Disappointing because I was specifically keen to do the Demre tour. Perge tour was great though. Informative guide, pick up at the time stated, comfy air conditioned mini van and lots to see. Amazing to see how big Perge ishow much still remains. Some beautiful sites to be seen all and all.
Nicole C USA
December 2009
It was good, but the tour guide was unprofessional. I had to wait because I was a single traveler for the others to get dropped off first, then brought back to the travel agency to sit and wait while the tour guide did his paperwork that occurs once the tour is over and had a cigarette, dropped off his colleague, and then finally I got dropped off after having to wait in rush hour traffic. This wouldn't have happened if I had just been dropped off like everyone else. Plus, I had to listen to them argue on the phone on the way. Also I was told that pickup time was 6:30 am. They did not show until 7 am and told me that they were told it was 7. When I called the company to check where were they, they were no help. During the tour, the guide smelled like alcohol. The tour itself and the sites you see are amazing, however. If you're in a group, it should be okay. If you're a single traveler, go with another company or see if you can do it on your own with a rental car.
Tracy H USA
August 2011
I think this tour could have been better if it would not have been combined with two other tours due to the lack of people. However, the tour guide was terrible, spoke good English, however, he would mumble would he talked. He did not give any information about any of the areas that we went to visit. While in Kekova, one of the other tours guides gave us information but the guide I was with did nothing.
Denise C United Kingdom
June 2010
This tour was okay, but a long trip for not a long time at either Demre or Church of St Nicholas, whose staff wanted to sell icons to all, or Myra. Although not a lot to do after looking up at the tombs in the rock. The boat trip was very pleasant but not really outstanding. This day was spoilt by the guide, who was difficult to understand and had a very sharp manner about him and was not particularly customer friendly. For example my husband and I went to sit at the front of the boat when going over to Kekova and we found out that a drink was offered, but as he was not talking through the microphone, we didn't get to know about these refreshments until after the event. Like all tours the guide can make or break them, and this guy definitely did not make this trip enjoyable.

June 2015
We thought that the entire day tour was on the boat, but that part turned out to only be an hour or two. Spent six hours round trip riding in a hot van, which we didn't expect. The guide only talked very intermittently throughout the trip. The boat trip, including swimming in the Mediterranean, was quite nice. They just need to describe the tour more completely to potential customers.
October 2014
I bought 6 tours in Turkey on Viator. I got an email to remind me 1 day before each tour. Everything went well until this tour because I got an email stating that I would be brought to "Pergamum" on the following day!!! I was in Antalya on that day and I was in Izmir before Antalya. I bought a Pergamum tour when I was in Izmir so you can guess how shocked I was when I got the email. Luckily, the hotel staff helped me phone the tour company (if he didn't help, I had to pay a long-distance call) and talked to them in Turkish.
Advertisement
Advertisement