Uncover the history and beauty of Perge, Aspendos and Managat waterfalls during this guided day tour from Antalya. Enjoy an archaeological paradise in Perge and learn about the famous statues once buried here. You will visit Aspendos and see one of Anatolias most well protected Roman theaters. After visiting the beautiful Manavgat Waterfalls spend time exploring more historic ruins, archaeological attractions, and sandy beaches in Side.
Highlights
Discover Perge, Aspendos and Manavgat Waterfalls on a day trip from Antalya
Visit Perge, where most of the statues on the Antalya Museum were discovered

See the ancient city's large agora, the public baths and gymnasium
Discover one of the best-preserved ancient theaters of Anatolia in Aspendos
Enjoy views of the beautiful Manavgat Waterfalls

Recent Photos of This Tour
Perge, Aspendos and Manavgat Waterfalls Day Tour from Antalya
What You Can Expect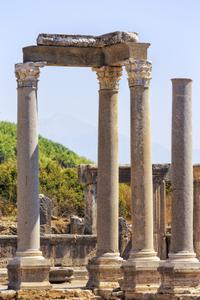 Meet your guide at your Antalya hotel for your day trip to the Perge, Aspendos and Managat waterfalls. Hop into your air-conditioned coach and begin by exploring the ancient Parnphylian city of Perge, where the majority of statues now in Antalya Museum were discovered. Learn about St. Paul's missionary journey to this Hittite settlement that dates back to 1500 BC. Then, see ornate marble reliefs in the theater and observe intricate designs at the stadium. Your guide will show you the elegant city gate, sure to impress any archaeology buffs with its two commanding towers, huge arcade, gymnasium, and public baths. Then, glimpse over the winding road, once decorated with mosaics and lined with vendors.
Continue to Aspendos and see one of Anatolia's most well maintained Roman theaters. Stop for lunch along the river and then continue to the stunning Manavgat Waterfalls. Next, cruise to the charming retreat town of Side. Learn how Turkey's famous old pier town's name translates to pomegranate as you stroll the ancient ruins with your guide. Enjoy shops, a pair of sandy beaches, and plenty of shopping that makes this a popular destination.
Then, follow your guide to historic monuments such as Temple of Apollo, Agora, a fountain, and Necropolis. Visit the museum, once Roman baths, and uncover some of Turkey's best archaeological treasures. Finally, spend some time on your own to further explore Side before heading back to Antalya where your tour ends.
September 2015
This is a must see if you are visiting Antalya! Our tour guide was very informative. Everything went off without a hitch. You will need to call and confirm your reservation 24hours before your tour. The bus was comfortable and airconditioned. We stopped at Perge first, then Side to see Temple of Apollo and Athena, then finished off the tour at Duden Waterfalls. We had an amazing day!
Susan W USA
March 2015
The weather was terrible, but the sites are so fascinating and our guide so enthusiastic and well prepared that we didn't mind. Perge is a must for anyone interested in ancient history.
June 2014
This was a wonderful tour. Our guide was great and very good with everyone on the tour. His knowledge of the history and Turkish culture was excellent.
June 2014
Great day. The guide, Asmet, was great and full of energy.
April 2014
The trip was well organised and the guide was very detailed in explaining and also gave us sufficient free time. I would recommend this tour to others.

Tanya D South Africa
July 2011
The guide was very friendly and very informative, this was the highlight of our tour. I noticed some of the previous reviews mentioned stopping at shopping sites, this was not the case for us. All the places we visited was historical and beautiful.
July 2011
Guide was excellent, very enthusiastic and knowledgeable about the places we visited and spoke very good English. Also good value for £50
Tracy H USA
June 2011
Our tour gudie was great. He share a lot of history and interesting facts of the area without making it sound like a history class. I like how he gave the group time to look around on our own.

July 2010
Everything was great about this tour, the tour guid was professional and informative, transport was comfortable, the sites were amazing and the lunch was superb! In fact everything was so good that by the end of the day we had forgotten about the 2 hour delay in picking us up that morning.
Agnes R United Kingdom
June 2010
First we went to Perge to see an impressive ruins, then amphitheatre in Aspendos and Aqueduct. After lunch we went to visit Side, a beautiful resort with ruins of Temples of Apollo and Athena. After all that sightseeing we went to see a beautiful Kursunlu Waterfalls which were very relaxing and refreshing after all this sunsine. Overall very good tour.
Advertisement
Advertisement