Journey from Antigua to explore the fascinating market at Chichicastenango plus the town of Panjachel, along the shores of Lake Atitlán, on this 9-hour day trip. Take time to browse the ceramics and woodcrafts at the famous open-air market of Chichicastenango before visiting the city's religious structures, Iglesia de Santo Tomas and Calvary Church. Then head to Panjachel, where you'll take in views of Lake Atitlán as you explore the town's main thoroughfare, Santander Street. Your trip also includes a guide and round-trip transportation from your hotel in Antigua.
Highlights
Day trip to Panajachel and Chichicastenango from Antigua
Visit the town of Chichicastenango and shop for beautiful goods at its open-air market
Stroll down Santander Street in Panajachel and learn about the town's history from your local guide
Admire stunning views of Lago de Atitlán

Hotel pickup and drop-off and all entrance fees included

What You Can Expect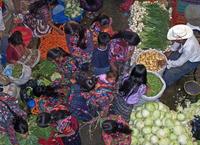 Visit two of Guatemala's most fascinating cultural sites, Chichicastenango and Panjachel, on this day trip from Antigua. Along the way you'll have time to browse for handmade goods at a famous open-air market, visit the area's top churches and see the shores of the famous Lake Atitlán.
Start your excursion with an 8am pickup from your Antigua hotel, heading towards Chichicastenango. Upon your arrival at this historic village, take some time to wander its cobblestone streets and colonial structures before continuing to the city's renowned market for shopping. This sprawling commercial center features local produce and a wealth of handmade goods for sale, including ceramics and woodcarvings.
Bargain for a souvenir or two, and then proceed to the east side of the plaza to Iglesia de Santo Tomas (Church of Saint Thomas). This historic structure, built in 1540, often plays host to Mayan rituals. Just across the plaza is Calvary Church, a slightly more compact version of Iglesia Santo Tomas, which you'll also have a chance to visit.
Leaving Chichicastengo, head next to Panjachel, a small hamlet on the shores of beautiful Lake Atitlán. This cozy town is known as a central hub for travelers as they make their way to the picturesque villages that dot the lakeshore. Stop for lunch at a local restaurant (at your own expense) then wander along the town's main road, Santander Street. Explore this beautiful strip with your guide, pausing to observe the rhythms of daily life and shop among its various handicraft stalls, restaurants and shops. Make sure to enjoy beautiful views of the lake just in the distance, then climb aboard your transport for the return trip back to Antigua.
September 2015
We really enjoyed this tour the driver gave us lots of information about the region and the markets and plenty of time to explore and have lunch at our leisure, recommended.
February 2015
Our guide Michelangelo was VERY knowledgeable and an absolute delight to spend the day with. He took great care of us, taught us a lot about the area, and left us wanting to book a longer stay at Lake Atitlan.
December 2014
We had a wonderful day with Mike our tour guide. He took us to Chichicastenago first where we toured the town and the large market on a Sunday. Mike lead us through the very large crowded market and gave us a few tips on what items should sell for. Then he gave us some time to shop. Next we went to Panajachel for a late lunch and had fresh black sea bass. Then we explored the town, and went back to Antiqua with our treasures from the markets. Mike was an excellent guide with extensive knowledge of Guatamala and was an excellent driver.

June 2014
It's a 3 hr drive to the towns. The roads are windy and long, if you get car sick
February 2016
This trip was wonderful, the driver was the best one we could have! He told us a lot of the history about Guatemala. He was an expert on driving besides it is a difficult road. The only thing we miss was our walk through Santander Street, we just went to it by car and that was it! We wonder why?
Liani S United States of ...
June 2015
It's a beautiful lake to visit. I recommend to visit during off season because you can enjoy a walk by the lake peacefully. But if you're members of younger crowds, perhaps July - August visit fits you better.
December 2015
This tour from Guatemalan adventure is ok. Market and Lake are a long drive from Antigua. Market I believe is almost 3 hrs and lake is around 1 - 1:30 hr from the Market and drive back from lake is around 3 hrs. Roads are windy and you might get sick driving up and down the hills. Traffic jams can be expected too. Market itself is nice and colorful. You can find lot of stuff to buy and you can negotiate the prices too. Our guide Ramirez I believe was a nice guy and very informative and kept us engaged throughout the trip. Lake is beatuiful surrounded by volcanoes but you wont have much time to spend at the lake. We had lunch near a lake side resturarant and spent around 15-20 mins and headed back. We couldn't find good place to walk around lake. More of resturants where we were stopped and it was dirty to walk.
Advertisement
Advertisement