Visit Copán, one of the most important cities of the Mayan empire and a UNESCO World Heritage site, on this 14-hour, full-day trip from Antigua. Enjoy a comfortable ride into neighboring Honduras by coach, before taking time to explore the site's wealth of temples, underground tunnels, ball courts, stone sculptures and altars with your guide. Along the way you'll learn about the history of this fascinating civilization and its unique hieroglyphic writing system. Your daylong excursion also includes breakfast, all entrance fees and round-trip transportation from your Antigua hotel.
Highlights
Full-day trip from Antigua to Copán, a vast city of the Mayan Empire's Yax Kuk Mo dynasty
Enjoy complimentary breakfast before crossing the Guatemala-Honduras border
View Copán's Great Plaza, Acropolis, stelae and ball court on a 2-hour guided tour
See amazing hieroglyphs on a stairway of 63 steps and visit the on-site museum
Learn about the significance of the stone sculptures, temples and altars
Explore the underground tunnels to see layers of excavation (own expense)
What You Can Expect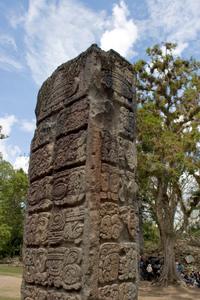 Discover one of the world's most important archaeological sites as you explore Copán, an ancient city of the Mayans and a UNESCO World Heritage-listed monument. This full day of history, culture and adventure is sure to delight visitors of all ages.
Begin the day with a 4am pickup in Antigua, proceeding on a scenic 6-hour drive across the border into neighboring Honduras. Along the way there will be time to enjoy an included Guatemalan breakfast featuring eggs, beans and tortillas or bread.
Once you've made it across the border, journey another 37 miles (60km) to Copán, the ancient Mayan city. This ancient wonder, founded in the 7th century, was created during the reign of the civilization's Yax Kuk Mo ruling dynasty. Proceed on a 2-hour tour of the ruins with your guide, stopping to admire some of the site's incredible architectural features. Pass by numerous temples, stone altars and sculptures that comprise the five main sections of this ancient urban area.
You'll also visit Copán's impressive Acropolis and its Great Plaza, then see its ball court and intriguing stairway covered in hieroglyphs. At the Great Plaza check out the striking 9- to 16-foot tall (3-5m) stone pillars, which celebrate the city's Mayan rulers, before learning about the ball court, which is the second-biggest in Central America.
Next climb Copán's famous 63 steps, an intricate staircase carved with dense layers of highly-detailed hieroglyphics, considered to be the longest written passage composed by the Mayans. You'll also have time to stop by the on-site museum, where you can further investigate the numerous artifacts on display, or pay an additional fee to visit the tunnels archaeologists have excavated underneath the site's famous acropolis.
Finish your day with a stop by the Copán Ruins, also called San Jose del Copán, where you can purchase lunch. Then sit back and relax for a laid-back bus ride, returning to Antigua for a drop-off at your hotel.
Advertisement
Advertisement