Spend the day discovering the gorgeous Lake Atitlán, along with the picturesque villages that line its shore, during this 10-hour sightseeing excursion from Antigua. Take in breathtaking views of this mountain lake, its southern shore ringed by volcanoes, as you visit the town Panjachel and take a boat cruise to the hamlet of Santiago de Atitlán. This Lake Atitlán adventure finishes with time for browsing the handicraft stands and businesses along Panjachel's Santander Street. Your tour also includes a guide and round-trip transportation from your Antigua hotel.
Highlights
Sightseeing cruise on Lago de Atitlán including transportation from Antigua
Admire the lake's stunning volcanic scenery from the boat
Cruise across the lake to the Tzutujil village of Santiago de Atitlán.
Walk along Santander street in Panajachel with your local guide

Complimentary hotel pickup and drop-off

Recent Photos of This Tour
Lake Atitlán Sightseeing Cruise with Transport from Antigua
What You Can Expect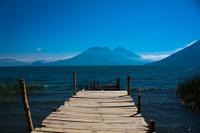 Explore the stunning environs of Lake Atitlán, a serene body of water ringed by towering volcanoes and idyllic villages, as you visit the towns of Panjachel and Santiago de Atitlán. Best of all, you'll get to see this natural wonder by boat, the best vantage point of all, as you take a scenic water cruise between the two cities.
Start your trip with a pickup at 8am from your Antigua hotel, continuing with your guide to the town of Panjachel along the shores of Lake Atitlán. Upon your arrival at Panjachel, transfer to a boat for a sightseeing cruise of the incredible scenery visible on this amazing lake. Lake Atitlán, or Lago de Atitlán as locals call it, was formed by the eruption of the massive Los Chocoyos volcano thousands of years ago. In the many eons that have passed since this momentous event, several 9,000-plus-foot (3,000m) volcanoes such as Volcan San Pedro, Volcan Atitlán and Volcan Toliman have all risen up around its shores, lending the lake its stunning scenery.
Soon you'll arrive at the colorful town of Santiago de Atitlán, home to the Tzutujil Maya people. Observe the unique way of life of the local residents, and take some time to browse the main street stores selling oil paintings, woven baskets and more before re-boarding your boat for the sightseeing trip back to Panjachel.
Once you've arrived in Panjachel, check out the village's intriguing Santander Street, where you can shop for handmade crafts before stopping for lunch (at your own expense) at a nearby restaurant. Take time for some more shopping if you wish after lunch, before heading back to Antigua to conclude your day with drop-off at your hotel.
June 2016
Miguel was our Guide and he is so knowledgeable. From our pickup and drop-off in Antigua all aspects of this excursion were excellent. The drive to Panjachel was beautiful.The boat ride on Lake Atitlan was a wonderful experience and the visit to the village of Santiago de Atitlan was very exciting.
My husband and I give this excursion 5 STARS.

September 2015
Awesome - Are tour guide Miguel was super knowledgeable, patient and everything else. The lake is stunning, the volcanos are super cool and the village that you visit with the church is very nice. Great tour!
April 2015
I had a fabulous day trip to Lake Atitlan and Santiago de Atitlan. The guide was extremely knowledgeable, solicitous, and went out of his way took extra time to stop in the leather-making village just north of Antigua on the way back. A great day - thank you!
February 2015
Very complete and enjoyable day. 2 hours each way from Antigua, but worth the drive. We had a very knowledgable and pleasant tour guide. We had a chance to see the lake and enjoyed the shops and other sights in Santiago.
August 2014
Our guide was wonderful with all of the knowledge about Guatemala. I learned so much that I would never had learned had we been on our own. Lake Atilan is absolutely gorgeous.
Blain V USA
June 2014
The guide was very nice and made sure we had a great time. It rained for part of the trip but we made the best of it. The restaurant where we stopped at was the best ! It overlooked the lake. It was gorgeous.
Yassir E Canada
May 2013
Great guide, great experience, would highly recommend
May 2015
Nice tour, our guide was very nice. He did the best he could with what there was to see. He was very informative.
December 2014
beautiful scenery. Boat ride is about 45 mins each way and relaxing if you have been on the go-go-go. The trip to the Mayan village is ok. Just like anywhere else, the same souveniers and gifts are repetitve in nature. Really nothing else to do there except for browsing and maybe have a cup of coffee.
March 2014
The tour guide was very helpful and informative. We enjoyed our time on the Lake.
Advertisement
Advertisement