Get up close and personal with a Guatemalan volcano during this 7-hour Pacaya Volcano hike, one of the country's most active. Travel through volcanic vegetation and surreal landscapes on your way to the top, enjoying impressive views of three nearby volcanic peaks, including Agua, Fuego and Acatenango at the summit. Your trip from Antigua to the volcano also includes round-trip transportation from your hotel and a guide.
Highlights
Day trip to Pacaya Volcano from Antigua

Get an up-close look at the active volcano as you hike to the top of Pacaya with your expert guide

Admire picturesque views of the Fuego, Agua and Acatenango volcanoes
Complimentary hotel pickup and drop-off

What You Can Expect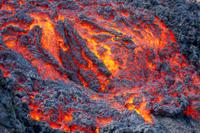 Experience views of some of Guatemala's most active volcanoes from up close as you hike to the top of Pacaya, where you'll enjoy unforgettable views from the top of this 8,000-foot (2,438m) peak.
Start your day with an 8am pickup from your Antigua hotel, taking a 15 mile (25km) drive southeast to the base of this lumbering giant. Upon reaching the base, you'll begin a 2.5-hour climb to the peak with your guide, learning about the history of this unique volcano and the vegetation that thrives in this strange environment. A mild walk brings you the lagoon of Calderas, where you can take in the amazing views of three nearby volcanoes, including Agua, Fuego and Acatenango.
Then continue on towards a plateau in the trail, a vantage point from which you'll be able to observe the main crater along with stunning views of the surrounding countryside. Due to safety concerns, you won't venture all the way to the volcano's crater, but you will have the chance to see glistening lava and a series of steam baths created by its heat.
Take a few moments to revel in the incredible views from up high before beginning your descent back down to the base and then back to Antigua for a drop-off at your hotel.
March 2016
Erick did a great job leading our small group! It was a beautiful hike with an informative and trustworthy guide.
December 2015
Good tour from Guatemalan Adventure. Our guide Winston drove us to their and the local guide Marvin took us to the volcano. Winston was nice and he explained a lot of things about country and culture on our way. Best part was the marshmallows getting cooked due to the heat of the solid lava from last year. It is a long hike up and down the mountains so be prepared to walk. They also have horses which can take you back and forth the mountain for around 200 GTQ i believe. You wont be going to the actual Pacaya as it is active and is emitting harmful gasses but you will be close and walking on the lava from the previous eruptions.

September 2015
Ridiculously cool one of my favorite tours ever. I would recommend just purchasing a walking stick for like 50 cents or a dollar, no need to bring any of your own. The tour guide was very knowledgeable and told us all about the different plants and their biological function. The volcano was a sight to see!
Liani S United States of ...
June 2015
It was a great hike to the mountain. We could see the steam rise front the ground and we heard the mountain rumble. It was surreal. I recommend to do this trip during off season to avoid crowds.
February 2015
Great climb. Very knowledgable guide and quite interesting. Would have like to get closer to the top, but doesn;t seem practical.
Blain V USA
June 2014
The hike was very physical so we ended up renting a horse to make the trip which made for a fun rest of the way. The guides were fun and very knowledgeable .
March 2014
Very physical, but worth it!!
July 2013
Our guide spoke excellent English and was very knowledgable to the countryside and history of the volcano. He answered all of our questions. It was a great day!
May 2016
A very relaxing day trip. The hike is not so hard, the views are very nice, and the marshmallows were very tasty. We really enjoyed the tour.
March 2016
Fun trip for the whole family. I would highly recommend this!
Advertisement
Advertisement