Discover northern Guatemala's most incredible Mayan ruins as you explore the sites of Tikal and Yaxha on this 2-day, overnight adventure from Antigua by air. Uncover the mysteries of the UNESCO World Heritage-listed Tikal, perhaps the most elaborate of the ancient Mayan cities, on day 1 before continuing on to Yaxha, a sacred Mayan center situated along the shores of the Yaxha and Sacnab lakes. Your exploration of Tikal and Yaxha includes round-trip transport from your Antigua hotel, all flights, overnight accommodation, a guide, 2 lunches and breakfast on the second day.
Highlights
Overnight trip to Tikal and Yaxha from Antigua

Tour the beautiful Mayan ruin sites of Tikal and Yaxha with your expert guide

Explore the UNESCO World Heritage-listed Tikal National Park
Get up close to native wildlife as you venture into the Guatemalan jungle

1 night of accommodation, breakfast, lunch and round-trip airfare

Complimentary hotel pickup and drop-off

What You Can Expect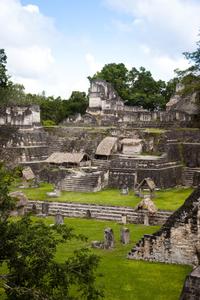 Journey back in time as your discover the ancient Mayan centers of Tikal and Yaxha in northern Guatemala during this 2-day overnight adventure with flights leaving from Antigua. Learn about the mysteries of the Maya people as you admire their innovative engineering and majestic temples at these two amazing archaeological sites.
Start your Mayan adventure with an early morning pickup from your Antigua hotel, proceeding on to Guatemala City's airport for your quick flight to the northern city of Flores. Upon your arrival, continue on to the sacred Mayan site of Tikal National Park (Parque Nacional Tikal).
Covering more than 341 square miles (550 sq km) the grounds of Tikal are home to several thousand individual structures. Start your exploration from the city's Central Acropolis, home to a labyrinth of courtyards, temples and small interior rooms, before proceeding to Complex Q and R, site of the twin pyramids and a beautiful religious altar area out front.
Then continue on to Temple I, also known as the Temple of the Grand Jaguar, which was built to honor Mayan King Moon Double Comb. This 144-foot (44m) high temple contains an enclosure of several small rooms leading to the steep stairs that climb to the temple's peak. You'll also check out the nearby Temple II, known to experts as the Temple of the Masks.Spend the second half of your day at Tikal with lunch at the site, followed by an afternoon to explore at your leisure and finishing with an overnight at your included hotel.
Start your second day with included breakfast at your hotel, before heading southeast to the Mayan site of Yaxha. Admire this religious site's picturesque locale situated among the thick jungle along the shores of Yaxha and Sacnab lakes, before exploring its key structures with your guide. Among the more than 500 buildings you'll see at Yaxha are the impressive pyramid temples, the site's ball court, and its beautiful elevated plazas.
After finishing your tour of the ruins, enjoy an onsite lunch before beginning your trip back to the airport and on to your hotel back in Antigua.

March 2016
This tour blew away my expectations!
We agreed our guide, Manuel, was the best guide we've ever had. He's been giving tours of Tikkal and Yaxha for 25 years and it shows! He's patient and knowledgeable, and he takes visitors through the sites in a unique way: unlike other guides who go straight for the big plazas first, he saves them for last. He even took us hiking off the paths so we could see the hidden back sides and ruins no one else visits!
The food was absolutely delicious! Both lunches were authentic Guatemalan 3-course spreads we even tried Maya nut chicken and soup! and the breakfast was filling and delicious.
And the hotel was the best hotel in the area -- a 5 store resort. After an early morning wake-up call to catch our flight and after hiking the ruins all day, it was just what we needed to relax and restore ourselves.
I highly recommend this trip!!
December 2015
This tour from Guatemalan adventure is excellent except for the expensive hotel that they put us is in Camino Real Tikkal. Dinner and drinks are expensive so be prepared if in case you are on a budget. But the hotel has nice view of the lake and it is very pretty with all the ammenties. You might have to pay for wifi. We were taken on time to the airport small one beside the La aurora airport - sharing the same run way in the morning. Airport is little small and it is chaotic so be prepared and flights usually don't run on time. Make sure to have your passport. Tikkal and Yaxha are a long drive from the airport and also from each other. Our guide in Tikkal was Lopez was he was good and explained a lot about the ruins and the forests. It was a wonderful experience seeing the Mayan ruins and walking through the rainforests and getting to see all different animals and birds. Lunch is Tikkal that was provided is ok and not authentic. Yaxha was totally different compared to Tikkal it is small but very calm and peaceful away from all the crowds. We stopped at an authentic resturant for lunch and it was pretty good. We had finished our tour early so our guide took us to flores to spend some time near the lake and it was very beautiful.
July 2015
Smooth travel arrangements, 2 delicious lunches, and 2 excellent guides. My only concern was that I would have liked to stay in Flores rather than in a hotel on the lake, a long distance away -- nonetheless, that hotel was lovely and relaxing after a strenuous day walking through Tikal.
March 2014
Our trip was awesome! The tour was outstanding. Logistics upon arrival and at every single venue were spot on so we had the confidence of being cared for along the way to and from Antigua, the airport, the parks, and the hotel. Erdo, our guide simply made the trip! He was patient, informed, flexible to our needs, explained the Mayan history and culture with knowledge and pride, spoke English well, and was additionally an expert on birds, animals, and trees. To say the least, we learned a lot from Erdo.
Our night at the hotel Camino Real was great. We sampled the buffet of Guatemalan tipicos dishes and enjoyed the balmy night air along with the sounds of the woodlands around us.
As a frequent visitor to Guatemala, amid all the concerns regarding safety, I must say we never once felt any concern. This is in large part due to the confidence we had in the tight logistics. Someone always knew right where we were, and the arrangements were always in place: To pay the park fee, at our lunch stops, at the hotel reception, the early morning pickups. It means a lot to the traveler who may have heard of the safety concerns to have this kind of coordination. We were able to spend 100% of our time "taking it all in". I would say that a person looking for the jungle experience, needs to understand this is not Manhattan! Come prepared to walk, climb, and enjoy in "Guatemalan Time"! Many thanks to Viator for a spectacular experience!
January 2014
We had fun. The tour guide for Tikal was okay and it rained heavy most of the day (hence the rain forest), but the experience was adventurous. Plus the lunch after the tour was great! The tour guide for Yaxha was a lot kinder and funnier. Easy hike, with the chance to climb up the stairs of the actual temples, as opposed to Tikal having modern wooden stairs. A lot quieter and less tourist, so intimate guided tour. Great service by driver and guide all day long.
Advertisement
Advertisement