60 Reviews
Location:

Aswan, concludes Luxor, Egypt

Duration:

4 days

(approx.)
Admire the antiquities along the Nile on this 4-day cruise from Aswan to Luxor. Board your ship in Aswan, and visit the temples of Kom Ombo and Edfu on route downstream to Luxor. In Luxor, discover the Temple of Queen Hatshepsut, Valley of the Kings, and more, making this one of the most comprehensive of Nile 4-day cruises. In between, relax aboard ship and absorb the idyllic scenery. All meals and three nights' accommodation on board are included. Upgrade to a private guide for an itinerary tailored to your interests.
Highlights
Four-day Nile River cruise from Aswan to Luxor
Scheduled private tours include Valley of the Kings, Edfu Temple, Kom Ombo and Philae Temple in Aswan
Upgrade and tour the sites with your own private guide
Optional tours available, including Abu Simbel, hot-air balloon flight over Luxor and Aswan sound and light show
Evening entertainment including Nubian music and dancers, a Galabayeh night and belly dancing
All meals included, featuring a mix of Egyptian and Western food
Enjoy privileged, personalized attention from your expert Egyptologist guide on this cruise
Pick-up and drop-off from Aswan hotels, airport or port
Recent Photos of This Tour
4-Day Nile River Cruise from Aswan to Luxor with Optional Private Guide
What You Can Expect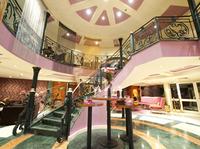 Explore the spectacular antiquities along the Nile River on this 4-day cruise from Aswan to Luxor. After a hotel, train station or airport pickup in Aswan, enjoy a guided tour to the Philae Temple, Unfinished Obelisk and High Dam. Then, board your comfortable Nile cruiser, the M/Y Mirage, and sail downstream to Luxor, visiting sites such as Edfu, Kom Ombo and the Valley of Kings during your trip.
Your tour includes four nights' accommodation on ship, plus all meals and guided sightseeing each day. Upgrade to a private guide and enjoy a daily itinerary of visits tailored to your interests, along with personalized commentary.
Facilities on board your cruiser include a restaurant, lounge, bar, outdoor swimming pool, sundeck and shaded deck, plus shops and a laundry service. Evening entertainments are provided on board, including folklore shows and live music. Each of the 58 air-conditioned cabins has private facilities and a satellite TV.

Please note: Groups of travelers requiring different cabin types are asked to place separate bookings in order to guarantee the cabins of their choice.
Itinerary
4-Day Nile River Cruise Itinerary:
Day 1 (L, D):
Visit the High Dam, Unfinished Obelisk and Philae Temple
Embarkation before lunch
Afternoon Felucca tour around Aswan Islands
Overnight in Aswan with opportunity to disembark or optional Sound and Light Show at Philae Temple (additional cost)
Day 2 (B, L, D):
Sail to Kom Ombo and visit of Kom Ombo Temple
Sail to Edfu and visit the Temple of Horus
Sail to Luxor
Overnight in Luxor
Day 3 (B, L, D):
Visit the West Bank (Valley of the Kings, Temple of Queen Hatshepsut and the Colossi of Memnon)
Overnight in Luxor with opportunity to disembark or optional Sound and Light Show at Karnak (additional cost)
Day 4 (B):
Possibility of optional Hot Air Ballooning over the West Bank (additional cost)
Check-out after breakfast
Please note:
this itinerary is subject to change for reasons beyond the supplier's control.
July 2015
The ship was much nicer than we expected. Our room was fantastic and the staff were all really friendly. Our guide was great too.
June 2015
The boat was clean and the staff was very nice and attentive. The private guide was awesome, extremely knowledgeable of Egyptian history (he was a university professor). The extra money spent on a private tour guide was well worth it as you can move at your own pace. Ask for Ismail :-)
April 2015
Wonderful experience, no complaints at all. Just spectacular...
Our private guide Mustafa was incredibly knowledgable and very friendly. Really enjoyed our time with him.
April 2015
We had a wonderful time in the cruise. Our guide: Michael Samy Shehata was exceptional courteous, professional. I highly recommend to have a private guide so you don't have to rush on the sites and you can learn more and take advantage of your time.
The boat was standard, the cabin could be better, but the food was excellent. Our boat was Mirage 1.
The trip from Aswan to Luxor made our trip to Egypt complete. Just Cairo wouldn't been enough to have a clear image of the Antique Civilization.
Now I want to visit Abu Simbel .
March 2015
the internet support before the tour was excelent, all the schudules about pick up and drop off workied really well. The rooms are in a really good size, no smell, great tours and great staff.
February 2015
We highly recommend this cruise and tour company to see the ancient Egyptian sites on the Nile. The crew was exceedingly helpful, from the administration to the doormen and room cleaners. The food was served buffet style and was delicious The room was very comfortable and clean and had an adjoining bathroom with a tub and shower. Every night we were surprised to return to the room and find an animal creation made from towels. Very imaginative and creative! The crew appeared to number as many as the passengers and we felt very well cared for. At the end a group tip was suggested which we were more than happy to fund because of the superior performance of everyone. Also booking was easy through the internet and with a NY phone number for questions. The touring was done by Adel Eldesouki who was excellent. He had a degree in Egyptology, spoke good English, and was knowledgeable about everything we asked about. He had a wonderful sense of humor and when we dragged behind, he gently told us, help me help you. At the beginning and the end, we were met by professional staff who escorted us from and to the airport. Everything went like clockwork. We highly recommend Viator.
July 2014
Exceptional cruise. Far more than expected. The staff is wonderful and the service is impeccable. Highly recommended.
May 2014
We originally booked on the M/Y Mirage but, as numbers were low, we ended up on the M/S Amarco, which we were told was an upgrade. We were very happy with the Amarco; the cabin was wood-panelled and very comfortable, the meals were very good and the staff were very friendly and helpful. We took the cruise from Aswan to Luxor, which matched our dates but which meant there was only one day actually cruising. Our main aim was to see the ancient sites, so this wasn't a problems for us, but we thoroughly enjoyed the cruising, so regretted only having one day of it. It was well worth paying a little extra to have a private guide for our party of four. Our guide did an excellent job, sharing a wealth of information with us as we visited the Aswan High Dam, the temples at Philae, Kom Ombo and Edfu, as well as the Valley of the Kings. He also ensured that all aspects of the trip went smoothly, including the various mini-buses, the felucca at Aswan, the caleche to get to the temple at Edfu. The whole experience was wonderful!
September 2012
Amazing value !!! A very relaxing and super informative tour. You will miss a lot if you just stay in Cairo and visit the pyramids. Lots of temples and Valley of the Kings !!!. Ship and crew where wonderful. Our tours where conducted by the local Viator agent South Sinai Travel. They make sure you are escorted when you leave the ship. Our local guide "Moe" who stayed with us in the cruise is a very qualified Egyptologist from Cairo University who gave us a very comprehensive background on egyptian mythology and history. So if you rather do the photography thing than learning egyptology, make sure to inform him so that he can talk less and give you more photo time !!! I recommend to take the optional Abu Simbel tour. Definitely better than the pyramids !!!
Word of warning !! Egypt has no oil and is a poor country. Lots of people depends on the tourist trade so do not freak out if there are hordes of vendors trying to sell you some tourist trinkets. They will not accept a "No thank you". Just don't make I contact and smile and say No and go on your way. Avoid private taxi tours or horse carriage rides beacuse they will bring you to their own perfume shops and egyptian dress shops and if you don't buy anything, they will demand a bigger tip aside from the agreed fare.
April 2012
Just brilliant! We were a little worried about making such a tour booking online, but from our meeting at the airport in Aswan, until our farewell in Luxor, we were treated very well and felt safe all the way. Food was top notch, the pool on the top deck bliss, and our rooms were better than we expected. There were only 14 guests on our boat, which actually holds 120, so we were very spoilt for space. Our guide Mustafa was a real gentleman, gave us all the history/stories/real life of Egypt. My biggest tip for future travellers would be to take US$50 in one dollar bills to use for tipping, since we found it very difficult to get small Egyptian Pound notes anywhere. Also take 50 + pens to give to children, since many were asking! Best day on the cruise was the 8 hour journey between temples, during the day, since we really got a great view of the Nile from the pool deck. Boat did not have any snack foods on board, so take your own, or buy on the street. Finally, we made specific room requests via Viator (2 x twin + 1 x double) and this was passed onto the boat operator. Very happy all around!
Advertisement
Advertisement