Special Offer
Book by December 31, 2015 to save 10% off our previously offered price!

A visit to Philae Temple at night to attend the Sound and Light Show is a magical experience. The floodlit buildings are silhouetted against the volcanic rocks and water surrounding them, creating a magical environment.
Highlights
Sound and Light show at Philae Temple
Lasers and light projections light up the buildings of the temple
Wander through the complex illuminated at night
English commentary
Private air-conditioned transportation to and from your Aswan hotel or cruise ship
What You Can Expect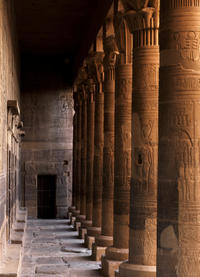 Enjoy the spectacular lights of the multimedia presentations which vividly reveals the form and majesty of this ancient site and walk through the dramatically lit temple as its history is narrated.
After the show your driver/guide will meet you at the gates of the complex to escort you back to your hotel. With your own private transportation on this tour, you will travel directly between your hotel or cruise ship and the Sound and Light Show without stopping to collect other passengers.
July 2014
Although Aswan was quiet I was stunned that the entire sound and light show, including private transfer and boat crossing, was arranged for just the five in our party. Yes, that's right, the entire temple just for five interested travellers. If there is any doubt that the Egyptians are keen to regain their tourist trade then surely this must be it! An excellent show, better than the slightly garish effort at the pyramids, does intermingle myth and historical fact in its spiel but gives an insight into the history and development of this site, including to transfer to the island during the flooding from the formation of Lake Nasser. Don't miss it!
June 2012
Excellent show and excellent guide!!
February 2012
It was superb! But a pity that we didn't know in advance that we could have the explanation in french on certain days of the week.
Anonymous
August 2008
This was an excellent excellent sound and light show and a great evening all round. Reaching the temple of Philae by boat in the cool of evening is an added bonus and being surrounded by water makes it feel really special. We were told this was one of the best Sound & Light shows in Egypt and I'd believe it!
August 2008
I've been before, so I knew how cold it could be, but a quick note could advise others of this.
April 2012
A wonderfull experience. would definitely recommend it
June 2010
The lighting is fantastic and the story interesting.
Special Offer
$38.00 Save $3.80
Advertisement
Advertisement