Set sail in a private felucca and discover Aswan's Elephantine Island, the legendary home of a Nile River god. Get a glimpse of Egypt's richly layered past on a personalized, 2-hour tour with an Egyptologist guide; Elephantine is fringed with rocky coasts that shelter ancient ruins and temple sites, a fortified town, and a Roman-era nilometer that measured the river's yearly floods until the 19th century.
Highlights
Felucca ride on the Nile to Elephantine Island
Fantastic views of the East and West banks as you sail
See ancient sites on the island and learn of its turbulent history
Enjoy privileged, personalized attention from your expert Egyptologist guide on this special private tour
Pickup and drop-off from Aswan hotels
What You Can Expect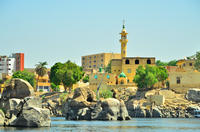 Elephantine Island is the largest of the Aswan area islands, and is one of the most ancient sites in Egypt, with artifacts dating to predynastic periods. This is probably due to its location at the first Cataract of the Nile, which provided a natural boundary between Egypt and Nubia.
As an island, it was also easily defensible. In fact, the ancient town located in the southern part of the island was also a fortress through much of it's history. At one time, there was a bridge from the mainland to the island.
Elephantine is Greek for elephant. In ancient times, the Island, as well as the southern town, was called Abu, or Yabu, which also meant elephant. The town has also been referenced as Kom, after it's principle god of the island, Khnum (Khnemu).
It is believed that the island received it's name because it was a major ivory trading center, though in fact, it was a major trading post of many commodities. There are large boulders in the river near the island which resembled bathing elephants, particularly from afar, and this too has been suggested as a reason for the island's name.
Please note:
In the event of strong Nile currents, travel will be by motorboat rather than felucca for safety reasons.
William Z USA
July 2010
We had high hopes for this tour, but ended with a disappointing trip. The feluccas weren't sailing, because of the lack of wind, and our tour of the sights was limited. We did not see much of the ancient village, and the Aswan Museum on the island is not worth visiting. We had a "row" from the dock to the island and a "float" back to the shore...nothing to write home about. Being on the Nile was fun, but this could have been a much better trip.
Advertisement
Advertisement