See two of Egypt's greatest ancient spectacles on this private Abu Simbel day trip by minibus from Aswan. With a private Egyptologist guide, drive to western Lake Nasser, and behold the colossal, rock statues of Ramses II of the two iconic lakeside temples. Learn their history, and go inside to see their towering statues, pillars and murals. If time allows before your return to Aswan, check out the visitor center that charts how both the temples were relocated here, piece by piece, in 1968 to save them from flooding.
Highlights
Private minibus tour from Aswan to Abu Simbel
Visit Abu Simbel's Great Temple of Ramses II and smaller Temple of Hathor, Egypt's most-visited sites after the Great Pyramids
Free time to tour inside both temples
Enjoy privileged, personalized attention from your expert Egyptologist guide on this special private tour
Pick-up and drop-off from Aswan hotels and port
Recent Photos of This Tour
Private Tour: Abu Simbel by Minibus from Aswan
What You Can Expect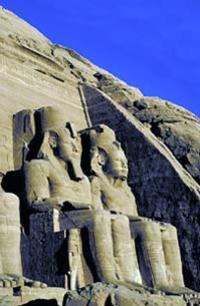 Choose your preferred departure time on booking, and depart your Aswan hotel or Aswan port by air-conditioned minibus.
As you travel, listen as your private guide shares interesting facts about Abu Simbel's two temples: the Grand Temple of Ramses II and the smaller Temple of Hathor, both built in the 13th century BC, and now set on the banks of Lake Nasser. Hear about the UNESCO project that saw them both relocated here in 1968, a move prompted by the building of the Aswan High Dam.
After roughly three hours, arrive at the lakeside and take in the jaw-dropping temples, both fronted by vast rock relief figures of Ramses II and his wife Nefertari.
Take snaps and then enjoy free time to explore the interiors. Due to the high number of visitors, guides are not permitted to accompany you. However, your guide will talk you through the interiors before you enter, so you can fully understand the treasures inside.
Step inside the Great Temple, and ogle the painted battle scenes and gigantic sculptures of Ramses that line the halls.
Then, go inside the Temple of Hathor to see the murals and pillars engraved with images of the goddess Hathor and Nefertari, Ramses II's favored wife.
Afterward, and if time permits, call at the nearby visitor center that documents the temples' relocation. Learn how these giant structures were dismantled and then reassembled piece by piece: an incredible feat of engineering that has protected them from flooding.
Finally, drive back to Aswan where your trip ends with a hotel or port drop-off.
November 2015
We were met up at the train station at Aswan and immediately felt well taken care of. We then travelled in a mini bus in a convoy to Abu Simbel, which took three hours one way. The guide spoke excellent English and was very knowledgeable and gave us the historical background on the Aswan Dam and Abu Simbel. The ride thorough the Sahara desert was an experience in it self. The Abu Simbel temple was magnificent! We had a tight schedule and needed to catch our train to go back to Cairo and the guide and the driver made every effort to make sure we made it on time. The tour was all in all very well organised and we highly recommend it!
August 2015

May 2015
Long journey but worth it, amazing to see
Guide was great
January 2015
My son characterized this exhibit as the Mount Rushmore of Egypt. He is correct. This is a amazing tour and the statues are along the back of a breathtaking lake. The whole scene is quite picturesque.
** It is a long commute from Aswan to Abu Simbel. 3 hours + / - You drive through the desert with a caravan of other tour vehicles for safety. Bring water and borrow the pillow from your hotel room :-)
May 2014
My guide (Michael) and driver (Peter) were both professional and on time. The drive is roughly 3 hours (I left with the early 4 a.m. convoy). Michael spoke fluent English, and upon arrival at the site we walked to the front of the massive mountain monuments. Michael explained both momuments and their interiors (Guides are not permitted inside) for perhaps 20 minutes before giving me a full 2 hours and 15 minutes to explore by myself. This is an amazing place and a must see. Just make sure you grab a drink as soon as you step out of the car because after about 10 minutes alone I walked backed to the parking lot to buy a drink.
November 2013

NKR Prabhu India
January 2012
The trip was great experience
Ronald M USA
September 2011
The local agency met us at our boat when we arrived in Aswan and made arrangements to met us the next day at 3:45 am. The boat provided a box breakfast and coffee/tea. My son and I were the only participants, so we basically had a private tour. We went in a car with driver and guide. Abu Simbel is well worth the long drive and early morning departure. Afterwards they took us to our hotel in Aswan and arranged for transportation to the airport the next morning. Very impressed with the service and highly recommend the tour.
June 2011
absolutely brlliant. the trip, although long, was very comfortable with just the two of us..the actual time for looking at the temples was only one hour. i thought that was not enough time to see them.i was aware that we had to go in convoy but i felt we could have gone an hour later.
February 2011
Tour went well, a bit rushed at the site however. Guide should stay with customer longer I feel. Generally good.
Advertisement
Advertisement