Explore the beautiful but often-overlooked Kalabsha Temple on the shores of Lake Nasser on this 3-hour private tour from Aswan, with an Egyptologist guide. Travel by air-conditioned minivan to this stunning water's edge temple, originally built in 30 BC, and dismantled and relocated here in the 1960s after the building of the Aswan High Dam. View the pylon, court, hall and sanctuary and ogle the richly carved Egyptian and Roman-themed reliefs as your knowledgeable guide unlocks their fascinating secrets and symbolism. Ideal for ancient history buffs!
Highlights
3-hour private tour of Kalabsha Temple from Aswan, with an expert guide
Visit this stunning Nubian temple, one of the lesser-known jewels on the banks of Lake Nasser
Admire the façade and stroll around the court, hypostyle hall, columns and sanctuary
Inspect the wall reliefs of Egyptian and Roman motifs, and examples of Christian imagery
Learn about the temple's ancient history and how it was moved here to save it from flooding
Enjoy one-to-one attention from a private Egyptologist guide on this private tour
What You Can Expect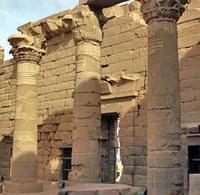 After pickup from your Aswan hotel, hop inside your private, air-conditioned minivan with your private guide and set out on your 3-hour private tour.
Enjoy the views of the palm groves and desert landscapes as you drive southward to the banks of Lake Nasser. As you travel, hear from your Egyptologist guide explains how Kalabsha was one of 18 monuments relocated in the 1960s to its current position to protect it from flooding after the construction of the Aswan High Dam.
Hear how the building, regarded as one of the best examples of a free-standing Nubian temple, was dismantled and then rebuilt on the banks of the newly formed lake.
On arrival, tour the court, halls and sanctuary as your guide recounts the temple's history. Learn how it was largely completed, but never finished, under the rule of Roman Emperor Octavius Augustus in around 30 BC, and dedicated to the Nubian deity, Mandulis.
View the impressive pylon and undecorated façade, and then inspect the striking columns, hypostyle hall, sanctuary and reliefs, one of the latter depicting Augustus making an offering to Mandulis.
See the interesting reliefs of St George and Coptic crosses that testify to a period when the temple was used as a Christian church, and take in other carvings, including an inscription in Meroitic — an ancient language that's still a mystery to today's Egyptologists.
Having explored the temple, admire the beautiful views over Lake Nasser from the water's edge, and then return to Aswan, where your tour ends with a hotel drop-off.
William Z USA
July 2010
Great morning tour out on Lake Nasser. Kalabsha, plus other temples on the island, were a welcome addition to our journey and a great ending to our Egyptian adventure, showing us the Greco-Roman as well as Egyptian style in Nubia.
Advertisement
Advertisement