Explore the Nubia Museum with an Egyptologist on a private, 1.5-hour tour, and discover Aswan's most stunning artifacts. Learn the history of the Nubian culture as you browse displays of models, mummies and treasures recovered by teams of archeologists during the construction of the High Dam. Take in traditional Nubian architecture, then stroll the museum's manicured garden and scale model of the Nile River Valley.
What You Can Expect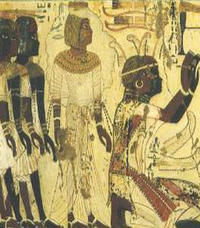 In the early 1960's, when Egypt built the High Dam at Aswan, Egyptologists and archaeologists the world over heeded UNESCO's appeal to salvage the monuments of Egyptian Nubia before the rising waters of Lake Nasser submerged them forever.

Due to the quantities of material recovered from tombs, temples and settlements, UNESCO was encouraged in the 1980's to plan a new Nubian museum in Aswan where the objects could be stored and exhibited. It was universally felt at the time that they should be kept as close as possible to their principal places of origin.

Nearly 12 years later, the Museum became a reality and opened its doors in November 1997. The architecture of the Museum and the enclosure walls are intended to evoke traditional Nubian village architecture, as it was along the Nubian Nile before the region was flooded by Lake Nasser. Your qualified Egyptologist guide will show you some of the most important artifacts before allowing you free time to explore the museum at your leisure.

The building is set within a landscape, on graded levels, that includes a sequence of waterfalls. When the waterway reaches the lower part of the garden, it divides into 2 branches to surround an open-air stage and amphitheater where already many local and foreign groups have performed. The remaining 43,000 square meters have been planted with palm trees, flowers, and climbing plants, spread over natural rocks.
Anonymous
August 2008
All the guide books say this is a really small museum which it is compared to the Egyptian Museum in Cairo, but it was bigger than expected. I found it very interesting, particularly the exhibit about moving the temples when the High Dam was built.
April 2012
Good to see and listen to the Nubian history and way of life to-day
Hongyu G USA
January 2009
The guide is below average.
Advertisement
Advertisement