Explore the beautiful Greek island of Mykonos on this 2-day trip. Soak up the sun on the beaches, discover the charming village of Oia or check out the local flavor at the tavernas around the old port of Ormos. Overnight stay in a 3- or 4-star hotel is included, as well as round-trip ferry crossing from Piraeus Port in Athens. This trip is independent, leaving you all free time you need to explore at your own pace and expense.
Highlights
Independent trip from Athens to Mykonos with overnight accommodation
Make the most of ample free time to see the beautiful Greek island as you wish
Lounge in the sun on Santorini beaches such as Perissa or Perivolos
Explore the picturesque village of Oia, or discover the tavernas around the old port of Ormos
Enjoy overnight hotel accommodation in the towns of Fira or Kamari

Relax with a round-trip ferry crossing between Athens and Mykonos

Why Our Insiders Chose This Tour
This tiny island has something for everyone. On this self-guided getaway from Athens, you can see museums, lounge on beaches, party at nightclubs or check out the sacred archaeological sites on nearby Delos Island.
What You Can Expect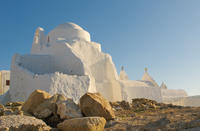 Soak up the island rays, discover nearby archeological sites and check out the local nightlife on this 2-day independent getaway. See the Itinerary section below for more information.
Itinerary
Day 1: Athens – Mykonos
Start your trip to Mykonos with a pickup from your central Athens hotel in the early morning, and travel to Piraeus Port. Board your ferry and relax on the 4-hour crossing to Mykonos, a tiny island that forms part of the Cyclades island chain. Perhaps take a seat out on deck and catch some of the Aegean sun and scenery as you travel!

Once docked at Mykonos port, travel to your 3- or 4-star hotel, check in and then spend the rest of your day at leisure. Perhaps take a stroll around the island to discover its rustic windmills, whitewashed houses and churches, or bask on a beach until the sun goes down.

The island comes to life at night, so head out to experience Mykonos' acclaimed tavernas, bars and nightclubs. Party the night away or perhaps enjoy a quieter evening stroll along the waterfront, and ogle the mega-yachts and glitzy boats that line the harbor.

Overnight: 3-star Petinaros Hotel or 4-star Apollonia Hotel and Resort on Mykonos

Day 2: Mykonos – Athens (B)
After breakfast, check out of your hotel, and then spend the morning and afternoon doing whatever you wish. Make the most of the Mykonos sunshine by lounging on one of the island's idyllic gold-sand beaches such as Elias Beach. Or if culture is more your thing, Mykonos boasts several museums as well as the beautiful Church of Panagia Paraportiani. Admire the church's interior and then stroll down to the quaint neighborhood of Little Venice, where pretty blue-and-white houses teeter on the water's edge.

If you want to explore farther afield, why not head out on an optional excursion to the nearby island of Delos? Lying just 30 minutes away from Mykonos, the ancient island is rich in Greek mythological history, and is often pinpointed as the birthplace of Greek gods Artmenis and Apollo. Awarded UNESCO World Heritage status for its array of ancient temples and sanctuaries, the island is well worth a visit to complement your Mykonos experience.

Your ferry crossing back to Athens leaves in the late afternoon, so return to your hotel at the prearranged time for your transfer to Mykonos port. After cruising back to Piraeus Port, finish your experience with a hotel drop-off in central Athens in the evening.
Stacy P USA
October 2012
A great introduction for the first-timer. Highly recommended.
Kimberly R USA
April 2009
Wonderful - nice, friendly hotel and everything was taken care of for us.

July 2015
Tour organisers were somewhat disorganised, once in the island they couldn't find my name on their lists. But besides that everything was ok.
July 2012
We used a first class hotel. The hotel location and staff service were excellent. We enjoyed nice view from the balcony. That would be great if there was 3 days or 4days tour as options.

Tamieka B USA
April 2009
We stayed at the EVA Hotel. The room was nice, clean and worth a return trip. The hotel staff was wonderful and perfect. STAY THERE!!! Our ferry back to Athens was cancelled but upon arriving for breakfast in the hotel lobby, the staff quickly informed us and made arrangements for us to fly out. They were so helpful and kind. Mykonos was the highlight of the trip. I can't wait to go back and hopefully stay there. Viator is the place to book your tours.
July 2014
Hotel was great except too far out of town on a steep narrow and busy road,also return pickup to the port was a little late. Major complaint was the boat.....we paid a lot of money for this tour and wasn't given an allocated seat on the 5 1/2 hour boat trip each way,had to sit in corridors on hard uncomfortable chairs fighting for space with many others. Perhaps a 2 or 3 night option could be offered
December 2013
This was a last-minute decision on my part, so Viator was helpful in terms of organizing ferry tickets and hotel transfers while I was in another country. That being said, with some pre-planning this trip can be done on your own for a MUCH MORE reasonable price. And if money isn't really the issue, I would suggest taking a fast ferry or even a plane because the time on the island is quite limited by the 5 1/2 hour ferry ride each way.
The hotel I stayed at on Mykonos (Mina Beach) was "tourist grade," which apparently means no air conditioning, no hotel amenities and unreliable availability of hotel staff. Luckily there was a beautiful beach just down the street that had numerous food and beverage options. The hotel was also not in the town of Mykonos but instead required a 15-minute bus ride (2 euros) and 5-minute walk to get to. A slight inconvenience but easily enough to navigate.
All in all, I would recommend planning this trip on your own if you have the time – and take more than 2 days! Mykonos is beautiful.
David P USA
October 2011
It was okay, but our hotel, although nice, was so far away from town, and the island is not pedestrian friendly. This trip easily could have been independently booked at a fraction of the cost and with a better located hotel. I don't recommend.
Advertisement
Advertisement