Explore the stunning Greek island of Santorini on this 3-night tour departing from Athens. See the island's ancient caldera, white buildings and unbeatable beaches. Then enjoy some free time to wander on your own, as well as a day trip to the island of Thirasia. After full days of swimming and sightseeing, relax with 3-star accommodations in Firostefani, Imerovigli or Fira. Round-trip transportation on a hydrofoil from Athens is included with your ticket.
Highlights
3-night Santorini tour with round-trip hydrofoil transport from Athens
Explore the volcanic island of Thirasia and swim in the hot springs, if you wish
Make the most of ample free time and discover gorgeous Santorini villages such as Oia

Soak up the sun and swim at Perissa and Perivolos, just a couple of the island's top beaches
Enjoy 3-star hotel accommodation in Fira, Firostefani or Imerovigli
Why Our Insiders Chose This Tour
An extended visit for those who want to fully soak up the wonders of this glorious island. A thrilling hydrofoil ride to Santorini and hike up the caldera are included, and there are plenty of open hours for lounging on the colorful beaches.
What You Can Expect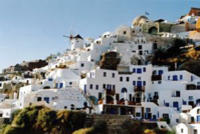 Your 3-night Santorini tour allows you to discover the delights of the charming Greek island, with the perfect mix of guided activities and free time to relax. See the Itinerary section below for more information on each day.
Itinerary
Day 1: Athens – Santorini

Leave your centrally located Athens hotel in the early morning, and travel to Piraeus Port to board your hydrofoil boat. Take a seat and then gaze out at the Aegean Sea as you travel south to Santorini, an island widely considered as the quintessential Greek island.
Dock in port in the early afternoon, and then make use of a transfer to your hotel. After check in, the rest of the day is yours to spend as you wish. Perhaps visit the sandy beaches of Perissa or Kameri, or take a stroll around Oia to see its traditional white houses and blue-domed churches.
Overnight: 3-star hotel in Fira, Firostefani or Imerovigli
Day 2: Santorini – Thirasia
After a leisurely breakfast in your hotel, meet your guide at the prearranged time and point to travel to Athinios Port. Hop aboard a small
kaiki
(wooden sailing boat, typical of the Greek islands), and then travel across the water to Thirasia, a large yet sparsely populated island that sits adrift from Santorini's northwest coast. Forming part of the remains of ancient Thira, the island is home to a volcano and dramatic rocky countryside that offers incredible views of the coastline.
With your guide, spend roughly half an hour exploring on foot, climbing the rugged hills to the island's hot springs. Entrance to the springs is not included, but the relaxing and reviving bath amid glorious Greek island scenery is worth the expense!
After half an hour at the hot springs, meet back up with your guide and enjoy the rest of your afternoon exploring more of Thirasia and the neighboring 'fishermans' island.' Alternatively, find a secluded beach for a spot of swimming and sunbathing, or scout out an island cafe for lunch (own expense).
Return to Thirasia port at the prearranged time, and travel back over the sea to Santorini. Make your own way back to the hotel, and then spend your evening at leisure.
Overnight: 3-star hotel in Fira, Firostefani or Imerovigli


Day 3: Santorini (B)

After breakfast, the whole day is yours to enjoy at leisure. Perhaps visit Santorini's famous caldera, the volcanic remains of the original island that collapsed into the sea after an ancient volcanic eruption. The pretty village of Megalochori with its 17th-century houses is also visit worthy, as is the archaeological site at Akotiri. Any entrance fees, activities or meals on this day are at your own expense.
Overnight: 3-star hotel in Fira, Firostefani or Imerovigli

Day 4: Santorini – Athens (B)
Enjoy a final breakfast and some free time to soak up the sun or maybe shop for Santorini souvenirs. At a prearranged time in the late morning or early afternoon, make use of a transfer service from your hotel to the port, and then board your hydrofoil boat to cruise back to Athens.

Your 3-night tour finishes as your boat docks at Piraeus Port in the mid-evening. Please note: sailing times are weather dependent, so an accurate finish time can never be given. However, most boats arrive into Piraeus Port around 8pm.


May 2014
I loved my tour to Santorini, which is a fabulous destination! We had a good ferry trip to and from the island from Piraeus. Our hotel The Loucas, was wonderful with an incredible view...We also took an excursion to the volcano by boat and a bus tour to Akrotiri, with it's interesting ruins and to Oia fo sunset. People at the Hotel and on the day trips were most helpful and informative. We also sampled the local wine at the Santovino Winery, which has one of the great views of the caldera.I hope to go again someday... and visit more, Donna
December 2013
My wife and I had a great time in Santorini. Everything went smooth, we loved the Loucas hotel, it had a fantastic view and was quiet and secluded despite being right next to downtown Fira. Our tour to the volcano was great too, the hot springs were more warm than hot but how many people get to swim in the Aegean Sea.
June 2016
The hotel and the guides were excellent
December 2013
Santorini has great views and staying there is relaxing. Our accommodation was not of the best quality or service but it was reasonably clean and comfortable considering the budget we had put into this tour. The tour to the volcano is an experience I enjoyed but not necessarily for everyone, especially those who enjoy scenery with more growth as the view can be quite bare and empty. It is advisable to wear comfortable shoes for walking on uneven grounds.
Jeffrey W Australia
October 2012
Great trip. Everything went like clockwork. Picked up in Athens - Armiea Hotel by taxi - taken directedly to fast catamaran - 4 or so hours later in Santorini - met by someone at Port - taken by bus to Hotel Lucas. Included full day trip to volacano. Okay - Hotel was clean and very central at Fira. The views were the best ever - right outside our door we overlooked all the cruise ships. Plenty of restaurants within walking distance - however be prepared for heaps of stairs. We took an optional all day tour of around the island. If you take this you really need to get to the top of the island of the first day to see the sunset at Ora - otherwise it is hard to find time to get there. Pool at the hotel is fine - breakfast is a nice little starter. There is a supermarket and ATMs all close by plus (for Aussies) even a hotel that shows NRL and AFL games. Tips: When doing volcano tour you need good shoes and water - it's hard and hot. Same day the swim at thermal pool will stain any white clothing. Tips: Wine is very reasonable and good at Santorini Winery. Tips: The Fast Ferry still takes a while so be prepared for reading etc. Final tip: Your time will disappear fast at Santorini. Take advantage of great photo ops. Have a swim, dress up, have some wine and take some brillant photos at sunset. I'm sure they will make your new desktop screensaver.
June 2013
There was some confusion on the excursion - no clear instructions for location of pick up, the same with the pick up back to the port - there was no clear instructions for this pick up either. The trip was good but there needs to be more clarity on these items.

October 2013
Hotel location is fantastic but the hotel room is not. Hotel rooms needs lots of improvement including the beds. Did not sleep very well. Santorini is must to visit but the trip is overprice. I could have arrange it myself and done a better job. I expected more on this trip
July 2015
Booking this tour through Viator was convenient if one is not used to navigating around a new city. They send cabs to pick you up and take you where you're going. You don't need to worry about getting around.
Included was a day excursion to check out some islands. The first stop is a volcano island, you hike to the top. This was horrible. You pay 2 euros to enter, and all it is is a vertical hike up a path of loose, volcano gravel. Everyone looks hot and miserable. The views are great, but you get the same views from most islands. And at the very top, a hole with MORE ROCKS! It's not worth the energy to hike to the top.
Then you stop at Therassia, a very small island of about 300 people. There's literally trash and old restaurant equipment littering the shore. We ate at one of the restaurants, and it was horrendous.
The hot springs stop is the boat docks along a shore where there's some brown water. You jump off the boat and swim to the sulfur water where it's warmer.
There's a lot of time wasted navigating around other tour boats trying to dock. The boats are packed and you might end up sitting and roasting in the sun, or down below where it's sweltering in the cabin.
You have a lot of down time in Santorini, but you don't really need a lot of downtime. The hotel was a 1/2 an hour from a beach, so you did need to figure out how to take a bus to the beach.
I would not recommend this trip to friends.
November 2010
Santorini was great but your organisation leaves a lot to be desired. We were given incorrect information and were left chaseing up our coupons for day trip. We had not reference point as it was the weekend and everything was closed. Thank godness for the concierge at our hotel because she made several phone calls and found the agent and she got our vouchers for the day trip which turned out to be a half day trip.
Advertisement
Advertisement