Delve into Greece's rich history on this 4-day tour from Athens. Discover the UNESCO-listed classical sites of Mycenae, Epidaurus, Olympia and Delphi; and pay a visit to Meteora to explore its spectacular rocktop monasteries. Take a guided walking tour at each site to learn about its past, and visit other top sights, such as the Corinth Canal. Three- or 4-star hotel accommodation, breakfasts and dinners and coach transport are included. Including a trip to medieval Meteora, this unique ancient Greece tour is great for all history buffs!
Highlights
4-day Greece tour of Classical Greece attractions
See four UNESCO World Heritage Sites with an expert guide
Explore important archeological sites at Epidaurus, Mycenae, Olympia and Delphi
Stroll through the Delphi Archeological Museum and see relics like the Sphinx of Naxos
Visit monasteries at the rock towers of Meteora
Overnight accommodation in centrally located 3- or 4-star hotels
Why Our Insiders Chose This Tour
Become totally immersed in history and Greek legend. You'll have ample free time at world-renowned archaeological sites.
Recent Photos of This Tour
4-Day Classical Greece Tour: Epidaurus, Mycenae, Olympia, Delphi, Meteora
What You Can Expect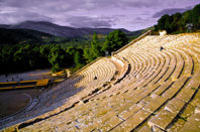 Explore five of Greece's UNESCO World Heritage-listed ancient and medieval treasures on this 4-day tour from Athens, accompanied by a knowledgeable local guide.
Hop inside your comfortable, air-conditioned coach in central Athens, and travel first to the Corinth Canal before visiting the classical sites of Mycenae and Epidaurus in the northern Peloponnese. Then, spend the next three days exploring three more of Greece's historical highlights: Olympia, Delphi and Meteora.
Enjoy an informative guided walking tour at each site, and enjoy free time for lunch at your own expense each day, as well as free time each evening to spend as you wish. Your tour includes your choice of 3- or 4-star hotel accommodation for the three nights of your trip, daily breakfasts and dinners, and transport throughout on a comfortable, air-conditioned coach.
Itinerary
Day 1: Athens - Corinth Canal - Mycenae - Epidaurus - Nauplia (D)
Leave Athens behind and head west to the Corinth Canal - your first stop of the day! Linking the Gulf of Corinth with the Saronic Gulf, the canal is very narrow, and the ancient ships that once passed through it have been replaced by bungee jumpers. After exploring, continue to Mycenae for a guided walking tour. Learn about the development of classical Greek culture as you walk through this fascinating archeological site.

After lunch (own expense) in Mycenae, travel to Epidaurus for a tour of its archaeological site, stopping to see the UNESCO World Heritage-listed Sanctuary of Asklepios (shrine to the Greek god of medicine). Contine to Nauplia - a pretty seaport town - where you'll have the evening to spend at leisure.

Overnight: Amalia (4-star hotel) in Nauplia

Day 2: Nauplia - Olympia - Antirion - Delphi (B, D)
After breakfast, set off with your guide by luxury coach, and visit the archaeological Site of Olympia. Home to the Atlis (Sanctuary of the Gods), the site was a mecca for ancient Greeks who came here to worship Zeus. See incredible ruins like the Stadium of Olympia, where the first ancient Olympic Games were held.

In the afternoon, board your coach for a scenic drive to Antirion, passing the towns of Patras. Cross over the Rion-Antirion Bridge - considered a landmark of 21st-century Greece - and then sightsee independently in Antirion and the nearby town of Nafpaktos. Finish your day with a relaxing meal at your hotel in Delphi.

Overnight: Parnassos or Hermes (3-star), or Amalia (4-star) in Delphi

Day 3: Delphi - Kalambakka (B, D)
Rise early and meet your guide to explore Delphi - one of the most important archaeological treasures in Europe. As you walk around this stunning UNESCO World Heritage Site with your guide, see monuments like the Sanctuary of Athena.

Head inside the Delphi Archeological Museum and encounter numerous artifacts and relics that date back to 15th century BC. Watch out for the Charioteer of Delphi and the intriguing Sphinx of Naxos. After spending most of your day in Delphi, head to Kalambakka by coach, traveling through the eye-catching towns of Amphissa, Lamia and Trikala. Enjoy dinner at your hotel and then relax at leisure.

Overnight: 4-star or 3-star hotel in central Kalambakka

Day 4: Kalambakka - Meteora - Athens (B)
Leave your hotel to visit the rock towers of Meteora - incredible sandstone peaks topped with 11th-century monasteries. With your guide, make your way up the walking trails to visit these monasteries, enjoying breathtaking panoramic views from the top.

After spending the morning exploring Meteora, head back to Athens by coach, stopping in the town of Thermopylae and at Kamena Voural hot springs. Arrive back in Athens at approximately 7pm.
June 2016
We were a little nervous about taking a big bus tour but this one was excellent. Irene was our guide and she was very thorough and led a very interesting tour. I know we could not have learned as much or even been able to handle driving thru Greece on our own and we normally prefer to rent a car and do it ourselves. The bus was very clean and our driver was excellent as well. The hotels were nice with large rooms and lots of food for our dinners. I would recommend the 4 day over the 2 day as the people who joined us half way thru missed some wonderful sites. You definitely get your money's worth and I highly recommend taking this tour.
June 2016
This tour was terrific. A great experience!We saw so much of Greece as well as visiting some wonderful unique archaeological sites.
Our tour guide Effie was great, sharing her extensive knowledge of Greek history and mythology.
I highly recommend this tour for any traveller who wants to see and experience some highlights of Greece, especially a visit to the unique and beautiful Meteora.
June 2016
June 2016
This tour was great- the driver Alex and the Guide Joy were both amazing and they take you through some of the most amazing sites. I agree with other reviewers that the hotels and meals are not the best, but you aren't going on this tour for the luxury-you're going for the transportation to the ancient sites and the experienced guide.
I went at the end of May and our group was 20 people which was the perfect size, but on the last day for Meteora only we took on an additional 19 people and the bus was full, but our guide still managed everyone very well and kept us all engaged.

June 2016
This Tour was everything I was hoping for! Our tour guide was a standout - she was so informative and friendly. She really made the museums and archeological sites come to life with information on history, culture and mythology of the ancient Greeks. The hotels were top notch and the included dinners and breakfasts were delicious. Would seriously consider this tour again next visit to Greece.
June 2016
Fantastic tour! I would like to point out the very entusiastic and informative guide Irene, the comfortable and modern coach, the very nice Amalia Hotels and especially the stunning sights.
April 2016
What a great way to see the country. We loved this tour and would recommend it to everyone!
April 2016
The four days of this trip were among our best days in Greece. The sites we visited, our very knowledgeable guide Joy, and our expert driver all made it unforgettable. We really recommend this tour, however, wish they had a non-young-baby policy. There was a 14 month old that screamed and cried a lot as his family dragged him around Greece. Other than that, it was definitely worth doing.
April 2016
We had an excellent guide, doing her job with love.
April 2016
Excellent tour. Very well organised and really knowledgeable guide Stassis/Eustace . There is quite a lot of driving unavoidably , but there are plenty of rest stops and plenty of time visiting the sites. We stopped at good reasonably priced and efficient restaurants for lunch ... the best being the family restaurant at Kalambakka on the last day which served delicious food you chose yourself from the kitchen. Hotels all Amalia were good and checking in/out again extremely efficient. The only possible slight criticism I would make was on the first day ... we were picked up from the Royal Olympic Hotel in Athens at 7:30 am as arranged , and after spending 45 minutes in the coach arrived back at our hotel to pick up two more people! However this really was the only glitch in an otherwise faultless operation! We had a nice group of just 19 people and the weather was perfect for sightseeing... it did rain quite a bit one evening but fortunately we were in the coach and then in the hotel , and the sun shone again the following morning. It was definitely worth going to Meteora on the last day even though it did add to the total distance . I would thoroughly recommend this trip.
Advertisement
Advertisement