All aboard for an unforgettable 4-night island hopping adventure! Combine the ease of a tour with the flexibility of independent travel on this self-guided 5-day tour of Syros, Mykonos and Santorini islands from Athens, including ferry transfers and accommodation. With no fixed itinerary, you'll have plenty of time to enjoy the tranquil beaches of laid-back Syros, discover the party scene of Mykonos and soak up the scenery of romantic Santorini.
Highlights
5-day Greek island tour including accommodation in Syros, Mykonos and Santorini
Cruise by ferry around the Greek islands in the Aegean Sea
Relax with free time on each island to do as little or as much as you like
Lounge on the sandy beaches with sheltered coves in Syros, and embrace the jet-set nightlife in Mykonos
Explore Santorini's pretty lanes with typical whitewashed Greek island houses
Enjoy overnight stays in Syros and Mykonos, followed by two nights in Santorini
Great-value tour includes accommodation and ferry transfers
This independent tour means you can customise your itinerary to your own preferences
What You Can Expect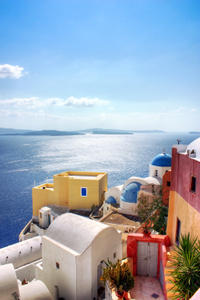 Leave the city bustle of Athens behind, and set out to explore three of the most exciting islands in the Greek Cyclades archipelago – a cluster of small islands and rocky outcrops adrift in the Aegean Sea. Before you arrive, you will receive the different sailing times and your hotel details throughout your 5-day independent tour. All activities, lunches and dinners on the islands are at your own expense as this is a fully independent experience.

Start with an overnight stay in Syros, the capital of the Cyclades Islands, and get your first taste for Greek island life in a place that's totally off the tourist trail; it's an island that's popular with Greeks rather than the traveling masses. Contrast the ambiance with an overnight stay in the party island of Mykonos -- known for its vibrant nightlife and cosmopolitan restaurants -- and then spend your last two nights in chic Santorini, where romance is a natural resource. Discover a quintessentially Greek landscape of whitewashed houses and bright blue domes, stacked into the cliffs overlooking Santorini's dramatic caldera (volcanic bay); prepare to be wooed.
Itinerary
Day 1: Athens – Syros
Board your ferry in the afternoon at Piraeus Port in Athens, and cruise east to the island of Syros. The trip takes around 4 hours, so relax out on deck, soaking up the sunshine and gazing out over the dazzling Mediterranean Sea. Dock in the island's bustling port, and then check in to your hotel. Spend the rest of your day at leisure, perhaps taking a stroll around its charming town – Ermoupolis – to admire its Neoclassical houses, or maybe check out its soft sand beaches, like Delfini Beach and Aetou Bay.

Overnight: 3-star Hotel Hermes or 5-star Hotel Ploes in Syros

Day 2: Syros – Mykonos (B)
Relax over breakfast in your hotel, and spend the day in Syros at leisure. At the pre-arranged time, board your boat and cruise to Mykonos. After checking in to your hotel, the evening is yours to spend doing as little, or as much as you please. Take it easy and explore the island on an evening stroll, catching one of Mykonos' legendary sunsets, or head to the main town to party the night away.

Overnight: 3-star Vanilla Hotel or 5-star Royal Myconian Resort & Villas in Mykonos

Day 3: Mykonos – Santorini (B)
After breakfast in your hotel, enjoy a day of free time on the island of Mykonos, destination of the rich and famous! If a night on the town has left you bleary eyed, then take time out to sunbathe on Paradise Beach, or alternatively, stroll into town to discover the bustling squares where people in Mykonos go to see and be seen.

Board your ferry at pre-arranged time and cruise to Santorini. Check in to your hotel and then spend your night on the island at leisure.

Overnight: 3-star Sea View Hotel or 5-star Nine Muses Hotel in Santorini

Day 4: Santorini (B)
Enjoy breakfast and then set off to enjoy Santorini independently. With its bright white island houses, rocky hillside scenery and deep hued sea to match its bluer-than-blue skies, Santorini is the stuff that Greek dreams are made of. The day is yours to enjoy at leisure; soak up the scenery, sip ouzo by the beach (own expense) or wander around the picturesque streets admiring the Cycladic architecture.

Overnight: 3-star Sea View Hotel or 5-star Nine Muses Hotel in Santorini

Day 5: Santorini – Athens (B)
After a final breakfast in your hotel, spend your morning doing as you please on the island. Head to the port at the pre-arranged time, and board your ferry back to Piraeus Port in Athens, where your 5-day tour ends
October 2014
The ferries were amazing (specially the blue star ferries), the hotels were great. It was a little difficult for me to find the hotels at mykonos and santorini, and they weren't very recognized. But awesone experience, and great organization
August 2014
This holiday was great! It was exactly what we wanted with ferries and booked hotels and the rest of the time to explore on your own. All hotels good. Beautiful views from Syros and Mykonos hotels. Couldn't fault the service at Santorini hotel...staff were exceptionally helpful. Most beautiful scenery and it was a very relaxing holiday.
December 2013
This is a great way to see few of Greek Islands. This is not a guided tour. You are on your own. But it's easy to navigate through the island. You will need to pay for transportation from port to hotels in Mykonos and Santorini. That was only down side. I wish I had extra day on Mykonos. Hotels were good and staff were friendly and helpful. Boat rides are fun way to see islands from different angle. Only down side was boat ride from Santorini to Pireas. It was long 8 - 9 hours... I would not mind flying back from Santorini to Athens. These islands are beautiful and they are very unique. Must see at least once in your life time.

Leonard USA
September 2013
This is one of the best place I have visited in Europe. The Greek Islands do not disappoint! The food is very good and for those are into Hiking... The hike from Fira to Oia is a must!
July 2014
The best part about this package is you don't have to plan much when traveling to a new country. This tour does not include transportation to and from ports so be prepared to pay for a bus or taxi. I chose the three star option and I was fairly satisfied with my hotels. My only complaint deals with hotel Adamostos in Santorini. The hotel is far from most sites (Oia and Fira). It was also dirty. My sheets had dirt on them and the bottom of the shower curtain had mold on it. To make matters worse the owners (father and daughter) accused me of not paying the bus driver enough money. I was scammed my way out of 10 additional euros! I felt taken advantage of as a young woman. It was a horrible ending to this otherwise amazing trip! If I had to do it all again I would probably choose the 5 star option.
December 2013
A great way of explore a few Greek Islands. The 3 star hotels are fine for the purpose.
Make sure to arrive in Athens the day before and collect all the Ferry tickets at the Port, and book a hotel close to Pireaus (Port). Consider to book a flight back from Santorini to Athens, since the 8 hours Ferry trip is no good.

December 2015
It was a nice trip, the hotels were ok, not so much the last one in Santorini where the breakfast was disgusting, the hotel was underran, and the service there was terrible. The ferries were ok, a lit too long on the way back but fine.

August 2015
Everything was great except the hotel in Santorini. It was so disappointed when they gave us a closet room for three people. After some discussion they supposedly upgraded us but we were not very happy. The hotel has no free Wi-Fi and the electricity turns off when you leave the room so you come back to a very hot room. The hotel was Mathias Village. Don't stay there.....
June 2015
This tour was enjoyable, although the hotel in Mykonos, Alkistis was a bit far from the main centre but they offered a courier service.
July 2014
The hotel stay was good in Syros and Mykonos but the hotel is Santorini was the worst hotel I have ever stayed . I do not recommend this place to any one .
The overall trip was well organized by Viator's local tour operators.
Advertisement
Advertisement