Spend seven days in Greece and get an introduction to the country's classical sites with this grand tour from Athens. Relieve the glory of Ancient Greece with visits to Olympia, Meteora, Delphi, Lefkadia and Thessaloniki. This experience includes round-trip transport, selected meals, the services of a professional guide, six nights of accommodation and entrance fees to all the major museums and archaeological sites.
Highlights
7-day Greece tour of Olympia, Delphi, Meteora, Thessaloniki and Lefkadia

See the essential sights of classical Greece in one week
Visit archaeological sites, museums and ancient Greek theaters
See the UNESCO World Heritage-listed monastery in Meteora
See Macedonian tombs in Lefkadia
Six nights of accommodation and some meals included
Why Our Insiders Chose This Tour
An epic journey through Greece! Guided tours provide insight into the country's rich history and culture on this jam-packed trip to must-see cities and archaeological sites.
What You Can Expect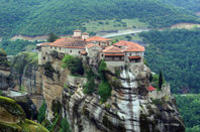 H
ighlights on your seven-day tour from Athens include:
Corinth Canal

Archaeological site and theater at Epidaurus, famous for its remarkable acoustics

Archaeological site at Mycenae

Archaeological site and museum at Olympia

Archaeological site and museum at Delphi

Unesco World Heritage-listed rock-tower monasteries at Meteora

Macedonian tombs of Lefkadia
Itinerary
Day 1: Epidaurus - Mycenae - Olympia (D)
Your first stop is at Corinth Canal. Drive to Epidaurus for a visit of the archaeological site and the theater famous for its remarkable acoustics, and then on to Nauplia for a short stop. Drive to Mycenae where you visit the archaeological site, then depart for Olympia, through the central Peloponnese area passing the cities of Megalopolis and Tripolis.

Day 2: Olympia - Nafpaktos - Delphi (B, D)
In the morning visit the archaeological site and the museum of Olympia. Drive via Patras to Rion, cross the channel to Antirion on the "state of the art" new suspended bridge considered to be the longest and most modern in Europe. Arrive in Nafpaktos, then continue to Delphi for the evening.

Day 3: Delphi (B, D)
In the morning visit the archaeological site and the museum of Delphi. The rest of the day at leisure.

Day 4: Kalambaka - Meteora (B, D)
In the morning, start the drive by the central Greece towns of Amphissa, Lamia and Trikala to Kalambaka. Afternoon visit of the breathtaking Meteora. Dinner and your overnight accommodation is in Kalambaka.

Day 5: Dion - Thessaloniki (B, D)
Drive by Trikala and Larissa to the famous, sacred Macedonian town of Dion. Then, continue to Thessaloniki, the largest town in Northern Greece. Visit the most interesting museum of Thessaloniki and sightseeing of the city.

Day 6: Pella - Vergina - Lefkadia (B, D)
Morning drive to Pella, Alexander the Great's capital. Continue to Vergina to visit the Tomb of the King Philip and the famous "Vergina Treasures". Then on to Lefkadia where you visit the excavations. Return to Thessaloniki via Veria.

Day 7: Tempi Valley - Thermoplyae - Athens (B)
Start the return drive to Athens, through the Tempi Valley, Larissa, Lamia, Thermoplyae famous for the ancient battle that took place there and Kamena Vourla.
July 2014
The tour exceeded our expectations - quality of accommodation was outstanding, included meals were plentiful and of a high quality, tour guide was wonderful, and a decent amount of time was spent at all the important sights. I would highly recommend this tour to anyone looking to see many of the major highlights in Greece in a short time frame.
December 2013
This was a wonderful tour with two great guides. Really got a good introduction to classical Greece. Hotels, locations, food were great. Would recommend it.
December 2013
The guides were excellent, the hotels really great, really enhanced my total experience of Greece.
July 2013
Slightly confusing because of the unexpected change of tour companies and guides mid-stream. Last three days rushed. George, guide for first few days was excellent-professional, friendly and considerate.
June 2013
It was simply amazing!!! There are no words to express how much I enjoyed this trip!!!!
Firstly, the tour guides were so professional, knowledgable, friendly.......one of them is actually an archeologist, wow!!!
Learned so much from both of them.......
Hotels were excellent, very comfortable, convenient and the food (buffet), introduced me to the local Greek cousin. Highly recommended!
I will truly rate this tour with 5 stars as it covers very important sites of Greece......and this company, not only offers the usual sites, but includes Macedonia, the birthplace of Alexander the Great! Not many companies goes all the way to Thessaloniki.....that's why this tour is not to be missed!
Thank you all for making my trip a memorable one!!! Katherina, Dimitra....thank you!
Liam D Ireland
August 2008
This was a well-organised tour, which made travelling to so many different sites so much easier. The guides knew their stuff, the hotels were fine, and the tour was a very good value for money. Overall, this is a great way to get around Greece and see the major historical sites.
December 2015
The two guides had are very good. They did very good jobs. The hotels are also good. We enjoyed our trip very much.

Joey Philippines
August 2008
The sights covered by this trip were fantastic! Most of the days were jam packed and worth it. The breakfast and dinner meals were plentiful, and the hotels were good. I only have a few negative comments, though. The guides were very knowledgeable, but they were at times sensitive and even unfriendly. The free time in Delphi could have been better spent somewhere else, since there was absolutely nothing to do or see there outside of the temples. The hotel in Meteora was too far away from the town for us to be able to enjoy its nightlife. There wasn't much sightseeing included in Thessaloniki, so I just did that on my own after reaching the hotel. On the last day it was mostly just riding back to Athens except for brief stops at the river and the Leonidas monument. But all in all, I did enjoy my trip and would absolutely recommend it.
Advertisement
Advertisement