Tour code:
6164ATHGALILEO
Soak up the sun, sights and sea views on this 7-night cruise around the beautiful Greek Cyclades Islands. Set sail from Athens aboard a motor sail boat and spend a week exploring the idyllic archipelago, which is known for its beautiful beaches, historical sites and quintessential blue-and-white architecture. Travel to Santorini, Paros, Mykonos, Syros and Athens, where you can choose to take part in optional excursions (own expense) or enjoy time at your leisure. Cabin accommodation is included, as are select meals each day.
Highlights
7-night cruise around the Cyclades Islands from Athens
Island-hop your way around picture-perfect Greek islands, traveling aboard an intimately sized motor sail boat
Swim in the Aegean Sea and explore secluded islands like Poros, Poliegos and Folegandros independently

Enjoy optional excursions to a Santorini winery, Paros' capital and the UNESCO-listed island of Deros if you wish
Two delicious meals per day are included on board (excluding Day 1 and 8)
Recent Photos of This Tour
7-Night Cruise in the Greek Cyclades Islands: Santorini, Paros, Mykonos and Syros
What You Can Expect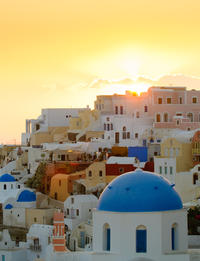 Meet your friendly crew and fellow passengers on board your motor sail boat – the handsome Galileo. The intimately sized vessel sleeps a maximum of 50 with a crew of 20, ensuring personalized service for the seven nights of your cruise. The smaller size of the Galileo also means that you are able to dock in the heart of each destination, alongside private mega yachts and near to the nightlife — something that the larger cruise liners struggle to offer.

After familiarizing yourself with the boat and meeting the crew, cruise counter clockwise around the Cyclades islands, a cluster of idyllic rocky islands lapped by the turquoise waters of the Aegean Sea. Spend your first two nights at sea, stopping to visit Poros and Folegandros during the day, and then enjoy overnight stays and daytimes at leisure on Santorini, Paros, Mykonos, Syros and then back in mainland Greece in Athens.

Your 7-night cruise is totally independent, so all activities and excursions are payable at your own expense. Prearranged excursions are on offer on Paros, the sacred island of Delos and Santorini, should you wish to do them. Excluding Day 1 and Day 8, two meals each day are included on board your boat: a full American breakfast and then either lunch or dinner. Fun meals like a BBQ on deck and a Greek party night are part of the package! See the bottom of the Itinerary for sample menus.
Itinerary
Day 1: Athens – Poros (D)
Board your boat in the early afternoon and then leave your bags to enjoy a welcome drink with your crew and fellow passengers. Leave Athens and cruise southeast to the island of Poros, roughly an hour away. On arrival, enjoy 2-3 hours at leisure, exploring and soaking up the sun. Poros actually comprises two small volcanic islands connected by a bridge, so why not visit both of them? Walk around Sferia to find Poros' main town and then cross the bridge to bask on Kalavria's secluded beaches.
Return to your boat in time for dinner, enjoying it on board while cruising south to Poliegos. Spend the night at sea.
Overnight: at sea between Poros and Poliegos
Day 2: Poliegos – Folegandros (B, L)
Arrive at Poliegos port in the morning while enjoying breakfast on board your boat. Then, head out into the sunshine for a morning swim and sunbathe. The tiny island is pretty much deserted with a smattering of enticing sea caves and untouched beaches just waiting to be explored.
Around lunchtime, return to your boat for a BBQ on the deck, and relax with drinks and food in the sun. Leave Poliegos to cruise to the neighboring island of Folegandros where you'll find a real hidden gem; it's remote, rugged and free from the crowds. Spend the rest of your afternoon and evening doing as little or as much as you please. Maybe take a stroll through the hills — soaking up the island's glorious solitude — or visit the cliff-top town of Hora for dinner at one of its traditional Greek tavernas (own expense). Return to your boat at the pre-arranged time and cruise south overnight to Santorini.
Overnight: at sea between Folegandros and Santorin
i
Day 3: Santorini (B, D)
Enjoy breakfast on board while cruising into Santorini, the most southerly and famous island of the Cyclades. Popular for its beauty, Santorini also boasts a vibrant capital town (Fira) and several rustic wineries dotted around its sleepy hills. After docking in Santorini port, either explore Fira at leisure, or enjoy an excursion to a typical winery followed by a village tour (own expense). If you choose the latter, your village tour includes a visit to the cliff-top hamlet of Oia, famous for its picture-perfect sunsets over the caldera (Santorini's volcanic bay).
Your boat remains docked in Santorini overnight, allowing you to make the most of the island's classy nightlife, if you wish.
Overnight: Santorini port
Day 4: Santorini – Antiparos – Paros (B, D)
After breakfast, cruise north to the small island of Antiparos and stop for a swim in its enchanting bay. Continue cruising north to Paros, and after docking at its port, head out to explore independently. The largest island that's included in your trip, Paros has a wealth of sites to visit besides its sandy beaches and pretty coves. Perhaps enjoy an optional excursion to its capital, Parikia, to admire its stunning Cycladic architecture and bustling shops, followed by a visit to the picturesque fishing village of Naoussa. Alternatively, relax on Paros' beaches at leisure.
In the evening, a Greek party takes place on board your boat, so get ready for a night of classic Greek food and dancing! Dressing up as an Ancient Greek is optional; if you want to join in, your crew have outfits at the ready!
Overnight: Paros port
Day 5: Paros – Delos (optional) – Mykonos (B, D)
Enjoy breakfast on board, and then enjoy an optional morning excursion to the nearby island of Delos. Listed as a UNESCO World Heritage Site, the sacred island is an archeological site in its own right, known for being one of the most important mythological sites in Greece. If you opt to go on the excursion, you'll have free time at the site to explore independently, seeing the birthplaces of Greek gods Artemis and Apollo as well as Doric ruins like the Temple of the Athenians. Alternatively, spend time relaxing in Paros at leisure.
In the afternoon, return to your boat and cruise north to Mykonos, stopping at one of its handsome bays for a swim, before docking at Mykonos port. Enjoy dinner on board and then spend the evening as you please. Mykonos has a legendary nightlife scene with more glitzy bars and nightclubs than any other Greek island; check them out or opt for a more sedate evening instead, maybe catching one of the island's gorgeous sunsets on an evening stroll.
Overnight: Mykonos port
Day 6: Mykonos – Syros (B, D)
After your onboard breakfast, spend your morning enjoying a boat-side swim or soaking up the sun out on deck. Cruise west to the island of Syros — capital of the Cyclades islands — and then explore the island at leisure. Bask on its southern shore beaches (the island's best) or maybe explore its main town of Ermoupolis, a charming place that boasts spectacular Neoclassical architecture.
Your boat remains docked in Syros overnight, so after dinner head out to make to most of Ermoupolis by night. The town is more popular with Greeks rather than the traveling masses, so a night out here will introduce to some of the most authentic Greek bars in the Cycladic islands.
Overnight: Syros port
Day 7: Syros – Kythnos – Cape Sounion -- Athens (B, D)
Enjoy breakfast on board and then cruise to west to Kythnos, a mountainous island full of olive groves and pretty pebble beaches. Admire Kythnos' traditional architecture while cruising into the main port, and then stop for a swim in the crystal-clear waters near Kolones Bay. Return to your boat in the afternoon and cruise to the southernmost tip of mainland Greece: Cape Sounion.
Dock here and step onto dry land for a visit to the famous Temple of Poseidon, a set of ruins where the ancient Greeks once came to worship the gods of the sea. Return to your boat at the pre-arranged time and cruise away one final time to Athens. After dinner on board, spend your night in the Greek capital at leisure.
Overnight: Marina Zea in Athens
Day 8: Athens (B)
Sit down for a final breakfast on board your boat and then say goodbye to your crew and fellow passengers as your cruise finishes.
Sample Welcome Dinner Menu
:
Appetizer:
Saganaki (pan-fried delicacies including shrimps)
Feta cheese baked with ouzo (aniseed-flavored Greek liquor) and tomato sauce
Soup:
Salad:
Green salad with fresh mushrooms, arugula (rocket) and croutons
Goat cheese with a vinaigrette dressing
Main course (choice of one):
Fillet of sole meunière (pan-fried white fish with a brown-butter and lemon sauce), served alongside buttered potatoes and seasonal vegetable
Beef escalope served with a traditional Greek wine sauce, gratin potatoes and buttered asparagus
Dessert:
Chocolate cake or seasonal fruit
Beverages:
Coffee, tea or hot chocolate
Greek Specialties Buffet Sample Menu:

Appetizers:
Tzatziki, taramosalata, olives, eggplant salad, dolmadakia (stuffed vine leaves), fried zucchini, tiropitakia (cheese pie), spinach pie, keftedes (meat balls) and a Greek cheese selection (graviera, feta and kasseri)
Salads:
Greek salad
Mixed garden salad
Tuna salad
Black-eye peas
Main courses:
Fried calamari with tartar sauce
Oven-baked beans with tomatoes and julienne (finely chopped) vegetables
Marinated perch a' la spetsiot (white fish baked with fresh herbs, lemon and tomatoes)

Cretan-style roasted lamb and sage
Roasted oregano potatoes
Desserts:
Baklava (layered filo pastry with crushed nuts, coasted in syrup)
Greek yoghurt with a local sweetener
Seasonal fruit
Captain's Dinner Sample Menu:

Appetizer:
Smoked salmon served with red onion, capers, lemon and olive oil
Soup:
Salad:
Avocado with grapefruit, wilted greens, thyme and honey vinaigrette
Main course (choice of one):
Roasted fillet of beef with red wine sauce, seasoned vegetables and potato souffle
Grilled fillet of dorade (white fish) with ratatouille
Fragrant rice infused with krokos kozanis (Greek saffron)
Dessert:
Beverages:
Coffee, tea or hot chocolate
Barbecue Buffet Sample Menu:
Appetizers (selection):
Assorted crudités, tzatziki, tirokafteri (feta dip), olives, shredded red and green cabbage with grated carrots and a citrus dressing), sliced tomatoes and onions, assorted pickles and a salad of lettuce, sweet peppers, tomatoes, cucumbers, virgin olive oil and vinegar

BBQ main courses (selection):
Grilled perch, lamb chops, chicken legs, hamburgers, local sausages, pork souvlaki (kebab-style skewers), pita bread, french fries and grilled vegetables
Desserts (choice of one):
Greek yoghurt with thyme-infused honey and walnuts
Seasonal fruit

June 2014
This was my first cruise and it was such a nice one! The boat is 40pax maximum so it's medium size (as opposed to one of the big cruise lines) and with a lot of character. I really liked that as I got to know the staff (which were so attentive, nice and fun) and chill in the decking or saloon. Meals was very nice. The buffets offered a wide variety of food (including local delicacies for those who want to try), and changed every day, so you could enjoy different menus every day while having a balanced and healthy diet. At the end of each day and before dinner they usually served a cocktail or refreshing drink, which a great moment to gather around and share stories. The itinerary itself was wonderful. We saw Santorini and Mykonos which most people have heard of, but I found the other islands were as nice and less touristic. We had time to visit each island, and during the week there were also a few swim stops in amazing locations where the water is crystal clear and warm. At times no one on the cruise could resist and all passengers were in the water! A couple of nights the sea was choppy and the boat moved a bit, so I recommend taking pills to avoid sea sickness to anyone that''s a bit sensitive (they had some on the boat for anyone to take). I'd use this company again.
June 2014
I went on this trip with my sister in May 2014 and we had a fabulous time! We are in our mid 20s and we were by far the youngest on the trip but we were really early in the season. We didn't have to deal with crowds but the water was much too cold for swimming so if you want to swim choose a later summer date.
This was my first cruise and it was nice being able to stay on the boat and see so many islands in one trip. The boat fits about 40 passengers and ~10crew. It is not luxury accommodations but you are very well taken care of and comfortable. There is a main dining room on the first floor and the cabins are down below. We had a standard room with town beds - its really small, really only enough room to sleep in but thats all you really need. There is a closet with a safe and room to keep your suitcases under the bed. Each room has an attached bathroom. They provide towels and beach towels and there is a hair dryer but it didn't work super well.
We never went hungry - breakfast was usually at 8:30 or 9 and they had eggs, french toast/pancakes, bacon and other meats, cheeses and breads. The lunch/dinner meal was always filling and completely fine, not gourmet though. There is a bar in the main lounge with a wonderful bartender and daily drink specials for 4euros. There are 2 decks for lounging and the top deck has great lounge chairs where we got a lot of sun.
We spent most of our time on the islands. We did the paid excursion to santorini and it was definitely worth the money - you go to and archeological dig site and the town of Oia where we chose to stay and watch the sun set. Highly recommend. On most of the islands it is really easy to grab a bus or cab to explore.

Blanca United Kingdom
April 2014
I really enjoyed this cruise! I wasn't too sure of what to expect, but it really exceeded my expectations! It was only 30 of us on the cruise, and about the same number of people in the crew. Part of the traveling is done by night, so it's a great way of visiting a few different islands, making the most of the trip. I really enjoyed that the islands we visited were all very different from each other, some more local and authentic. Definitely recommend it!

September 2014
Bathroom smell was strange. Back up on the last day. The events manger and maid were awesome. The breakfast was great. The rest of the food was so so.
Advertisement
Advertisement