Immerse yourself in the myths and monuments of classical Greece on this full-day tour of Delphi from Athens. Explore the UNESCO-listed archeological site of Delphi with an expert guide and learn how the city was considered the 'Center of the World' in ancient Greece. Stand in awe before the dramatically situated Temple of Apollo, then discover long-lost wonders at the Delphi Archeological Museum, including the Charioteer of Delphi and the Sphinx of Naxos. After lunch in Delphi (own expense), visit the handicrafts towns of Arachova and Levadia on the way back to Athens.
Highlights
Full-day tour to Delphi from Athens
Visit the Delphi archeological site, a UNESCO World Heritage Site
See incredible monuments from Ancient Greece like the Temple of Apollo
Explore Delphi Archeological Museum and see the Charioteer of Delphi
Stop in the pretty towns of Arachova and Levadia on the journey back to Athens
Hotel pickup and drop-off included
Why Our Insiders Chose This Tour
If you're interested in Greek history, or even just curious about it, Delphi Archeological Museum has the some of the best exhibitions to visit in Greece. Having a guide at your side as you explore means you can ask as many questions as you like!
Recent Photos of This Tour
Delphi Day Trip from Athens
What You Can Expect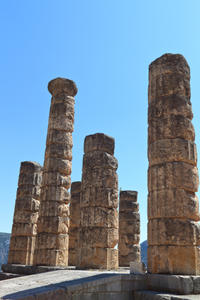 Ancient Greece is the civilization that existed roughly between the 8th century BC and 600 AD, and Delphi was said to represent the center of it. Reputedly built on the spot where Zeus' eagles collided when they were released from opposite ends of the earth, the ancient town is littered with intriguing monuments from this fascinating period of history.

After meeting your guide in Athens, hear tales about the ancient Greeks and their lives in Delphi while traveling to the town by air-conditioned coach. Pass through the towns of Levadia and Arachova – both famous for their production of brightly colored carpets – and arrive in Delphi around midday.

First stop is a tour of the Delphi archeological site – a UNESCO World Heritage Site and easily one of the most important digs in Europe. As you walk around the evocative ruins with your guide, see famous monuments like the Temple of Apollo.

Head inside Delphi Archeological Museum and explore this veritable treasure trove at leisure. Home to countless artifacts and intriguing relics, the museum consists of 15 rooms arranged in chronological order from 15th century BC to 4th century AD. Be sure to check out the bronze Charioteer of Delphi and the Sphinx of Naxos.

After eating lunch at a Delphi hotel (own expense), you will return to Athens, stopping in Arachova on the way to stretch your legs or grab a coffee (own expense).
May 2016
I took this trip on Friday, May 13th. I thought it was extremely well-organized except for the delay caused by the need to transfer to a second bus after my pick up at the Gran Bretagne Hotel. The guide was very knowledgeable and accessible and, much to my surprise, the lunch at the Amalia hotel was very good and very generous. I recommend it.
One thing. I think it would be helpful to those wishing to leave a gratuity for the guide, if she or he were to have a basket or something labelled tips placed in front of the bus. As it was, one saw only a few bills on her desk and it was not clear that was where one might have left a tip so, in the end, regretfully, I did not.
May 2016
What an incredible place. We walked all the way to the stadium and had incredible views of the beautiful countryside. Our guide was fantastic and made the ride to Delphi enjoyable. We opted for our own lunch and were pleasantly surprised in the town of Delphi. I would highly recommend this tour!

May 2016
This tour is must if you are visiting Athens. The tour company was very knowledgable and we had a great time.
May 2016
Very well organized trip. We took another reviewer's advice and met at the meeting point, rather than being picked up as it is a long ride about three hours there and three hours back. Restroom stops every hour to hour and 1/2 and free Wi-Fi available on the bus.
The scenery is stunning! The guide was well informed and open to folks going off on their own if they wanted. We opted to take lunch at the hotel the food was delicious, though the group is forced to sit at designated tables, rather than sitting on your own.
May 2016
A fantastic day trip from Athens. Our tour guide was very well-informed and funny, and the day was very well planned. I definitely would have liked to have had more time at the site itself, but I still managed to get a look at everything in decent detail.
May 2016
The guide was incredibly knowledgeable and personable. This was one of my and my daughter's favorite things to see and do while in Greece.
April 2016
This trip was amazing! Our guide was SO knowledgable and really knew so much about the history here! Definitely recommend this tour - well worth it!
April 2016
This was an awesome day trip from Athens. It is a great way to see the countryside of Greece and visit this amazing site. Our tour guide was really cool and told us about many of the greek mythology stories that related to the areas we were driving past. We didn't get the lunch package, so the bus driver dropped us off in a little town to eat while the others went to the hotel. It was really cool to walk around and explore there too before the bus picked us back up. Overall, this was my favorite day in Athens and I would highly recommend the trip.
April 2016
Comfortable bus for the 2.5-3 hr drive out with some commentary on the way. Rest stop each way for snacks and bathroom break. Delphi tour of site and museum was fantastic. Plus a short stop at a nearby cute ski town was great to pick up a small trinket. Our tour guide Joy was absolutely amazing and knowledgeable!
April 2016
Great day and an interesting , laconic and witty guide. Only negative was being told at 12 hours that day commenced at 07.30 and not the 08.30 advertised!
Advertisement
Advertisement