See some of the most impressive sights of Ancient Greece on this private 8-hour tour to Delphi. Leave Athens behind and travel through incredible scenery to Ancient Delphi, a UNESCO World Heritage site. Explore the archeological site on foot with a private guide, and take the time to enjoy its many wonders including the monument of the Argive kings and the treasury of the Athenians. Continue on to the high-altitude and picturesque village of Arachova for a relaxing 3-course lunch.
Highlights
8-hour private tour of Ancient Delphi with lunch in the village of Arachova
Explore the UNESCO-listed archeological site and view the famous Temple of Apollo
See top Delphi landmarks such as the Athenian Stoa and Polygonal Wall
Enjoy the views from this wondrous and historical Ancient Greek site
Visit the Delphi museum and learn about its artifacts from a knowledgeable guide
Relax over lunch in the picturesque village of Arachova
This private tour ensures you'll receive personalized attention from your guide
What You Can Expect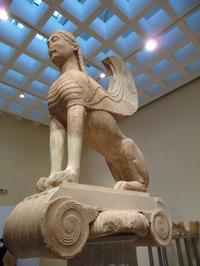 Start with a pickup from your Athens hotel, and then travel onward with your private guide along the Greek National Road, through the plains of Boeotia and past Mt Parnassos, to the UNESCO-listed sanctuary of Delphi where your walk begins.

First, pass by Castalia Spring and spend your time viewing its many monuments. With your guide, admire the monument of the Argive kings, the treasury of the Athenians, Athenian Stoa, Polygonal Wall, the monument of Platea and the Temple of Apollo. Enjoy stunning views from the site, once considered by Ancient Greeks as the center of the world. Although your itinerary is planned, the commentary on your private tour can be customized to your interests. Just let your guide know if you have any specific questions!

Continue onward to the Delphi museum and view fascinating exhibits including a frieze of the Treasury of the Sifnians, the Naxian Sphinx, statue of Antinoos and the famous bronze sculpture of a charioteer. The exhibits, coupled with information provided by your guide, complete the picture from the monuments seen earlier on your tour, and give further insight into the role Delphi played in bygone days.

Travel to your next stop: the picturesque and high-altitude village of Arachova. Enjoy a relaxed and unhurried lunch here, at an altitude of roughly 3,117 feet (950 meters) above sea level, tasting products specific to the region and enjoying some original Greek cuisine. Dishes often change, but check out the Itinerary to see a sample menu. Finish the meal with a cup of traditional strong Greek coffee, and then relax in comfort as you travel back to your Athens hotel.
Itinerary
Sample Menu:
Starter (choice of one):
Stuffed vine leaves
Spinach pie
Fried cheese (such as halloumi)
Main course (choice of one; each served with salad):
Souvlaki (grilled meat and vegetables served on skewers)
Grilled chicken
Giouvetsi (baked beef dish, served with pasta)
Dessert (choice of one):
Dessert of the day
Fresh fruit
Coffee
April 2016
Trip was beyond amazing. Maria our guide had a degree in archeology so she was not only passionate about what she was showing us, she knew every aspect of culture, history, and art. Not only did we learn an incredible amount, she maneuvered us around all the large swarms of crowds so we even got some private time sitting with the ruins at Delphi. Lunch was amazing, even the ride was amazing! Well worth the price to see it privately. I'd go back and do it all again anytime!
July 2015
Maria was an excellent tour-guide. She was very knowledgeable of the Delphi region and ruins. She made for a much more interesting trip through the museum with archaeologist knowledge that she has. She kept us going with lots of information. Our driver did an excellent job getting us from Athens to Delphi safely and comfortably. A great tour.
July 2015
Great tour guide and driver! Fantastic lunch!
April 2015
My wife and I would totally recommend this trip we were picked from our hotel by a wonderful tour guide Nancy who was ably assisted by the driver Michael. The tour to and through Delphi was great our guide was full of knowledge and we were given a great deal of information and the museum definitely worthwhile to visit. The lunch was full of great Greece flavours and much more the expected the view from the restaurant was spectacular and definitely a must. WE HAD A GREAT DAY AND WOULD RECCOMMEND THIS TO ALL.
February 2015

Daryl M South Africa
October 2014
We felt like royally - in our own vehicle and a wonderful guide and driver, who attended to our every need and fancy!!!! A stunning lunch with wonderful views. Had a bit of rain the start the day, but the sun came out and did not effect us in any way. Thanks a MILLION for the most stunning wonderful enjoyable sun filled day!
August 2015
Maria was a wonderful tour guide.
Advertisement
Advertisement