Explore the greatest of ancient Greek architectural feats on this 4-hour walking tour of the Acropolis of Athens and the New Acropolis Museum followed by dinner — it's a Viator Exclusive you won't find anywhere else! With a professional archaeologist guide, stroll around the UNESCO World Heritage-listed Acropolis to see and learn about its monuments, including the Parthenon. Then, visit the ultra-modern New Acropolis Museum for a guided tour of its spectacular Acropolis statues and treasures. Finish with a delicious Greek dinner at a restaurant with stellar views over the Parthenon.
Highlights
Marvel at some of the world's finest architecture on an easy walking tour through the Acropolis of Athens
Absorb the history of the UNESCO World Heritage site from your archaeologist guide
Frequent breaks at the Parthenon and other notable monuments allow time for photos
Peer below at a real excavation site in the Acropolis Museum
Gaze at impressive views of the Acropolis during a Greek dinner with wine at a nearby restaurant
This tour cannot be booked anywhere else — don't miss out on this unforgettable experience!
Why Our Insiders Chose This Tour
This Viator Exclusive offers a 360-degree insight into the Acropolis of Athens! Learn about this remarkable historical site from a professional Greek archaeologist. Enjoy views of the ruins from the New Acropolis Museum's café, and then finish your day at a renowned Athenian restaurant.
Recent Photos of This Tour
Viator Exclusive: Acropolis of Athens, New Acropolis Museum and Greek Dinner
What You Can Expect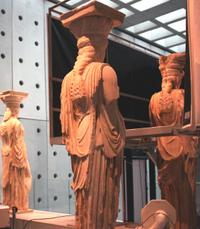 Make your own way to the Athens Red Line ticket station and meet your guide, a professional archaeologist. Get a fascinating introduction to the afternoon ahead, and then set out on your Viator Exclusive: a unique mix of an Acropolis walking tour, New Acropolis Museum visit and dinner.
Walk up the south slope of the Acropolis, the ancient hilltop citadel that's home to the remnants of several magnificent buildings constructed during the heyday of ancient Greece in the 5th century BC, including the famous Parthenon.
At the top, take a tour of the ruins as your guide provides incisive commentary on their construction, history and excavation. Stroll to the Theatre of Dionysus — an amphitheater regarded as the birthplace of the performing arts. Settle on a stone seat and imagine the sights and sounds experienced by long-ago audiences who came here to watch plays by Greek writers such as Euripides, Sophocles, and Aeschylus.
Gaze at the Odeon of Herodes Atticus; a theater still used every summer for the Athens Festival, and inspect the site of the Asclepeion — where a healing temple dedicated to the god of medicine Asclepius once stood.
Then, make your way to the Acropolis' showpiece: the Parthenon. One of the world's most recognized buildings, this spectacular temple was designed to give thanks to Athena, Athens' patron goddess. Walk around the perimeter with your guide as you learn how this beautifully symmetrical Doric gem has served as a temple, church and even a mosque through the centuries.
Continue to the stunning New Acropolis Museum, the ultra-modern museum that contains the archaeological treasures found at the Acropolis site. Explore the fascinating collections of statues, friezes and other antiquities in the light and airy galleries as your guide uncovers intriguing facts about their history. As you walk around, gaze down through the glass floors to see the showcased archaeological excavations where many of the exhibits were discovered.
Lastly, make your way to a nearby, well-regarded restaurant that boasts fabulous views of the Parthenon. Take a seat and savor a delicious meal of classic Greek dishes, washed down with a bottle of wine. As you eat, admire the views and chat over your afternoon of fascinating discoveries. Your experience ends when you leave the restaurant.
April 2016
100 would do this again! We are very interested in learning about the history and culture where we travel and we really couldn't have been happier with this! Unfortunately we were so mesmerized and enthralled with our guide and what we were doing that we completely forgot his name by the time we got back to our hotel, this is my only regret. Not only was our guide Greek and a knowledgeable archeology professor, he also had an interest in theatre and acting. So he was probably the most perfect person to give this tour with his mix of skills and background. He had great pride and insight on all things Greek, a wealth of knowledge about archeology, art, Mythology and Greek History and a way of presenting information with a bit of poetry and/or the dramatic. He spoke excellent English, as most of the Greeks we met did, and all we wished was to have more time. If you do not enjoy learning or listening or art and history then this tour is not at all for you. The meal afterwards was enjoyable and we were grateful, especially as this was our first day, to be taken around one on one and have everything taken care of. This tour was perhaps the highlight of our trip, the bar was set very high on the first day!
October 2015
This is one of the best tours my wife and I have been on. I actually didn't realize that it was a private tour. I was expecting a small group of 4-6 but it was just the two of us with a wonderful guide, Thanakis. He's not just an archaeologist but a history professor at Geogetown. For something so significant and so rich with history, it's amazingly easy and affordable to visit the Acropolis and other archaeological sites in Athens. To make a visit to the Acropolis as special as it should be, visit it with a historian or an archaeologist. The insight, history, mythology, and rich information they can share will help you truly appreciate not only the ancient Greeks but the excruciatingly difficult work that goes into restoring the structures. I felt sorry for the majority of tourists who climbed the Acropolis just to take a selfie. It's so much more than that. I also suggest you visit the Acropolis museum AFTER you visit the Acropolis. They complement and enrich each other nicely. And a good guide can tell you the significance of the museum's architecture as well. This tour includes dinner and a bottle of wine at a nearby restaurant. The restaurant we went to was listed in 36 hours. Well done viator!

Stewart G USA
August 2015
This was the highlight of our visit to Athens. Our tour guide met us at our hotel and during a short walk to our first stop she gave us the itinerary she had arranged in advance. Our tour was set up by the tour guide so we would visit the New Acropolis Museum before we climbed to the Acropolis. This allowed us to learn about the Acropolis prior to actually visiting the site. Our tour guide was extremely informative with dates, history, and information we had never before knew existed about the Acropolis. We finished our tour with a quiet dinner at a Athens restaurant where the food was very enjoyable.
July 2015
Was fabulous! Our guide Despina was just wonderful. So knowledgeable and passionate. Dinner was great too. Loved this special part of the world.
5/5
June 2015
Our guide was GREAT!!! Could not have been happier with this experience. My husband and I were the only tourist for the time that we scheduled, so we had her undivided attention. She was knowledgable about the museum and Acropolis. Would definitely do this again.
May 2015
Had the best tour guide ever very informative and the nicest person
May 2015
the guide was very nice. the restaurant as well.
April 2015
This was an exciting day I was concerned for my wife as she has problems with her knee and walking but we were able to make it to the top of the Acropolis although it was very windy and cold that day just unbelievable this is a and it is must for anyone visiting Athens, then onto the New Acropolis Museum with our guide who was so informative and understanding of our silly questions, there are a great deal of things to see here it is a pity that you are not allow to take photos throughout the museum but that means we may have to go back. The Greek Dinner was spectacular full 3 course à la carte type meal and in a great location so good that we went back the next evening. We would recommend this to all those interested in seeing a part of Athens, from the old to the new.
December 2014
a personalized tour with a lovely and knowledgeable guide. marissa brought history to life in an engaging manner (complete with mini-quizes!) that made for a wonderful afternoon. dinner was delicious with the best baklava i've ever had hands down!
October 2014
This tour was amazing. It's set up for small groups and in our case there was just the 2 of us. It's lead by a qualified archeologist/ historian and the information provided and the ability to discuss, explore and understand is fantastic. We spent as much time as we needed at the acropolis then the museum.
Advertisement
Advertisement