Immerse yourself in Essaouira's Gnawa tradition on a 3-hour music tour to local homes and thriving haunts. Experience the city's distinctive African rhythms as you slip into a sacred Gnawa temple, watch an intimate dance performance and study the dancers' traditional costumes. Meet a Gnawa master for a private demonstration, learn how guembri instruments are made, then take in Essaouira's vibrant music scene at a local venue, where young musicians blend their musical heritage with Latin beats and Western sounds in the heart of the old city.
Highlights
3-hour evening gnawa music tour in Essaouira
Discover the music, culture and traditions of Morocco's local gnawa people
Groove to live music and dance performances at top local music spots
Learn about traditional instruments, costumes and sacred music rituals
Finish the tour by visiting a popular, live music venue near the Medina of Essaouira

Small-group tour limited to 8 ensures a more personalized experience
What You Can Expect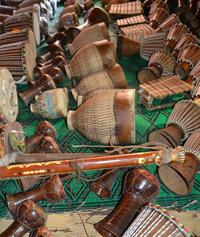 Meet under Essaouira's clock tower in the evening for your 3-hour gnawa music tour, a unique experience that takes you back in time to discover Morocco's music culture, history and traditions.
Walk through the UNESCO World Heritage-listed Medina of Essaouira, the walled Arab quarter, and learn about the gnawa people and their customs from your guide. Originating from North and West Africa, gnawas are known for their ancient African-Islamic music, whose songs are marked by low-toned rhythms, chants, hand-clapping and cymbals. Performances range from upbeat social gatherings to religious rituals.
Your first stop is a zaouia, or sacred temple of the gnawa people. Traditional lila rituals take place here to drive out evil spirits and treat psychological ills, and often last for hours at a time. Next, meet a gnawa dancer (or kuyu) and head inside their home for a gnawa dance demonstration. Watch typical dance moves accompanied by an explanation of the dancer's traditional clothing. Often made at home, these intricate designs include bold colors, embroidery and shells.
Then, it's off to meet a gnawa maalem, or master, who acts as the leader of any gnawa troupe. Visit the maalem's private quarters to see how the traditional guembri instrument is made and hear some songs played. Share in their vast traditional knowledge and experience something usually reserved for gnawi, musicians and their friends and family.
Come full circle from gnawa's past to present by finishing the evening in true local style: enjoying live music with a drink in hand (own expense). Stay at this local music venue as long as you like, and feel free to ask your guide about other places to continue enjoying gnawa music. Recently, the style has been fused with Western and Latin music, making it perfect music for dancing, if you're in the mood!
Advertisement
Advertisement