Soak up all the North Island highlights on this 5-day journey from Auckland by coach, including a Bay of Islands cruise to see the Hole in the Rock. Your itinerary includes a drive along Ninety Mile Beach at Cape Reinga; enjoy an overnight stay near the bubbling hot springs of Rotorua; a visit to Waitomo Caves for a boat ride through Glowworm Grotto; and a Hobbiton Movie Set tour to see filming locations for 'The Lord of the Rings.' Listen to informative commentary on board.
Highlights
Bay of Islands, Rotorua, Waitomo Caves and Hobbiton movie set 5-day tour from Auckland

Take a guided tour of the Waitangi Treaty Grounds in Paihia and see dolphins on a Bay of Islands cruise

Drive along Ninety Mile Beach on a day trip to Cape Reinga

Enjoy a guided tour of Waitomo Caves and a boat ride through the glowworm grotto

Watch a Maori cultural show and eat a hangi dinner at Tamaki Maori Village

Visit the geothermal wonderland of geysers and boiling mud pools at Te Puia Thermal Reserve
Take a journey through Middle-earth on The Lord of the Rings Hobbiton Movie Set tour

Choice of either standard or superior accomodation

What You Can Expect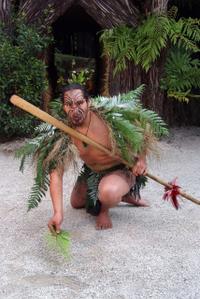 On this comprehensive 5-day tour of the North Island, you can choose from standard or superior accommodation in Paihia and Rotorua. Visit the Waitangi Treaty Grounds and see New Zealand's northernmost point at Cape Reinga. Then visit the Waitomo Glowworm Caves. From a traditional hangi dinner at an authentic Maori village in Rotorua to the Hobbiton Movie Set of Middle-Earth, you'll cover plenty of ground with an informative guide.
Itinerary
Day 1: Auckland -- Paihia
After being picked up from your Auckland hotel, cross over the iconic Auckland Harbour Bridge and journey into 'the winterless North' to the beautiful Bay of Islands. Along the way, your driver guide will keep you informed and entertained, pointing out sites of interest as you drive through rolling farmland and lush native forest. After stopping for a brief morning tea break in Kaiwaka (own expense), continue past Whangarei to the seaside town of Paihia. Take a guided tour of the Waitangi Treaty Grounds, where New Zealand's founding document was signed between Maori chiefs and the British. Enjoy join a cruise into the Bay of Islands, keeping a lookout for dolphins swimming in the bay, and admire the region's famous Hole in the Rock landmark. Returning to Paihia, spend the remainder of the afternoon and evening at your choice of accommodation.
Overnight: Your choice of standard (Kingsgate) or superior (Scenic) accommodation in Paihia
Day 2: Paihia -- Cape Reinga (L)
Today you'll travel to the northernmost point of New Zealand at Cape Reinga, where the Pacific and Tasman oceans meet. On the way, stop to explore the Puketi kauri forest with its 1000-year-old native trees. Take a short walk along an elevated walkway and learn about conservation efforts to preserve the forest today. Your tour continues through the rolling hills of Northland's rural countryside, with breathtaking coastal and forest views. Enjoy a drive along Ninety Mile Beach, and try boogie boarding down the sand dunes. Travel to Cape Reinga, a significant site where, according to Māori legend, spirits depart on their journey home to Hawaiki. Enjoy spectacular panoramic views and visit the iconic lighthouse before relaxing on the journey back to Paihia.
Overnight: Your choice of standard (Kingsgate) or superior (Scenic) accommodation in Paihia
Day 3: Paihia -- Rotorua
Travel from Paihia back through Auckland and on to Rotorua, traveling through the North Island's scenic countryside of forests and rolling farmland. In the evening, you might like to visit the Polynesian Spa or Hells Gate thermal area for a soak in a natural spring or mud pool; both are open late.
Overnight: Your choice of standard (Ibis or Sudima) or superior (Millennium) accommodation in Rotorua
Day 4: Rotorua -- Waitomo Caves (D)

Today, experience stunning scenery above and below ground on a guided tour of the fascinating Waitomo Glowworm Caves. Travel through lush farmland to the King Country region to Waitomo, then wander through subterranean caverns and learn how the stalagmites, stalactites and other spectacular limestone rock formations were formed over millions of years. To end your tour, travel through the Glowworm Grotto on a magical boat ride, surrounded by the twinkling lights of thousands of glowworms. Your afternoon is free to explore Rotorua before you are welcomed into an authentic Maori village. Discover Maori art forms, ancient rituals and traditional song and dance, then share a three-course meal with your Maori hosts.
Overnight: Your choice of standard (Ibis or Sudima) or superior (Millennium) accommodation in Rotorua
Day 5: Rotorua -- Hobbiton -- Auckland
This morning see roaring geysers and boiling mud at Te Puia, followed by kiwi birds at Rainbow Springs and working sheep dogs rounding up sheep at the Agrodome. Then take the Hobbiton movie set tour to Matamata, home to the beautiful farmland that was transformed into the Shire from Middle-earth in The Lord of the Rings and Hobbit movies. Your guide will show you Hobbit holes and other movie structures. Have a drink in the Green Dragon Inn before boarding your coach back to your Auckland hotel.
Accommodation Options:
STANDARD:
Paihia - Kingsgate Hotel: The Kingsgate Hotel is located in a prime position with waterfront views across the bay. With great comfort and service, the Kingsgate is a great option for your stay in Paihia. Standard room with own bathroom facilities.

Rotorua - Ibis Hotel: The Ibis hotel offers tranquil surroundings with sensational views. The central location is easily accessible to cafes and restaurants. Standard room with own bathroom facilities.
OR
Rotorua - Sudima Hotel: Sudima Lake Rotorua is the largest hotel in Rotorua, and is set right on the shores of beautiful Lake Rotorua. The hotel is also adjacent to the world-famous Polynesian Spa complex, Rotorua Museum and Government Garden, and just a short stroll from Rotorua's vibrant city centre. Standard room with own bathroom facilities.

SUPERIOR:
Paihia - Scenic Hotel: Scenic Hotel Bay of Islands has island-influenced architecture with beautifully landscaped grounds and light, airy rooms. Situated at the entrance to the seaside town of Paihia, it's a pleasant stroll into town to the main wharf, visitor activities, fine dining and shopping. Superior room with own bathroom facilities.

Rotorua - Millennium Hotel: Centrally located in the city beside mystical Lake Rotorua, the Millennium Hotel Rotorua is one of the most conveniently located and best appointed hotels. This child-friendly hotel has many services and facilities for younger guests, including a heated pool for toddlers and a family pool. Superior room with own bathroom facilities.

Please note: Due to operational requirements, hotel lists are subject to change by the tour operator without notice.
June 2016
very organized. packed with value. Great hotels. Clean buses well maintained with WIPI. . courteous bus drviers. Best land tour we have had.
February 2016
Great Tour have to say it was very organized. Always had are names and picked up on time.
All buses were great as they all had free wifi on board. All bus drivers were very informative and friendly. Highly recommend this trip all the activities are great
January 2016
An absolutely impressing tour - the only disadvantage: due to big distances sometimes simply to much driving. But all the visits on the tour: just grandious! Will go back to some places one time, that is for sure.
January 2016
All the reservations, connections and transports worked.
The places visited were nice and very interesting.
December 2015
There were two in my party, myself and my wife. In the past we have taken bus tours where you literally stay with the same vehicle for the tour duration. Your approach of using whatever transport was available at the time it was required was new to us, and we found it marvelous. It was a genuine attempt to maximize the use of your resources.
All of your drivers were great. They were respectful, incredibly knowledgeable, had a good sense of humour and were always on time. Perhaps one day, we will return to New Zealand and use your facilities again. Until then we will recommend you to any of our friends who are planning a New Zealand holiday.
Regards and thanks for a memorable trip,
Chris and Anita Taylor.
June 2015
We had a great time. Everything worked exactly as it was supposed to. The itinerary was challenging but very enjoyable. We were able to see a lot of the best of the North Island over a limited duration. EXCELLENT EXPERIENCE.
April 2015

July 2014
V. Good if u dont have much time. We had a week in total for all NZ - flew to Auckland on Sun, had the evening, then next day, with this 5 day tour starting on Tues-Sat. It basically takes you around the northern half of the north isl. and covers it all pretty well. Day1- Leave city in a coach, drive over the bridge and begin journey to beautiful Paihia - see nice countryside on way with a cpl stops here and there. It is narrated and I enjoyed this trip. The cruise was very fun. We didn't get to see all sights due to weather, but we did see alot more that normally isn't included. We also didn't see dolphins, so they gave us a another trip for free with no expiry date. The choppy water made the cruise really fun - for me anyways. After the cruise, you get taken to your hotel room. We chose Superior accom, and the rooms were nice, although the hotels were a little away from main areas, then again not really that far though - we walked. I had nothing to complain of. Day2- Long bus drive to the northernmost tip of NZ, and when you get there not really too much to see/do. There's a little lighthouse, and U can see where 2 oceans meet. it was good, but then worth the drive?? The trip back was where it paid off - instead of the same route back, the bus actually takes you onto the 90 mile beach and drives through the water. On the way you get to stop at giant skysrcaper sized sand dunes and boogie board down them. Really fun and weird driving in a bus through water. Buffet lunch provided was not buffet - fish and chips. Day3- Really long drive back to Auckland, Really long drive to Rotorua. Full day. Enough said. Day4- Rotorua is awesome and my favorite place on this journey. So many things to do. Caves were incredible. Glowworms were cool. Afternoon off to wander the town was welcome. We skipped Maori dance. Day5 - Geysers fantastic, all shows fantastic, Hobbiton cool and lame - way too many people to enjoy it properly. Will be back to PaiHia and Rotorua for sure. Very fun!
March 2014
Everything went very smoothly and according to schedule. The tour guides were very knowledgeable and fun. It was a dream come true to see Hobbiton and the tours were incredible. I definitely recommend going on this trip!
January 2016
Everything went off without a hitch. Accommodation was very good.
Advertisement
Advertisement